Prescription collection points – terminals which allow medication to be collected at a time that suits the customer, even when the pharmacy is closed – are fast becoming a competitive area for improving access and convenience for pharmacy customers.
Pharmabox24
Automation solutions are gaining popularity with UK pharmacies right now, according to Alastair Carmichael, managing director at Pharmaservice24 UK Limited, which launched its Pharmabox24 at the Pharmacy Show last year. "Prescription collection machines give a robust solution to reducing the personal contact time with customers when collecting their medication and a future-proof option," says Mr Carmichael. "The level of interest has continued to grow across community pharmacy, dispensing doctor practices and hospitals."
Pharmabox24 is currently awaiting installation in a number of locations across the UK and will be promoted as soon as the dates have been confirmed. Mr Carmichael notes that because planning permission is required for the units, in common with many other local authority functions at the moment, there have been delays in obtaining approvals. "We are still catching up with delays from the past two years," he says.
External installations can theoretically be placed anywhere; one of Pharmabox24's first installations this year will be adjacent to a pharmacy and outside a GP practice, with a car park in front to maximise accessibility.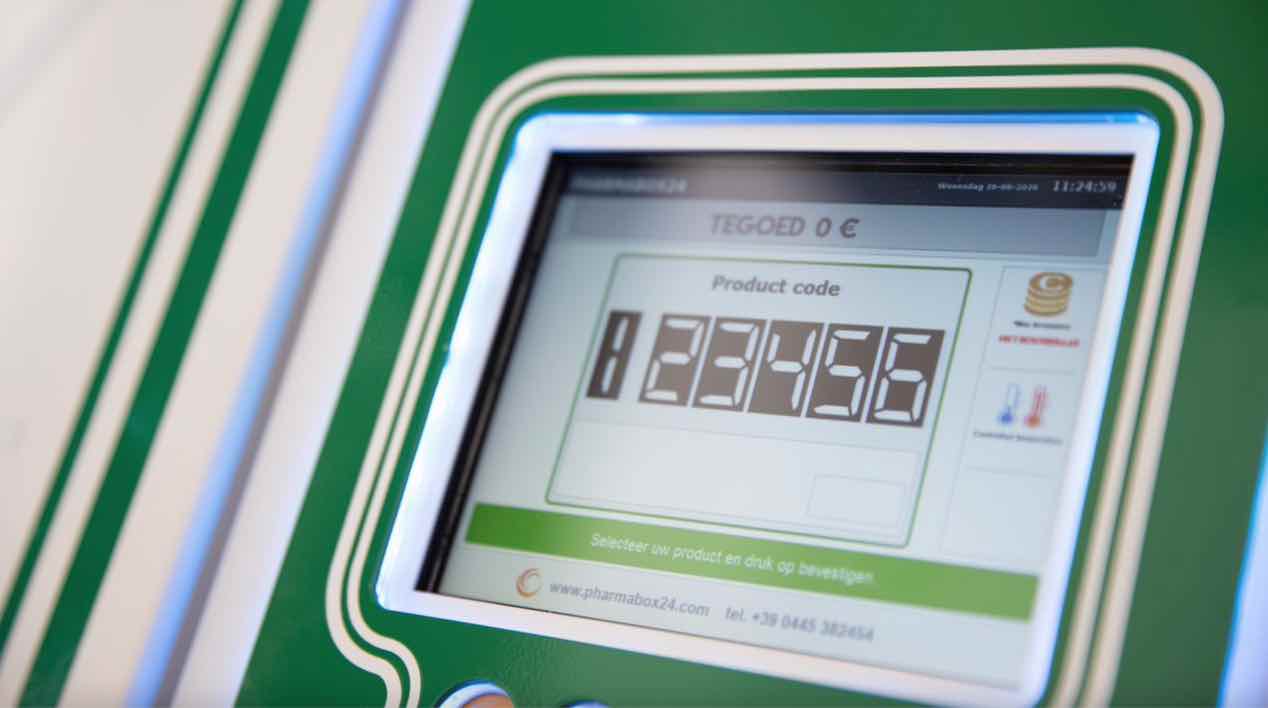 Mr Carmichael stresses that it's important to consider how and when a unit is likely to be loaded with prescription packages and how convenient it will be to the pharmacy's customer base, when deciding on a location. "Our units can be installed internally and externally, and have connectivity with all the major IT providers in the pharmacy market," he says. "Ideally, machines should connect onto the same network as the pharmacy PMR, so proximity is important."
Pharmabox24 is currently available in three sizes, same depth (1062mm) and height (2010mm), different widths – the 852mm mini, which accommodates a maximum of 60 packages; the 1108mm midi (90 packages) and the 1492mm maxi (153 packages). Pharmabox24 units can be produced with any RAL colour and bespoke graphics (subject to extra charges) to match fascia, colour scheme and company logo/graphics.
Prices range from £22,000 for the mini to £26,000 for the maxi, with front panel LED lighting, card payment terminal, rear sliding door, external heating and cooling units among the optional extras. Ongoing service and maintenance charges of £2,000 per annum also apply; there is a first year full parts guarantee.
The company is working on increasing capacity and additional options for external locations, to free up space in pharmacies while giving more scope for patient convenience.
Pharmaself24
Omnicell acquired Hub and Spoke Innovations, the distributor of the Pharmaself24, this January. "The intention is to build on the work done by Hub and Spoke Innovations to create an even better package for pharmacy owners looking to buy a Pharmaself24," says Gary Paragpuri, director of product management at Omnicell International.
"In my first week as a pre-reg 30-odd years ago, it felt like we had taken a huge step forward in our ability to work more efficiently and provide a better service when a shiny new PMR system arrived," says Mr Paragpuri. "Just three decades later, community pharmacy practice is almost unrecognisable. PMR systems are universal, robots for dispensing and MDS packaging are commonplace and now automated collection units, such as ours, are fast becoming the next must-have pharmacy item."
Mr Paragpuri cites a number of significant benefits for pharmacies as well as patients from units such as the Pharmaself24 sitting at the interface between the two. "From a patient's perspective," he says, "removing the need to queue and providing a more convenient user experience helps transform the collection journey. For pharmacies, no longer searching on busy shelves for patients' bags, and no more patients coming in earlier than they should to collect their medicines, all help to create a calmer, relaxed environment that supports the shift in focus from supply to clinical services."
The range of Pharmaself24 models was extended in January with the 'Compact'. Designed for those dispensing around 5-6,000 items a month, the Pharmaself24 Compact takes up less than one square metre of floor space and can hold up to 100 bags. The Pharmaself24 Multi, designed for higher dispensing pharmacies, takes up less than two square metres of floor space, can hold up to 178 bags and is available as standard and L-shaped units. It can also accommodate differences in height between shopfloor and pavement.
Both units come with fast loading as standard, in a range of colours with fully customisable bespoke screens and space for customer logos, as well as the option to add the latest Ingenico point-to-point encrypted credit card terminals.
The Pharmaself24 runs on standalone software, but has two-way PMR interfaces with Cegedim Healthcare Solutions, EMIS, Positive Solutions and Invatech's Titan which embed the units into pharmacy workflow so that all operations can be completed on a familiar PMR system.
"Omnicell now offers 24-hour service support for new and existing Pharmaself24 customers, and has built tools to help customers calculate their return-on-investment. We have also installed Pharmaself24s at our Customer Experience Centre (right) in Manchester, to showcase the breadth of our automation solutions for retail pharmacy." Pharmacists can book a visit and get more information by emailing ukmasales@omnicell.com.
BD Rowa Pickup
Early in 2022, BD Rowa expanded its Pickup solution, which offers pharmacists considering automated prescription points a further option. The terminal, which is operated via the BD Rowa Pickup Cloud, is available 24/7, allowing medication to be collected at a time that suits the customer, even if the pharmacy is closed. The Pickup can be integrated with e-commerce platforms and marketplaces, and even notifies the pharmacy team if an item that's been ordered and paid for by a customer is not collected by the pre-set deadline. The system also allows for the correct storage conditions for medicines. An indoor version is also available for siting in the prescription waiting area, to help reduce lines at the counter.
MedPoint

MedPoint announced at the beginning of the year that it had secured a loan from the Scottish Growth Scheme to further develop its prescription collection kiosk, with a view to providing more cost-effective solutions for pharmacies.
Co-founder Mark Hedley says the market has responded 'incredibly well' since the first MedPoint prototype was installed in 2018. "Since May 2020, MedPoints have handled more than 200,000 transactions," he adds.
"Pharmacies – both single operator and corporate chains– are seeing all sorts of benefits. We've even got one in Leighton Hospital in Crewe to help reduce pressure on the pharmacy and potentially reduce bed blocking (where patients occupy beds while they wait for medication before they can be discharged)."
There are two products in the range: the iSeries ATM style dispenser, and MedPoint Solo, a fully temperature controlled freestanding version, designed as part of a Covid-19 response to enable rapid deployment with little or no building or planning works.
Centred Solutions
Centred Solutions has launched its FLOWRx range of scalable pharmacy dispensing and automation products to make the benefits of hub dispensing affordable and accessible for all UK pharmacies, who can choose to automate as much or as little as needed and scale up as they grow their dispensing volumes. The range consists of three integrated solutions:
• FlowRx Connect integrates PMRs to hubs, warehouses and wholesaler systems to drive more efficient dispensing workflows
• FlowRx Hub is a fully integrated workflow, fulfilment and automation platform that uses barcode and RFID technology to speed up the dispensing of repeat prescriptions, offering a solution for pharmacies looking to create or automate an existing dispensing hub. It can also process patient-specific 'Flow Totes'
• FlowRx Store, for use in-pharmacy, manages patient medication from wholesalers and warehouses. It can also connect to a pharmacy hub and receive bagged medications.
Louise Laban, sales and marketing director at Centred Solutions, says just one FlowRx Hub line has a potential output of up to 1,500 packs an hour: "the equivalent of 200,000 items per month or 2.4 million items annually based on a single eight-hour shift". The throughput achieved is determined by a number of factors, explains Ms Laban. "At Pearl Pharmacy, for example, the solution currently handles 5,000 packs per day based on a four-hour shift, but our solution is scalable and different options are available."
"A starting point for hub and spoke requires a capital investment of under £100,000 for a group of three-plus pharmacies with a combined total of 45,000 items a month," says Ms Laban. "Space will always be a consideration, but you could start your hub and spoke journey with around 10 square metres of space. "The technology can be scaled up for larger groups. For a group of, say, 18 pharmacies handling 120,000 items per month you'd be looking at a capital investment of under £500,000. This investment would provide capacity to provide double the volume in a single shift. The scaled-up solution would obviously require additional space and you would be looking at around 40 square metres as your starting point."
FlowRx solutions interface directly with the PMR, WMS (Warehouse Management System), RDS (Robotic Dispensing Solution) and other IT systems. "We have a working interface with EMIS and are in advanced discussions with many of the other PMR providers," Ms Laban says. "We anticipate having working interfaces with the key PMR providers by the end of 2022." FlowRx hub technology has recently been introduced at Paydens Pharmacy Group, an independent family-owned company operating 113 pharmacies across the South East of England. The group began rolling out the solutions in April this year, and hopes to significantly increase the time that staff can spend interacting, advising and assisting customers.
Rather than staff spending hours dispensing repeat prescriptions, Paydens Group pharmacies will now be able to receive labelled, sorted and bagged patient prescriptions straight from the hub ready to be collected by the patient in the spoke pharmacy.
Managing director Alexander Pay explains: "We are committed to improving healthcare by seeking new ways of working and adapting to the future. Investing in new technology is key to making this happen and we believe that this will enable our highly skilled, professional staff to provide an even better service to our communities."
Omnicell roles out new option
Omnicell International sales director, UK and Ireland, Cyrus Hodivala says that while automation enables pharmacists to adapt to the changing environment by improving efficiency and freeing up time spent on repetitive work, financial constrains can make it difficult for some to invest in the most advanced hardware. "Omnicell is committed to providing support right across the pharmacy sector, which led us to develop a solution which could help meet the varying demands faced by pharmacists in the most cost-efficient manner," he says.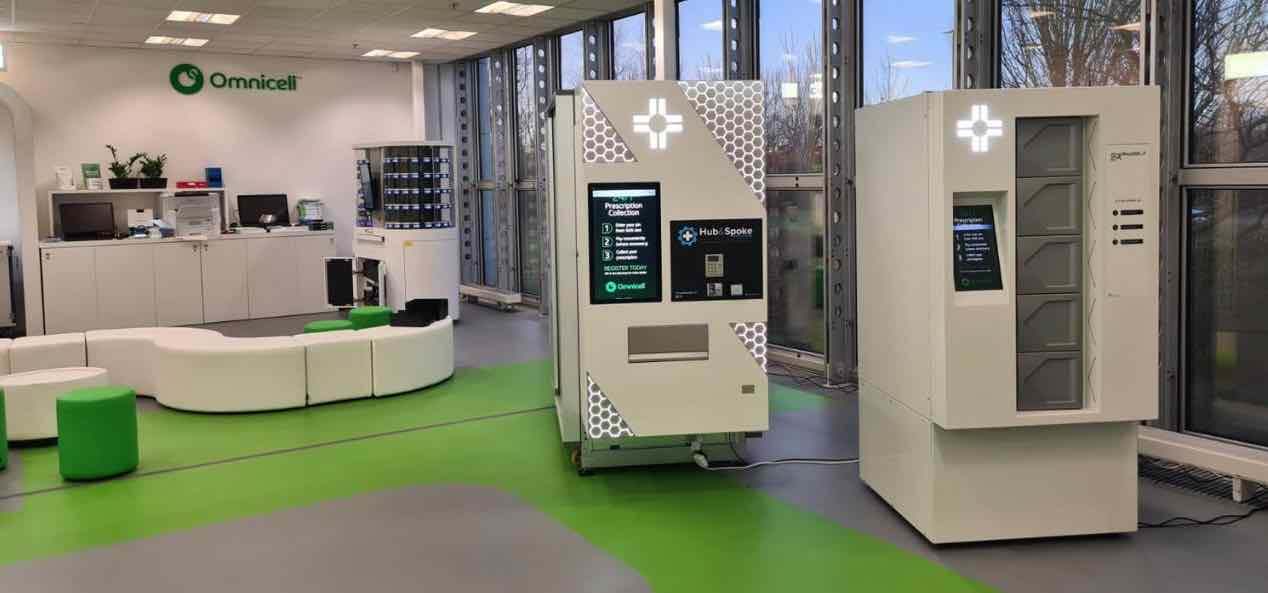 "The JVM model achieves this by offering the same level of detail and infrastructure for blister and pouch adherence solutions as Omnicell's other products, with a choice of options from small desktop to large scale models to suit a wider variety of budgets."
Connectivity is key
Tracey Robertson, product and technology director at Cegedim, says the company's core pharmacy PMR, Pharmacy Manager, supports the full end-to-end process, integrating with third party providers including collection robots to help automate processes, maximise efficiencies and reduce lost revenue.
"Our long-term strategy outlines a vision for fully integrated community-based healthcare, where pharmacists play a prominent role," she says. "We partner with MedPoint and Pharmaself24 to offer UK pharmacy owners more choice and flexibility in their dispensing workflows, and cater for a variety of prescription dispensing options."
Such integrations should help optimise the overall efficiency of pharmacy teams, increasing productivity and reducing the amount of time spent on administrative tasks. "With more time available, pharmacists are able to provide more extensive care and professional advice to patients, leading to a better delivery of care and the potential for additional revenue generation," says Ms Robertson. "It also delivers a more convenient service for patients, with 24/7 access to their medicines and no reliance on store opening hours or queueing."
"Our Pharmacy Manager PMR is on a continuous journey to deliver incremental value in automating processes, enabling innovation and improving customer service, ensuring we deliver a complete pharmacy business IT solution that supports operational efficiency and revenue generation."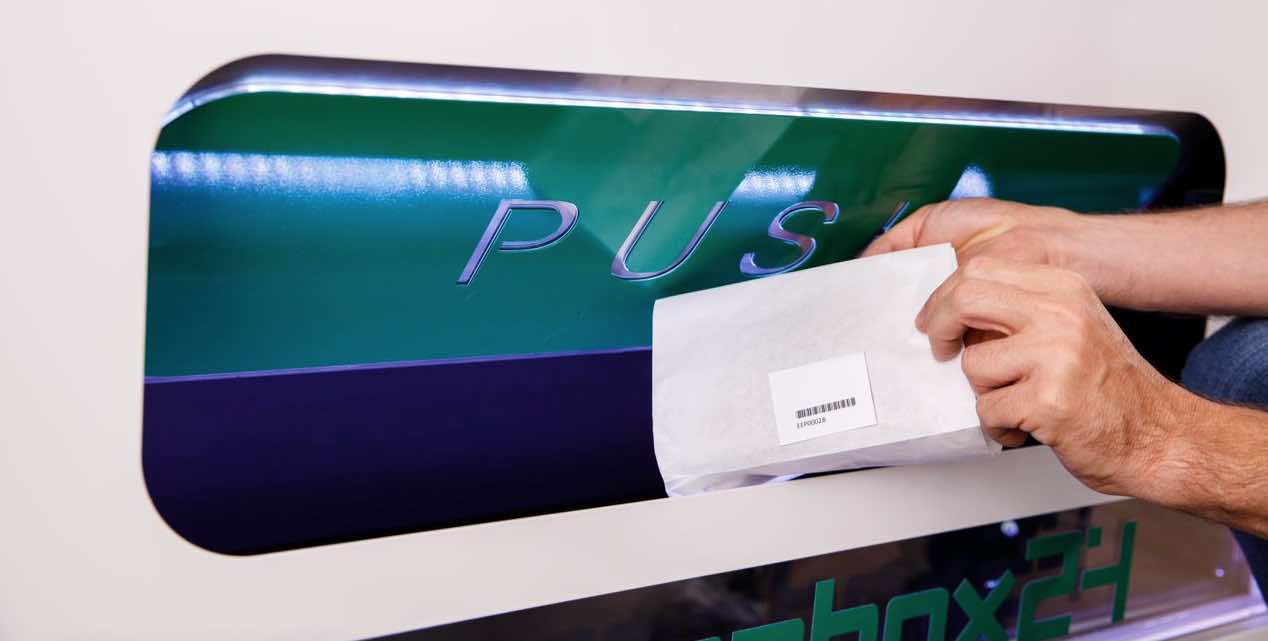 Sponsored
Sponsored Education
Work through a customer consultation to determine the possible cause of stinging, gritty eyes and recommend an effective treatment to help ease these symptoms.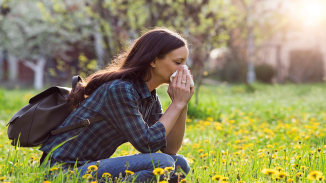 Sponsored Education
This module will improve your hay fever knowledge, helping you to understand its impact on sufferers and recommend the right products to ease symptoms
Record my learning outcomes