Most pharmacy teams would agree that their role has changed considerably in recent years, with the Covid pandemic accelerating the trend. Recent research from Omnicell confirms this. Of pharmacists questioned, 70 per cent felt that their job had evolved significantly as a result of the pandemic as they found themselves becoming a first point of contact for patients with health concerns.
Encouragingly, a third of people questioned said that their perception of pharmacies had changed for the better over the last 18-24 months, which can only be positive news. As the role of pharmacy develops, the pressures and demands on pharmacy teams change too. Increasingly, community pharmacies are looking to automated systems that can help streamline their processes, improve service levels and ultimately, enhance the patient experience.
"It's vital that any move to automation is accompanied by a programme of change management and training to promote best utilisation and acceptance of the system within the pharmacy workflow," says Cyrus Hodivala, commercial director, retail pharmacy and medication adherence, Omnicell UK and Ireland. "When the word 'robot' is mentioned in a fully manual pharmacy, I've seen the look of trepidation on the faces of some staff members. Their kneejerk reaction can be that their jobs are in jeopardy, and they are all about to be replaced by a beeping selection of extras from a sci-fi movie.
"The best implementations are those where the pharmacy operation teams have been included in the process as early as possible. We have a complete Customer Experience Centre at our HQ in Irlam, Manchester, where we can invite teams from pharmacies to experience first-hand the speed, accuracy and benefits the solutions can have on the desired outcomes for their pharmacies.
"We help pharmacies identify their core 'pain points' and create an adoption pathway for our automation. This is designed to eliminate as many of these challenges from the pharmacy as quickly as possible. Many times we have experienced a pharmacy which has approached us for one form of automation only to find that, after speaking to our experts, they would benefit far more from an alternate automation platform.
"Modern retail pharmacy is battling against significant challenges in sourcing reliable, cost-effective staffing, spiralling medication costs and increasing demand for medicines and services in a landscape of reducing government remuneration," says Mr Hodivala. "An over reliance on archaic, time intensive manual processes is crippling the ability for modern pharmacies to service their patients adequately, quickly and, above all, safely. The right automation can dramatically alleviate pressures felt by pharmacists as they navigate their changing role within the community."
Omnicell's portfolio (robot, above) at the Pharmacy Show this year included the Medimat Next Generation Robot, the VBM 200F JVM Consumable/pouch system, Pharmaself24, and the company's eMAR and other medicines adherence support solutions. Mr Hodivala says Omnicell has a 30-year legacy of utilising robotics and automation worldwide, to support pharmacy in both primary and secondary care.
"The Omnicell automation journey is a multi-platform combination of robotics and software automation technologies designed to support the pharmacist in all aspects of the picking, checking and dispensing of medications; whether original packs or MDS blister packs," he says.
The company is now 'solution agnostic' with regard to MDS packaging – Omnicell is the new distributor for the JVM range of pouch and blister card automation, which now includes the JVM BDS (blister dispensing system), which allows autonomous filling of up to 10 blister cards at a time. "The VBM system is configurable for whatever medications pharmacists wish to use. We can also customise the print format of cards to include logos and even patient pictures."
Automation fuels busiest community pharmacy
"I have created the busiest (by prescription volume) bricks and mortar pharmacy in the UK by using automation," says Ryszard Cygan, director and superintendent pharmacist at West Elloe Pharmacy Group. "It facilitates a calm, safe environment while engaging and motivating staff.
"Growth in pharmacy can only be achieved through investment and I certainly believe that automation will result in growth. Tax advantages such as the 'super-deduction' helped to facilitate the process, together with relatively cheap lending and competitive leasing. Embracing technology is the only way forward."
Mr Cygan, who is also a director of Hub and Spoke Innovations, which was recently acquired by Omnicell, says technology solves different problems.
Automation such as the VBM blister packing machine and RDS automated pack dispensing, which speeds up the dispensing process and enables automatic stock rotation, both support pharmacy staff directly by improving workflow. The 24/7 convenience of the patient-facing Pharmaself24 automated 24-hour prescription collection point is helping to generate patient loyalty while attracting new business at the same time.
"Staff adapt very quickly and can see the benefits instantly," says Mr Cygan. "I have never seen staff numbers reduced because of pharmacy automation, as automating a pharmacy almost always results in growth. As we have seen over the last couple of years, it means a pharmacy can function safely in times of crisis, even with reduced staff numbers due to absence."
Elsewhere at the Show
Cegedim Healthcare Solutions, meanwhile, took its complete Pharmacy Business Solution to the Show and demonstrated enhancements to Pharmacy Manager, including Hub Fulfilment Manager, Pharmacy Services, Pharmacy Intelligence Hub and the new Pharmacy Operations platform. Tracey Robertson, the company's product and technology director, says: "Cegedim's Pharmacy Business solution is used by small, independently owned businesses to large corporate retail across England, Scotland, Wales and Northern Ireland. It includes a full suite of products designed to enable efficient dispensing, stock and order management, remote fulfilment, service delivery, patient management, effective marketing and operational support.
"It's a truly integrated digital solution that works seamlessly across NHS and patient-facing systems, helping to enhance operational efficiency and financial performance, in turn allowing pharmacy teams to invest more of their time and resources into patient care and the delivery of revenue generating services."
Hub Fulfilment Manager offers a variety of prescription assembly options, including store-based dispensing, hub fulfilment (group owned or third party) or direct by wholesalers. "With legislation changes on the horizon," says Ms Robertson, "Pharmacy Manager's modularised dispensing workflows are well placed to support pharmacies on this journey and are geared up to offer a mixed approach. We're proud that the intuitive workflows and user journeys of Hub Fulfilment Manager have been designed in collaboration with pharmacy teams to ensure that it helps rather than hinders staff during busy work days, and means minimal training effort."
Cegedim's Community Pharmacist Consultation Service (CPCS) solution is integrated into Pharmacy Manager so that pharmacy teams can run dispensing and services side by side. "They are alerted to the arrival of a service referral opportunity and automated claiming ensures pharmacies don't miss out on essential payments," explains Ms Robertson.
The company has recently been awarded a call-off contract by NHS Tayside. The first pilot GP practice has now gone live using the new Vision product suite on Cegedim.cloud; others will follow.
MedPoint helped visitors to explore its British-made automated prescription collection point. Designed to free up significant amounts of a pharmacist's time, MedPoint's ATM-style machine is said to offer a safe, quick and secure way for patients to collect their prescription medicines, 24/7. "The unique, fully automated scanning system means loading prescriptions takes just a fraction of the time, allowing pharmacy staff to spend less time retrieving dispensed prescriptions and reduce patient waiting times," says the company. "MedPoint loads by auto scanning all bags to ensure the right patient gets the right medicine every time, providing a full audit trail giving evidence of the highest standards of patient safety for GPHC inspections."
MedPoint machines come in three integrated model sizes, as well as a free-standing option. They integrate easily with existing PMR systems, says the company, and if the pharmacy already has an e-commerce app or website, the MedPoint system works with it.
Avonnex (UK) and Pharmathek (Italy) have been working together to develop the Sintesi automated dispensing solution. The compact units have a host of features, including prescription-based dispensing at the press of a button, a patented Euclid 3D picking arm incorporating temporary storage to allow multiple different items to be picked, stored and then delivered in one journey, and the Connected Exit feature, which eliminates the need for a dedicated delivery point per user, sharing exits between multiple dispensers, keeping storage capacity high.
A split pack management solution requires no additional hardware and is not dependent on PMR software. Sintesi will always dispense split packs first based on expiry dates to reduce multiple open packs.
Invatech launched its Titan PMR Repeat Flow app at the Show (Stand D55). The new module, available from the Titan Marketplace, promises a revolution in the way repeat prescriptions are managed and continues the company's commitment to improving the efficiency of the dispensing process and helping release pharmacists for clinical services.
Tariq Muhammad, Invatech CEO, explains: "Helping patients order and manage their repeat prescriptions is often a cumbersome process which takes up lots of time involving endless phone calls to GP surgeries to chase up missing items or deal with unexpected changes. Patients even forget to place orders, resulting in last minute emergency supplies."
Titan Repeat Flow claims to be the first fully integrated 'patient driven' management system, designed to overcome these issues and more. "The system can help predict when patients need to place an order, send them text alerts, ensure they order what they need and manage communication with the surgery," says Mr Muhammad. "When the prescription arrives, the system will automatically reconcile what has been issued by the GP against what was ordered by the patient, so what is missing and what is new can be seen easily, allowing pharmacists to manage the next steps efficiently and the right prescriptions are dispensed on time."
Titan Repeat Flow is a continuation of the company's commitment to improving dispensing efficiency and helping to release pharmacists' time to focus on clinical services.
The Show also saw the launch of Positive Solutions' Hx platform, described as "an entirely new pharmacy software ecosystem designed to address the critical needs of a transforming market." The company says Hx has been created to increase workflow efficiency, improve profitability and allow pharmacy teams to deliver a wider range of services.
Steve Russell, Positive Solutions' chief commercial officer comments: "Our team have worked closely with community pharmacy to ensure our new products offer the functionality and benefits missing elsewhere, with a strong focus on intuitive user interfaces and decluttered workflows."
The platform comprises five products for 2022:
HxDispense – an anywhere, any device, next generation PMR
HxConsult – support for pharmacies looking to maximise their service revenue
HxIntel – real-time dashboards, reports and insight into pharmacy performance
HxCare – an innovative eMAR medicines management system for residential care, which will be free of charge to those signing up to the HxCare Affiliate Programme
My Health Hub – a patient app designed to revolutionise patient pharmacy relationships and patient engagement.
A monthly subscription model enables pharmacies to spread costs and save money.
The company has also announced a strategic partnership with Charac, an NHS-integrated one-stop platform for independent community pharmacies. This aims to drive business to UK pharmacies using the MyHealthHub platform to give smaller community pharmacies without an online presence the chance to compete with larger pharmacy chains.
The partnership is said to be the first fully integrated PMR solution of its kind. It provides an appointment management system for pharmacy video and phone consultations, along with the option to re-order prescriptions via the app.
"As a diabetic, I constantly experience challenges contacting my pharmacist for prescriptions; I set up Charac to connect patients and pharmacies in a simpler and more efficient way," says Santosh Sahu, founder and CEO of Charac. "One of the biggest complaints from pharmacists today is lack of time. Charac frees up time for staff to perform other duties, allowing more time for consultations and improving customer service. By freeing up time for pharmacists to dedicate to patient consultations, Charac helps relieve mounting pressures on GPs and rising NHS backlogs.
"Almost 40 per cent of UK pharmacies are small chains or independents. Charac exists to make it much simpler for them to schedule appointments or order repeat prescriptions, thanks to our integration with the NHS IM1 interface. We've recently teamed up with Royal Mail to provide prescription delivery services via the postal system, saving community pharmacists even more time.
"The world is becoming increasingly digital. Healthcare is no exception. In three years, over 22 million people downloaded the NHS App. One way for a pharmacy to digitalise is to sign up for Charac to help improve the delivery offering, drive revenue and improve customer service. Our digital platform helps with advertising services, helping to raise awareness of the health issues pharmacists are qualified to deal with."
Parade Pharmacy's UK first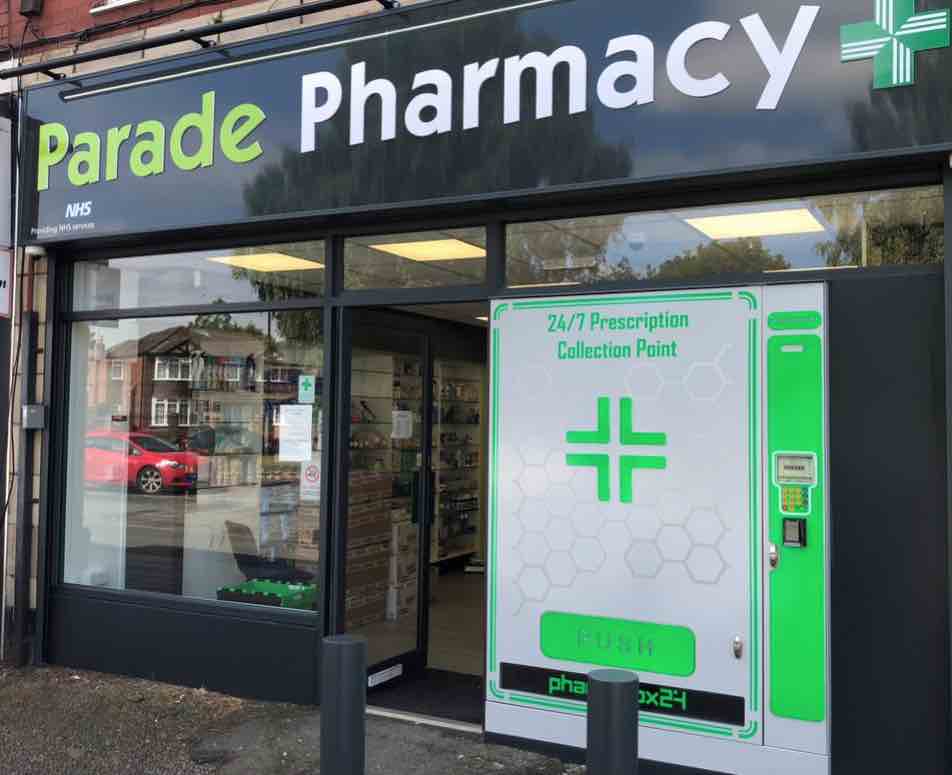 Formerly known as Mai's Pharmacy, the newly refurbished and renamed Parade Pharmacy in Sale, Manchester, is the proud owner of the first Pharmabox24 installation in the UK.
Integrated fully with the pharmacy's Proscript Connect system, the Parade Pharmacy team are now able to offer their customers a 24 hour, seven days a week prescription collection service. First comments from the team have all been very positive: "Looks fantastic… quick and easy to use…" and customers are signing up to the service.
The next Pharmabox24 installations are coming in South Wales, in Oxfordshire at a brand new pharmacy location and in North Yorkshire. Pharmabox24's Alastair Carmichael says: "Interest has continued to grow, but with an up and running machine, prospective Pharmabox24 customers can now see how easy these machines are to use and how quickly they can grow your business."
Sintesi robot and Titan software power Creigiau Pharmacy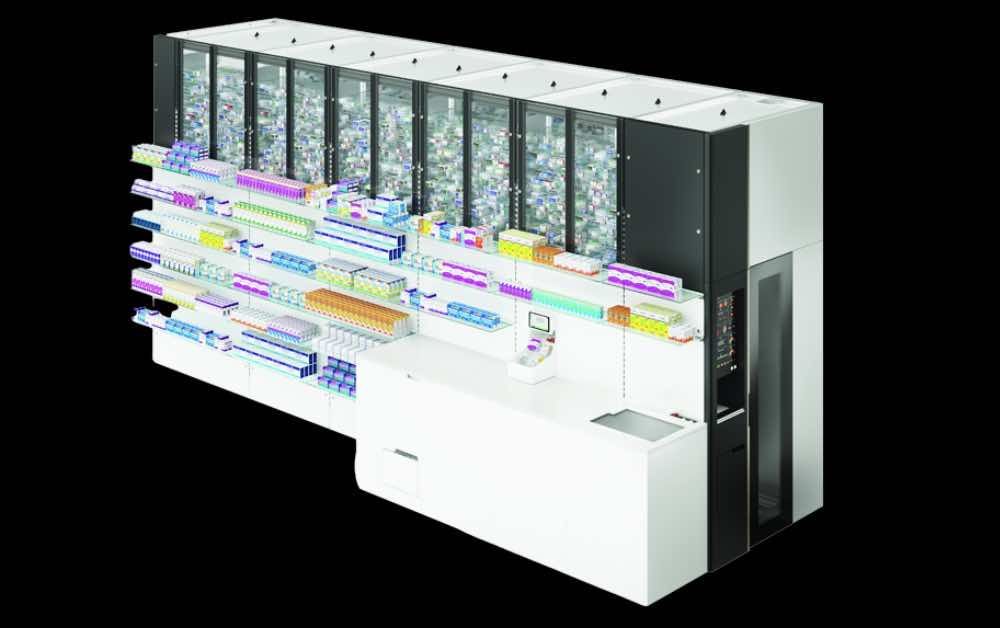 Creigiau Pharmacy in Wales had been looking for an automation solution to help improve its dispensing process, lower the cost of dispensing, free up floor space, reduce the number of part packs, manage expiry dates and free up time for healthcare teams which could be reallocated to other important services.
After reviewing the pharmacy automation market, owner Gareth Thomas decided that the Sintesi from Avonnex could meet all his requirements. "The installation was completed very quickly, with seamless integration between the Titan software and the Sintesi robot," says Mr Thomas. "Dispensers are free to locate items not stored in the robot and when they return, the items are awaiting collection in the exit bin, speeding up the whole dispensing process and minimising the traffic in the dispensary."
The pharmacy has implemented 'compact storage' in the robot, using every available space on shelves by mixing different medication packs in the same row, while the Euclid 3D picking arm ensures that dispensing time is not increased. At 4.5 metres long, the Sintesi has a capacity of around 7,000 to 7,500 packs, and the four connected exits are shared between dispensers.
Although his Sintesi has only been operating for a few weeks, Mr Thomas says he has already seen improvements in different areas – from dispensing to stocking, which now happens automatically in the background.