According to an article published in the British Journal of General Practice in March, the pharmaceutical industry is an area of growing concern as, globally, its emissions intensity is 55 per cent higher than the automotive sector.
"The supply chain – pharmaceuticals and medical instruments – contributes the highest proportion of NHS greenhouse gas (GHG) emissions," wrote the authors. "Indeed, in primary care, medicines have been identified as a 'carbon hotspot', accounting for 65 per cent of its total GHG emissions... Our GPs, psychiatrists and pharmacists working group has focused on how we can reduce the environmental impact of pharmaceuticals from research, manufacture, packaging, and sterilisation, through to transport, consumption, elimination and disposal. Improving prescribing practices through medicines optimisation is key to making pharmaceuticals more sustainable, although this is beyond our scope here."
Also in March, a study carried out by researchers at Glasgow Caledonian University with the James Hutton Institute and the Environmental Research Institute (University of the Highlands and Islands) delivered the first national assessment of pharmaceutical pollution of Scotland's water environment. The study found that nine medicines, including ibuprofen and antibiotics, may pose higher risks of ecotoxicity and antimicrobial resistance, although the authors emphasise that monitoring is often carried out at higher risk locations.
"We think of ourselves as the health 'good guys', don't we? So to realise that our profession can negatively impact the climate can come as a huge shock."
"It is important to try to prevent or reduce the impact of pollution by medicines as much as possible rather than trying to deal with the problem," said Sharon Pfleger, NHS Highland lead, One Health Breakthrough Partnership (OHBP) co-founder and consultant in pharmaceutical public health. "That's why the OHBP is taking an up-stream public health approach, ensuring that prescribers and the public understand that medicines do pollute our waters and how they can help, developing guidance for prescribers on more eco-friendly choices of medicines, promoting the use of green and blue spaces to help physical and mental health instead of using medicines, and ensuring that people know how to correctly dispose of unused or unwanted medicines."
Pharmacy Declares
The organisation Pharmacy Declares has been established to galvanise pharmacy professionals and professional/regulatory bodies into action to tackle the climate and ecological crisis.
"Pharmacy Declares is made up of pharmacy staff who feel passionate about tackling the climate and ecological crisis," says Tracy Lyons, medicines optimisation pharmacist and pharmacy sustainability lead at Poole Hospital, and a co-founder of Pharmacy Declares. "We made the connection to human health and felt that the pharmacy profession hadn't adequately addressed it. We saw that other healthcare professions were taking amazing strides to promote planetary health (assuring human health by caring for the environmental systems on which it depends) and simply felt that our voice was missing."
Pharmacy Declares wants to tackle climate change in two main ways: limiting the primary driver – fossil fuel use – and making medicines use as sustainable as possible. "That last point is really important," says Ms Lyons. "Carbon emissions associated with medicines make up 25 per cent of the NHS's carbon footprint, and that's without taking into account the emissions associated with pharmacy service travel or energy use. We think of ourselves as the health 'good guys', don't we? So to realise that our profession can negatively impact the climate can come as a huge shock."
The organisation is focusing on pharmacy professionals, pharmacy and medicines sustainability, and personal action. "Community pharmacies are ideally placed to help customers understand the climate health message and how this can impact on our lives," says Ms Lyons. "Pharmacy staff and companies can follow us on Twitter (@PharmDeclares), and we encourage them to tag us into any initiatives they would like to celebrate."
A particular focus for Pharmacy Declares this year is to showcase the work that community pharmacy teams have already undertaken. "We've been approached by a number of community pharmacies letting us know how they've reorganised their businesses to promote sustainable healthcare," says Ms Lyons, "such as switching to green energy tariffs, counselling patients on proper medicines disposal or using electric vehicles for deliveries. We want to collate a list of everything which can be done and share it. Such moves are obviously beneficial to planetary health, but they're proving popular amongst the public as well, with pharmacies reporting an increase in footfall to 'green' businesses."
Industry initiatives
According to the Royal Pharmaceutical Society, pharmacy can have a climate change impact at every stage of the life cycle of a medicine, from improving prescribing and medicines use to tackling medicines waste and preventing ill-health to reduce the need for pharmaceutical products. In addition, pharmacies can assess their own infrastructure and ways of working. There are now several ongoing industry initiatives to encourage more sustainable pharmacy and pharmaceutical industry practices.
The Sustainable Medicines Partnership (SMP), founded in November 2021, brings together stakeholders from across the public and private sectors to reduce wastage of medicines and medicines packaging, and to make medicines more accessible and more sustainable. Collaborators across all areas of healthcare, including academia, innovative recycling SMEs and hospital trusts, have been announced over the last few months.
"Every year, we throw away billions of medicines that are safe to use and desperately needed, and most medicines packaging is not recycled," says Nazneen Rahman, CEO of YewMaker and SMP director. "It is a huge waste of money and natural resources, and a major contributor to healthcare's greenhouse gas emissions. We can make medicines more sustainable, but only through partnership, collective stewardship, commitment and action."
Initiatives are underway to reduce the carbon imprint of asthma inhaler prescribing, as pressurised metered dose inhalers contain hydrofluoroalkane propellants, which are potent greenhouse gases.
In March this year, a new working guide for healthcare professionals was reviewed and endorsed by the NHS England and NHS Improvement Inhaler Working Group, Asthma UK and the British Lung Foundation. The guide sets outs key principles, such as optimising asthma care first and using shared decision making with patients to choose the most appropriate inhaler for them. It has a frequently asked questions section and a table of inhalers by carbon footprint category.
In December 2021, Alliance Healthcare committed to become net carbon zero by 2030, showing support for the global efforts to cut carbon emissions, as set out at the UN Climate Change Conference, COP26. "Caring for the environment and the world we live in is extremely important to Alliance Healthcare," said Julian Mount, who was managing director at the time. "We all have a duty to do whatever we can to tackle climate change."
In April 2022, life cycle management company Pharmanovia launched its inaugural sustainability report. It included a commitment to work towards science-based targets on carbon reduction, and target setting for use of recycled materials in secondary packaging for the 14.6 million packs of medicine sold by the company each year. "Digitalisation of the procurement and prescription of medicines will be a major step forward in the pharmaceutical industry's journey to becoming more sustainable," says Neeshe Williams, general counsel and head of ESG [environmental, social and governance] at Pharmanovia. "Taking advantage of the latest technological innovation to implement frameworks for sharing of information will allow the use of surplus stock otherwise destroyed by manufacturers as well as uncollected prescriptions from community pharmacies."
Sustainable steps
Improving sustainability can occur at all stages of the supply chain, and consumers often look for environmentally-conscious brands and reusable and resealable products. "If sustainability details were highlighted on the packaging or on advertisements, I am sure it would influence the purchase decisions of some customers," says pharmacist Ellis Nugent of Davies Chemist, Gurnos, Wales.
Among the major brand owners that are already taking steps in this direction is Danone. In January 2022, it became one of the first top 10 food and healthcare manufacturers in the UK and Ireland to certify as a B Corp, following accreditation of its Specialised Nutrition category and manufacturing sites, including Nutricia products and services. B Corp certified businesses are verified by the non-profit organisation B Lab to meet high standards of social and environmental performance and public transparency, with a proven commitment to balance profit and purpose.
"The B Corp philosophy directly aligns with our own purpose and vision for sustainable growth," says James Mayer, president for Danone UK & Ireland. "The accreditation of our Specialised Nutrition business is a key milestone – meaning that all our UK and Ireland operations are now certified. There has never been a more critical time for greater action from responsible businesses. And more than ever, people want to buy from, work for, invest in and partner with businesses they trust to make a positive impact."
"Every year, we throw away billions of medicines that are safe to use and desperately needed, and most medicines packaging is not recycled"
In other brand news, last year, Cetaphil Skincare announced its sustainability and social impact 'Clear Skies Initiative'. The brand set a goal to achieve 100 per cent renewable electricity in its factories by 2022 and become carbon neutral in its production facilities. It has reduced water consumption by 33 per cent per ton of product, reduced annual CO2 emissions by more than 60 per cent and achieved zero waste to landfill status. It is also reformulating products to provide consumers with cleaner formulas, and smarter packaging.
"We know that the health of our skin is a reflection of our environment –factors such as pollution, water quality and climate can impact skin, especially sensitive skin," says Walter Geiger, head of the Global Consumer Business Unit at Cetaphil owner Galderma, a subsidiary of Nestlé. "As the leader in treating sensitive skin, it's time to be even more sensitive to the environment to contribute to both short-term and long-term change. We're proud of what we've accomplished thus far, but we know we can do more – this is only the beginning."
When it comes to packaging, in January, OPM (labels and packaging) Group highlighted that die-cut peel and reseal labels can be an important choice for aqueous products and products that contain fragrances, alcohols and antibacterial agents. "Not only does resealable packaging offer more flexibility and convenience for consumers, the format also plays a key role in reducing the burden of waste by keeping products fresher for longer," says Susan Ellison, joint MD at OPM Group. "It's all a case of building a strong value proposition at-a-glance. Consumers love the versatility of resealable label packaging, with the format finding success across the food, cosmetic, personal care, baby, health and household markets to name just a few."
As of 1 April this year, as part of the Government's recycling policies, all plastic packaging must contain 30 per cent recycled material or be subject to a levy of £200 per tonne. British MedTech company NeedleSmart is collaborating with the NHS to drive a campaign to minimise single-use plastics and associated packaging. Its NS PRO device transforms sharp needles into a safe sphere of metal at the tip of the syringe. This destroys the needles, converting them into safe clinical waste and allowing for recycling, and also hugely decreases the level of clinical waste disposal. "Using the technology means we can reduce the carbon emissions that the NHS produces by 95 per cent," says NeedleSmart CEO and smart MedTech disruptor, Cliff Kirby.
How you can help
This month (June), Pharmacy Declares will be co-hosting a Sustainability Pledge Campaign with the Royal Pharmaceutical Society, the Association of Pharmacy Technicians UK and other organisations, asking pharmacies (individuals, multiples and chains) to make a sustainability pledge and showcase one particular action they've undertaken. Find out more
The Pharmacy Declares website also has a link to the Great North Pharmacy Research Collaborative Conference. Taking place on 15 July, the theme of the event is Sustainability in Pharmacy: The health of patients and the planet
During July/August, a #TreeNotThese campaign will be calling on pharma companies to limit the volume of unwanted junk mail they post out
On 15 October, Pharmacy Declares will host a Sustainability in Education webinar in association with the CPPE and the Guild of Healthcare Pharmacists.
A new life for blister packs
Vale of Neath Pharmacy in Glynneath, South Wales, has been offering staff and customers the opportunity to recycle their empty medicine blister packs in TerraCycle's Zero Waste Boxes. These blister packs are not recycled by local councils, so would otherwise end up in landfill or incineration, or even in oceans and waterways if not disposed of correctly. When full, the boxes are returned to TerraCycle, where they are turned into pellets that can be used by third parties to manufacture a variety of new products, including outdoor furniture, bins, and lumber for construction applications.
"We've been offering this service to customers to bring in their empty blister packets for three to four months now," says Niki Watts, superintendent pharmacy director, "and the uptake has been great as customers really care about reducing waste. We originally bought three medium sized boxes, but have now purchased a larger box as we were filling one box every month."
Sponsored
Sponsored Education
This short video explores the myths around diarrhoea management so you can better support customers who are affected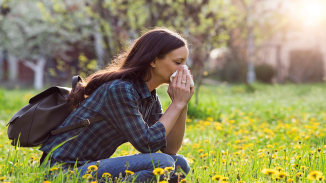 Sponsored Education
This module will improve your hay fever knowledge, helping you to understand its impact on sufferers and recommend the right products to ease symptoms
Record my learning outcomes