Common conditions
More than skin deep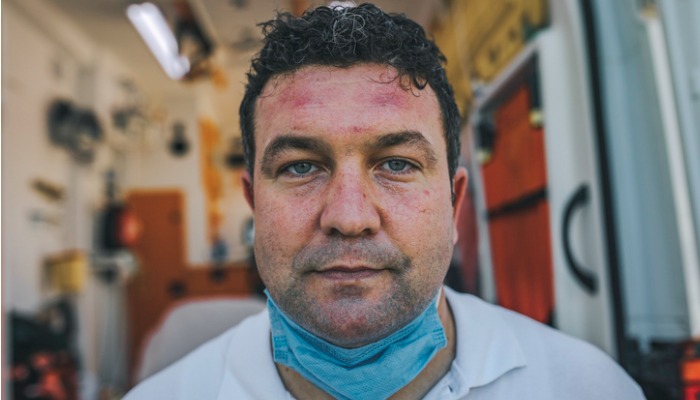 While skincare products are available from a wide range of outlets, pharmacy teams are uniquely positioned to use their knowledge and advise customers who are not simply after the latest celebrity-endorsed product on how to care for their skin properly.
Older women, men with acne and adults with eczema are among the groups of people who are more likely to buy skincare products from community pharmacies. So how can pharmacy teams optimise sales and advise customers on the best way to treat their skin?
Women over 50
Mature skin is less supported by collagen and elastin, leading to lines, wrinkles, dehydration and changes in texture. Customers looking for products for mature skin may also be looking for natural ingredients, suggests Sue Harrison, skincare advisor at Mahi Naturals. Among the brands Mahi distributes is SkinWorks, which offers a serum, a retinol-based moisturising face cream and a face oil for mature skin, all designed to support skin as it ages.
Serum should be applied in the morning on its own or followed by face cream, and facial oil should be used at night. "If the skin needs an extra boost, apply serum at night before facial oil," Ms Harrison suggests, "and for very dry skin, warm the face cream and the oil between the hands before applying to the face, neck and décolletage. Gently cleanse the skin prior to application to ensure the products absorb." A SkinWorks cleanser is expected to be launched later in the year.
For women with drier mature skin, Emina Avdukic, international account manager for Salcura Natural Skin Therapy, suggests that to soothe and hydrate, a moisturising face wash such as Bioskin Face Wash, morning and evening, may help. "Face wash should be applied to damp skin, massaged in and rinsed off with lukewarm water," she says. "Follow with a serum, such as Dermaserum. Keeping hydrated and including anti-inflammatory foods in the diet also helps to balance and hydrate skin."
Men with acne
Acne affects more than 80 per cent of people at some point in their lives, although adult acne is less common. Up to 14 per cent of those affected will consult a GP for advice, yet only 0.3 per cent will see a dermatologist. Recent figures suggest that there are currently around 3.5 million GP consultations for acne in the UK every year.
According to Global Web Index, 38 per cent of male buyers think men should be better represented when it comes to skincare products. While many men turn to prescription strength retinoids like tretinoin, pharmacy staff can help by recommending products to manage their condition – including benzoyl peroxide and salicylic acid-based products that dry out oily skin and kill bacteria. These should be applied over the entire face, usually twice a day in the case of regular facial treatments, or on blemishes as they appear.
Salcura expert Emina Avdukic advises that washing the face with a gentle, targeted face wash such as Antiac can be helpful. "It's important to avoid hot water on the face when showering or using body washes or shampoos while in the shower, as this can dry the skin out further, triggering production of even more oil," she says. Ms Avdukic also advises following a face wash at night with a product such as Antiac Liquid Spray, which is designed to deep cleanse and decongest skin.
Keeping hydrated and including anti-inflammatory foods in the diet also helps to balance and hydrate skin
People with acne should avoid toners and astringents containing alcohol, which dry out excess oil. The effects are short-lived and oil production generally rebounds, exacerbating the problem.
Ms Avdukic advises: "Keep in mind that shaving can cause skin to break out, especially if it is dry and is producing a lot of oil. Gentle shaving products with creamy textures should help. Look for products that are non-drying and follow with a light moisturiser."
Ms Harrison recommends Hope's Relief Goats Milk soap as a gentle way of cleansing the skin. "It will help leave the skin feeling comfortable and not tight and dry like many cleansers and face washes," she says. "Acne also affects the body – especially the back – and Hope's Relief Goats Milk body wash will clean skin gently and effectively."
Ms Avdukic advises that in order to help prevent acne breakouts, men should avoid sugar, dairy and caffeine, keep well hydrated with plenty of water, and eat a balanced, high nutrient diet.
Understanding the causes of acne is important, says Galderma. There is little evidence that acne is caused by specific foods, dirty skin or lifestyle choices, for example. It is more likely that spots are caused by a combination of intrinsic factors which cause blocked follicles, and the acne bacterium, Cutibacterium acnes. Over the counter or prescription acne treatments can help, and suitable adjuvant skincare routines will help minimise some irritating side effects of treatments.
Dermatologists recommend 'syndets' – synthetic, non-soap detergents – to cleanse skin, and use of daily moisturisers containing sun protection since some acne treatments can cause photosensitivity. For acne on the chest or back, wash-off treatments may be more acceptable. Non-comedogenic moisturisers are also recommended as they don't cause blocked pores.
Purifide is a new clear skin cosmetics range, which can also be used as daily skincare for acne-prone skin, from the makers of Acnecide. Containing 5 per cent benzoyl peroxide, Acnecide is available as either a leave on or wash off treatment.
Adult eczema
Research by natural skincare company Medovie reveals that almost a third of people (29 per cent) with a skin condition such as eczema or psoriasis said it took them more than six months to have it diagnosed by a professional.
Nadav Shraibom, scientific founder at Medovie, advises that customers should first seek advice from a specialist, who will be able to recommend the correct products. "Finding the perfect skincare routine, especially for those with chronic skin conditions such as eczema and psoriasis, can be a long road, especially when you're unsure as to what your issue may be," he says.
suitable adjuvant skincare routines will help minimise some irritating side effects of treatments
The Cetraben range is designed to help manage dry skin conditions, including eczema and psoriasis. The brand encourages liberal use of emollients to keep skin well moisturised and prevent flare-ups. "Emollients should be applied daily and as often as needed to keep skin well moisturised and in good condition. Ideally, they should be applied at least three or four times a day, in a downwards motion in the direction of hair growth," says a spokesperson. "It is especially important to apply emollients to hands and face as they are more exposed to the elements. Products are best applied after washing hands, having a bath or taking a shower, after patting skin dry to ensure they are properly absorbed."
Matt Duggan from QV Skincare UK suggests using soap-free and pH-balanced products like QV Gentle Wash, which contains 15 per cent glycerine to help reduce the drying effect. He says: "Regular use of emollients is one of the core management strategies for those living with dry skin, or dry skin conditions like eczema.
"The aim of using emollients liberally and frequently is to maintain the skin's barrier function to keep moisture in, and irritants, allergens and pathogens out. Recommend applying a low-irritant emollient at least twice daily."
Managing the psychological impact of scars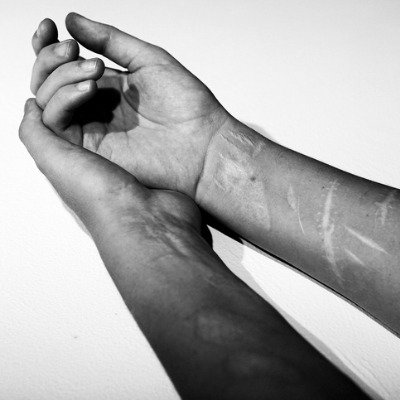 Globally, around 100 million people develop scars every year, and they can have a significant impact on quality of life. Research shows that scars can affect psychological wellbeing, sometimes leading to anxiety, social isolation and depression.
Nick Wilson Jones, consultant paediatric plastic and reconstructive surgeon at the Welsh Centre for Burns and Plastic Surgery, Morriston Hospital, explains: "Some people may think that scars just leave a physical mark, but there can also be a huge emotional and mental impact. Everyone holds their scars in different ways. Some people will wear theirs as a 'badge of honour' – a reminder of recovery from a major illness such as cancer, while others feel self-conscious and lack confidence about visible scars. There's no right or wrong, but it is important that we recognise the psychological impact of scarring and do more to support those who are affected."
A recent survey commissioned by Kelo-Cote revealed that 82 per cent of people don't realise that scars can be treated up to two years after an initial injury. If a burn, graze or a wound cuts through deep layers of the skin and hasn't healed after 10 to 14 days, the reality is that it will form a scar. The sooner this is accepted, the easier it is to move towards protecting and treating the scar, and improving its appearance to the best possible point.
Some scars are emotionally and psychologically complex, such as scars caused by self harm. Research has revealed that GP-reported self harm in girls under the age of 17 has increased by 68 per cent in just three years, and in cases like these, it's not until they are fully recovered that people will be able to accept their scarring and contemplate getting treatment.
Silicone scar treatments
Silicone is the main ingredient in many topical scar treatment products and has been used for more than 30 years in the prevention and treatment of abnormal scarring, such as hypertrophic and keloid scars.
Kelo-Cote Scar Gel UV with SPF 30 is an advanced formula silicone scar treatment, clinically proven to help soften and flatten raised scars as well as reducing discolouration and redness, protecting visible scars from the effects of the sun. It binds to the skin's surface creating an ultra-thin sheet which treats and protects scars for 24 hours with twice-daily application, says Kelo-Cote.
A healthy barrier is vital
Eczema is most commonly diagnosed in children, but it also affects up to 3 per cent of adults globally, says QV Skincare UK.
There are three grades of severity: mild, moderate and severe. First-line treatment options common to all include using unperfumed moisturisers (emollients), in conjunction with short-term topical corticosteroids to control flare-ups.
A management regime based on best practice should involve the following:
Avoiding triggers and irritants
Maintaining and protecting skin by following a good skincare routine
Treating flare-ups
Controlling itch and preventing infection.
Managing eczema also involves identifying and minimising exposure to factors that exacerbate the condition, while maintaining the skin's barrier function with emollients and using anti-inflammatory and other necessary treatments.
Despite best efforts to use emollients and avoid irritants, flare-ups are characteristic of the condition. Topical corticosteroids are the main agents used to control them. The intention is to use them short-term, so they should be applied in appropriate amounts to all affected areas to gain rapid control. In general, the potency of a corticosteroid should be matched to the severity of the flare-up, with the least potent option used. Prolonged topical corticosteroid use should be avoided to limit the risk of adverse effects such as skin thinning. Additional treatment options such as wet bandaging, phototherapy, pharmacotherapy and systemic treatment may be recommended as severity increases.
As eczema-prone skin commonly also involves a disrupted moisture barrier, an appropriate daily skincare routine that is gentle, hydrating and strengthens the skin's barrier is an important part of managing the condition. It can help to manage the dry skin and its uncomfortable, itchy feeling, and reduce dullness. A strong, well maintained skin barrier boosts the skin's tolerance of external sources of irritation and helps reduce moisture loss.
Emollients are useful lipid-based ingredients typically recommended for eczema-prone skin that help to lock moisture in, strengthening the skin barrier to reduce dryness and restore suppleness to the skin. Fragrance-free, hypoallergenic, soap-free, pH balanced skincare products are commonly recommended as suitable for eczema-prone skin.

Making the most of emollients
Aspire, distributor of the Epimax range of seven creams, ointments and gel emollients, says it's important to find both an emollient and a routine that works for the customer. The company offers the following tips as a reminder to pass on when advising about application:
Smooth the preferred emollient into the skin, in the direction of hair growth to prevent hair follicles getting blocked, being careful not to rub
Use a clean spoon or spatula to remove emollients from a pot or tub, to reduce the risk of contamination
Apply in adequate quantities. The weekly recommended amount to treat the whole body in diagnosed dermatological skin conditions, such as eczema and psoriasis, is 800g a week for an adult and 250-500g a week for a baby or small child
Emollients should be applied as often as needed to keep skin moisturised and comfortable. Apply liberally and frequently – ideally, at least three or four times a day. The hands and face are exposed to the elements, so they may require application more often to keep them well moisturised
Emollients are best applied after washing the hands, taking a bath or showering because this is when the skin needs the most moisture. Pat the skin dry with a towel, avoiding rubbing. Then apply the emollient once the skin is dry to make sure that it is properly absorbed.
When using as a soap substitute or bath additive
Mix a small amount (around a teaspoonful) in the palm of the hand with a little warm water and spread it over damp or dry skin. Emollients won't foam like soap, but are still as effective at cleansing
Afterwards, rinse and gently pat the skin dry, being careful not to rub
Take extra care in the bath, shower or on a tiled floor. Protect the floor with a non-slip mat or towel
Afterwards, wash the bath or shower with hot water and washing up liquid to remove any residue.
Views of the P3 category panel
"We deal with a mix of conditions like eczema and rosacea as well as cosmetic skincare. We've had more queries about products for acne as mask wearing can cause breakouts. More and more customers want to use natural-based skincare solutions, so make sure you have some in stock. We get asked for skincare to use with products such as steroid creams and how best to use emollients – many do not realise they can be used as a soap substitute. Our best-sellers? Dermal, E45, Cetraben and Diprobase for medical conditions, Avene and Caudalie, as well as specialist ranges such as Swiss Bellafontaine for cosmetic skincare."
Sarina Mughal, Day Lewis, Knightsbridge
"The skincare section delivers year round, from chapped lips to sun lotions. We display sunscreens all year. We have a well-stocked P section, including Eumovate and Daktacort HC, and we link sell emollients to drive longer-term remission of eczema. People are noticing Aveeno's promotional activity, which seems to be diminishing the popularity of E45. Stocking a narrow OTC range you believe in makes a huge difference to feeling confident when people are self-selecting. Using emollients from the dispensary offers more bespoke-looking support for those needing more advice, which can drive repeat custom."
Gareth Evans, Wansford Pharmacy, Peterborough
"Patients commonly present with a rash – is it serious, what can they put on it? After ruling out more serious skin infections, typical cases are either eczema or a fungal rash and hydrocortisone cream is advised. I recommend moisturisers for eczema; sufferers generally do not apply this frequently enough. My choice is usually Cetraben. Canestan HC or Daktarin HC are handy products for a patient only wanting to use one cream for a fungal rash. Have leaflets about eczema next to related products to highlight how it should be treated. Speak to your local health body to see if they stock or can source them for you."
Ellis Nugent, Well Pharmacy, Llantwit Major, South Wales