Exercise has an important role to play in helping people living with osteoarthritis, according to the National Institute of Health and Care Excellence. In draft updated guidelines on care and management, NICE says that clinical evidence shows people with osteoarthritis offered tailored exercises can achieve good health outcomes.
The new draft guideline (a formal consultation closed last month) suggests a healthier lifestyle can help ease symptoms; it says paracetamol or glucosamine should not be routinely offered, while strong opioids should not be offered at all.
Osteoarthritis is the most common form of arthritis, and one of the leading causes of pain and disability worldwide. It is estimated there are approximately 7.4 million people in England over the age of 45 identified as having osteoarthritis. The most affected joints are the knees, hips and small hand joints.
Dr Paul Chrisp, director for the Centre for Guidelines at NICE, said: "Osteoarthritis can cause people discomfort and prevent them from undertaking some of their normal daily activities. However, there is evidence which shows muscle strengthening and aerobic exercise can have an impact on not just managing the condition, but also providing people with an improved quality of life. Beginning that journey can be uncomfortable for some people at first, and they should be supported and provided with enough information to help them to manage their condition over a long period of time.
"Any amount of weight loss is likely to be beneficial but losing 10 per cent of their body weight is likely to be better than 5 per cent"
"While topical and sometimes oral NSAIDs remain an important treatment option, we have taken the decision to not recommend some painkillers, such as paracetamol and some opioids, for osteoarthritis. New evidence has shown there was little or no benefit to people's quality of life, pain or psychological distress and particularly, in the case of strong opioids, there was evidence that they can cause harm in the longer term, including possible addiction."
Healthcare professionals should support people with osteoarthritis who are overweight by helping them choose a weight loss goal, the draft guideline also suggests. "Losing weight can help to reduce joint pain. Any amount of weight loss is likely to be beneficial but losing 10 per cent of their body weight is likely to be better than 5 per cent."
Moving Medicine has a guide to one minute conversations for pharmacy staff, while support group Versus Arthritis runs the Let's Move with Leon exercise programme.
The draft guideline also recommends clinical diagnosis of osteoarthritis without imaging in people who are over 45, have activity-related joint pain and either have no morning joint-related stiffness or stiffness that lasts no longer than 30 minutes.
The final version of the guideline, full title Osteoarthritis: care and management (GID-NG10127) is expected to be published on 19 October.
More people are suffering
Elvy Mardjono, senior brand manager for Mentholatum's Mind your Back campaign, says that data shows that since the start of the pandemic the number of people experiencing musculoskeletal pain has increased significantly, with such conditions now accounting for 30 per cent of GP consultations.
"It would be wise to ensure that shelves are stocked with hot, cold and anti-inflammatory topical products in a wide range of formats. The category also needs to include education, both face-to-face, literature and online digital advice tools customers can turn to for self care advice at home. Our campaign is free to access and details a variety of strengthening and stretching exercises."
The topical NSAID market is worth £52 million according to IRI. "A selection of topical analgesic products is essential in every household's self care toolkit. Customers should choose a topical gel which has two painkilling ingredients and is clinically proven. Pharmacies should keep a well-signposted topical pain relief section, stocked with products from trusted brands," says Kaye Mackay, senior brand manager for Deep Heat and Deep Freeze.
"More consumers are looking for targeted topical relief in different formats that are easy to use. They also want convenient products that can be easily applied through the day and carried around."
Senior brand manager for Deep Relief, Elaine Walker, adds: "From real world research that we have just published, more and more consumers are failing to pinpoint joint and muscular pain on lifestyle factors and instead looking to attribute direct blame to other factors including what they have eaten or even on tight clothes.
"However, the top reasons for joint pain are being overweight, having a sedentary lifestyle or poor posture. Our Be Prepared campaign helps consumers understand how their joint pain has most probably been caused, providing them with advice in three key areas: diet, stretching and self-care. We are trying to help people understand how to avoid muscle and joint issues and enjoy being active, hobbies, sports etc and when they do get a joint or muscular pain issue, to self care with a Deep Relief topical solution as a first course of action.
"Pharmacies should aim to keep a well-signposted topical pain relief section, stocked with products from trusted, market-leading brands with a long heritage in the self-care sector, with clear advice on which products to use for different types of pain or injury to make self-selection easier. This will help customers play their part in self-care."
A quarter of families not consulted about options
A new survey commissioned by the National Rheumatoid Arthritis Society (NRAS), highlights that 39 per cent of parents and carers of children with juvenile idiopathic arthritis (JIA) don't receive sufficient treatment information, 25 per cent don't receive any treatment information in their initial consultation and 26 per cent feel that they have little to no influence on their treatment choices.
JIA is one of the most common causes of physical disability in childhood. Approximately 12,000 children in the UK suffer the persistent joint pain, swelling and stiffness of JIA, which equates to one child in every 1,000 under 16. The survey suggests that the disease negatively affects the quality of life of up to 89 per cent of those asked, with mobility and mental health being particularly affected.
GP and health economist Alastair Dickson says disease severity, side effects or personal preference can all affect how a patient responds to treatment. "I'd encourage families to ask lots of questions," he says. "For example, if you know your child doesn't like taking pills, then enquire if alternatives are available, such as injectable options, which may only have to be administered weekly."
A JIA Medicines booklet is available to order or download from NRAS
Sponsored
Sponsored Education
This short video explores the myths around diarrhoea management so you can better support customers who are affected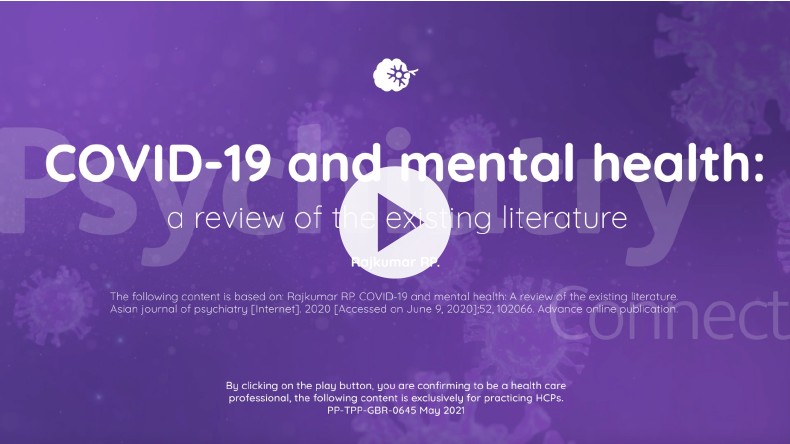 Sponsored Education
Viatris has created this short video based on a publication reviewing global research into the potential impact of the Covid-19 pandemic on mental health. It identifies six areas where psychiatrists can play a role in supporting people's mental health through these difficult times.
Record my learning outcomes