Helping pharmacists connect
Views
Helping pharmacists connect
By Jeremy Meader
Community pharmacies have been rapidly adapting their frontline service to meet the unprecedented demand of this continuing coronovirus pandemic. Pharmacy has proven itself to be an invaluable resource on the frontline of healthcare, providing lifesaving prescription services, support, advice and reassurance to patients and their families when they need it most. As we enter the recovery phase, independent community pharmacists should be 'taking stock' of a different kind.
The ability to quickly adapt, evaluate operational efficiencies and diversify throughout the pandemic has been a necessary step in helping pharmacists futureproof the retention of their business. While nobody would have wished for the circumstances, they have prompted a challenging but timely review of working best practice.
Communities have become acutely more aware of the importance of their own and other people's health during this pandemic. Fundamentally this has paved the way for pharmacists to concentrate on finding new and improved ways to connect with patients more frequently.
Staying relevant, embracing the digital world of automation and putting patients at the heart of pharmacy business – engaging them with services that generate income, help drive sustainability and increase profitability – will safeguard pharmacies for the future.
It is widely recognised that within community pharmacies significant time is consumed by the dispensing process – ordering, stock reconciliation, picking, checking and issuing – which impacts on the time pharmacists can spend connect with patients. This process hasn't changed for decades. One year ago, Phoenix opened its MediPAC central dispensing facility. One of the UK's largest automated pharmacies, the facility provides Rowlands Pharmacies with a 'hub and spoke' solution for assembling repeat prescriptions. By centralising repeat prescription assembly, Rowlands have been able free up more time for branch colleagues to provide support, advice and face-to-face healthcare services which patients want and need.
Using the logic of the 'pick to prescription' process designed for MediPAC, Numark is working to harness a new, central operating system that will radically transform the day to day dispensing processes for independent pharmacists.
The service currently being piloted with a few members is designed to release pharmacists from being tied to the dispensary bench to allow them more time to connect with patients by removing the requirement to handle stock multiple times and introducing clear and precise efficiencies into the prescription assembly process. Centralised automated dispensing is vastly more efficient than branch-level assembly. Developed by pharmacists, for pharmacists – this new, state-of-the-art solution has already proven to increase safety, improve efficiencies and be easy to use.
As a membership network, it's our mission to help our members with everything we possibly can and help all UK pharmacies thrive through providing access to new innovative products and technological advances. The new pick to prescription service will be available from September to all UK independent pharmacists who benefit from Numark membership.
Jeremy Meader is the managing director of Numark
Sponsored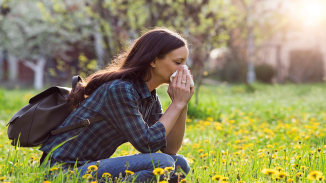 Sponsored Education
This module will improve your hay fever knowledge, helping you to understand its impact on sufferers and recommend the right products to ease symptoms
Sponsored Education
Safely recommend the most effective laxative for every customer with constipation
Record my learning outcomes