What to expect from this hayfever season
Seasonal
What to expect from this hayfever season
There are about 18 million hayfever sufferers in the UK, yet only half can identify their triggers, according to Allergy UK. This means there is plenty of scope for more pharmacy advice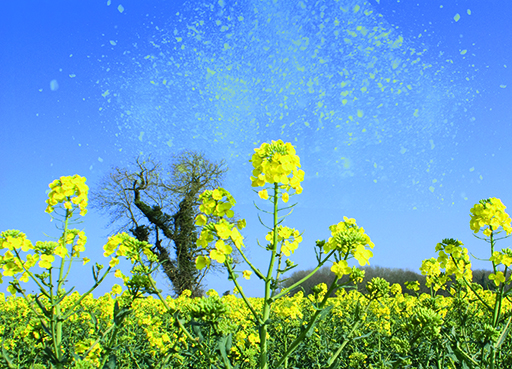 Hayfever is one of the main conditions that customers come into the pharmacy to ask advice about, especially during the summer, says Anshu Bhimbat, a LloydsPharmacy pharmacist in Buckinghamshire. "It's considered a minor ailment that can be treated by us, and is the most common allergy we come across."
Numark marketing co-ordinator Cathy Crossthwaite agrees on its importance. "People suffer in many different ways and with varying severity," she says. "This means advice will be a key element to supporting customers and helping them choose the best treatment. This sets pharmacy apart from other retailers who may not have a detailed knowledge of the category."
Hayfever is an important category for pharmacy. "It affects people from all walks of life, so giving good advice can showcase the skills of the pharmacy team and make the public more comfortable asking for help with minor health conditions in future," says Jane Devenish, pharmacist at Well.
It is a chronic disease that affects one in four people in the UK. "These numbers will get worse," observes Miguel Fernandes, lead commercial strategy manager at Perrigo. "It's forecast that by 2060 three in four people in the UK will suffer from hayfever, especially in urban areas. The number of untreated occasions will increase, which will bring exponential growth to the category."
Tips for pharmacy staff
Talk about compliance
"Ask your customers how they take their hayfever medicines and find out if they take them regularly," says Ms Bhimbat. "Talk to them about how best to use them and ensure they know how to take them. Has their treatment perhaps stopped working as effectively if they've taken it for a long time?"
Advise on managing symptoms
"It's important to explain there is no cure for hayfever, so treatment is about managing symptoms," says Ms Crossthwaite. "Reassure your customers that it is often trial and error when first starting out on managing hayfever. Aim to find out from your customer which symptoms are most bothersome and tailor their treatment accordingly." 
Educate your customer
"Ensure that every new sufferer is well informed about what hayfever is," says Alphega pharmacist Ray Hall, owner of RC Hall pharmacy in Hull. "Provide clear advice about the condition, what treatments are available and what preventive measures can be taken. It can be difficult to take in a lot of verbal information. To help, we use a digital health point where customers can print off leaflets to read at home. I also provide a written summary for patients who require more bespoke advice."
All about pollen
The pollen grain is the structure that transports male DNA to the female part of a flower. A tiny pinch of pollen contains thousands of pollen grains. While most pollen species can cause an allergic reaction, a few types are those that commonly cause hayfever symptoms.
Grass pollen affects 95 per cent of all sufferers and birch tree pollen about 20 per cent. Oak tree, plane tree and nettle pollens are other common allergens. 
People who live in urban areas have been shown to be more affected by pollen allergy than those from rural areas. High levels of vehicle emissions coincide with increased cases of hayfever. Climate change is having an effect on the hayfever season, too, resulting in an earlier start and longer season.
What is the pollen forecast for 2018?
The tree pollen season started earlier than usual this year, says Beverley Adams- Groom, chief palynologist and pollen forecaster at the Institute of Science & Environment at the University of Worcester, due to a mild December.
"The alder pollen season is under way, but with colder weather in February and March, it is likely to be an average season rather than severe," she says. "The birch pollen season could start later than average, around 10 or 12 April, due to the cold February, which could shorten the season. The oak pollen season is likely to be fairly short and quite mild. The grass pollen season is likely to have a start date around 21 May, but duration and severity depend on the weather in spring and during the season. A warm, showery spring will favour grass pollen growth, while a cold, dry one will not."
Peak hayfever season is June in the UK, with 22 June traditionally the worst day, says Allergy UK.
The hayfever market
"There is a continued move towards selfmedication, rather than GP-led intervention for minor ailment management, and this is also true for hayfever," says Lindsey Tier, marketing manager for Murine. "Many people are choosing specific symptomatic relief. For hayfever, this might mean someone taking an antihistamine as well as medicines to tackle nasal congestion or target itchy, sore eyes."
According to IRI, the hayfever category grew by 1.4 per cent last year and is worth £111,529,189. "Units are down, which I don't believe is because people are buying less, but more volume is leaking into channels we cannot see," says retail insight director Chloe Humphreys-Page.
"Challenges for this category are varied. First, we have the bargain stores/ discounters offering incredibly cheap, one-aday hayfever and allergy-relief tablets, and even cheaper options online. In a similar vein, we see a growing price-savvy consumer using social media to find the best value. Sufferers have become wise to the fact that the active ingredient is the same whether they buy a branded or generic product."
Pharmacy support for sufferers
Hayfever can have a serious impact on people's lives, but there are many ways in which community pharmacy staff can support both new and long-term hayfever sufferers.
"If not managed effectively, hayfever can have a significant impact on an individual and their family's quality of life," says Allergy UK nurse advisor Holly Shaw.
"Symptoms can cause sleep deprivation and lethargy, impaired concentration, an impaired sense of smell and taste. This can make many unfit to work or achieve their full potential."
Pharmacy teams need to let customers know that there are many hayfever products available, with different forms of administration. Some will suit individuals better than others. "We try each one out with patients in a logical way, and if they continue to experience symptoms then we'll try another until we find one that works well for them," says Ms Devenish.
"Pharmacy teams can differentiate themselves from supermarkets by going above and beyond with patient care. Give great advice, both about the medicines you're recommending and about action the patient can take to minimise their exposure to pollen."
It's important that customers begin treatment early and don't wait for symptoms to start. "Find out what triggers their hayfever so you can treat the symptoms with the right remedy," says Ms Bhimbat. "And talk to your customers about nondrug treatments that can be used alongside or instead of drug treatments."
"One of the key pieces of advice a pharmacist can give a customer is to choose specific symptomatic relief," says Ms Tier. "Even those who choose traditional antihistamines may benefit from additional symptomatic relief."
It's not just new hayfever patients who need your advice. "Symptoms can become more severe with time, which can have a long-term impact on patients, with some even stopping going out when the pollen count rises," says Ms Crossthwaite. Many customers will not review their treatment even as symptoms progress, so pharmacy teams should discuss symptoms with customers on a regular basis to ensure they are still taking the most suitable option.
Tips for the team
Ensure the team are up to date with current treatments in the category. "Annually, I would recommend ensuring staff are trained to be able to have a conversation with sufferers to ensure they are on an appropriate treatment plan," says Mr Hall. "I would also recommend talking about the benefits of starting treatment early to reduce symptoms," he says.
Ms Devenish agrees. "Ask long-term sufferers if they still get symptoms," she says. "Some customers can be taking the same product for years that eases, but doesn't remove their symptoms. Changing product, or adding in further medication when the pollen count is high, can be transformative."
It's important to know when to refer a patient. "A patient who has exhausted treatment options that the pharmacist can offer, who reports persistent, moderate to severe symptoms, will need to be signposted to the GP for further management," says Ms Shaw. "In some cases, a referral will need to be made to specialists in secondary care for other treatment options. Immunotherapy is one option for the long-term management of severe symptoms."
Suggest to customers that they keep a diary to track their symptoms. "They should start treatment or use a preventive solution early," says Farah Ali, general manager at Perrigo's centre of excellence, Warman-Freed pharmacy. "A combination of treatments may be needed, so further advice can be provided by a pharmacist."
Improve your hayfever category "Promote your hayfever category early," suggests Ms Bhimbat. "Don't wait for the season to begin. And promote link products such as tissues, saline sprays and nasal balms. Stock a range of different sized products, too."
"Signposting is key," comments Ms Crossthwaite. "Customers searching the allergy fixture are often already suffering, so helping them find their treatment of choice quickly will improve customer satisfaction and sales." And training is crucial, reminds Mr Hall.
Your staff need to understand the products they are providing to customers. Product placement is also imperative to building a strong category. As an add-on, you could also use digital POS to advertise products and provide leafl ets to help them better understand the condition."
"Think about the full range that you offer and reduce duplication," suggests Ms Devenish. "There is no point in offering six types of loratadine. Make sure everyone in the team is ready for the season. It can typically start very quickly, and requires knowledge that colleagues might not have used for several months, so a hayfever huddle to talk about the products you offer and top tips for sufferers, will help build confidence."
"It's important to maintain a hayfever category for an extended season, keeping a selection of treatments visible throughout the year," says Ms Tier. "Hayfever is becoming an issue for more of the year than ever before, due to changing weather patterns."
"It's always wise to ask customers when their symptoms occur each year and check a pollen calendar to see which pollens are released at what time to help establish what the allergen is," adds Max Wiseberg from HayMax.
Anne-Sophie Martin from Stérimar advises against stocking too may products. "Too much choice means your customers tend to go with what they already know, unless recommended otherwise," she says.
"Feature space is crucial across the season as it helps shoppers find the category," says Mr Fernandes. "Sprays are the best performing format in hayfever when promoted on display."
"Make the seasonal ranges stand out, and regularly change your merchandising to put seasonal categories front of mind," says Ms Ali. "Categorise all the range together so customers have one area to select and see the choices available."
Key questions that customer ask
Q Is it a cold or hayfever?
Symptoms can be similar, but key differences are a cold causes a runny nose with a cough, slight headache, sore throat and tiredness

Q What treatment is best and what should I take?
Antihistamine tablets are usually the first approach for mild to moderate symptoms and can be used daily to control symptoms, says Ms Crossthwaite. If a blocked nose is the main symptom, using a nasal spray helps reduce inflammation. Those with itchy, watery eyes could try eye drops.

Q Will the treatment make me drowsy?
This is important, especially for drivers. Customers should be aware of the different types of tablets and you should advise accordingly.

Q How can I help reduce my exposure to pollen?
It's important to talk about self-help as well as treatment. This can include keeping windows and doors shut when the pollen count is high, wearing sunglasses and checking the pollen forecast each day.

Q How do I identify the early signs of hayfever?
Talk about common early signs, the different types of pollen allergens and when these are in season.

Q When should I see a GP?
You may need to refer a patient who has had little success with the treatment options you can offer. They may need treatment from an allergy specialist.
 
P3 Category Panel Comment
Yasmeen Afsar, Well Pharmacy, Hartlepool

"Hayfever is a particular interest of mine and one thing that jumps out is the number of people who suffer from it in the UK – it's over 12 million. It can be quite debilitating, having an effect on jobs and everyday activities. It's really important that hayfever stock is put out and advertised correctly. Pharmacies are so easily accessible, but customers do need to know the help is there. The fixture needs to be visually prominent, and the big brands to include are Stérimar, Benadryl, Piriton, Beconase and Prevalin. People sometimes ask for these brands by name, but we generally prefer to talk through the customer's symptoms and then recommend a product specifi cally tailored to their needs."
Sadik Al Hassan,  Well Pharmacy, Bristol
"To prepare for the season, we always increase our supplies of non-sedating antihistamines as they tend to be the fi rst choice for hayfever treatment. These tend to be more popular as they can be used for every symptom, while the local use ones, such as nasal sprays or eye drops, are often used as a supplement. However, we do also increase our sodium cromoglicate eye drops stocks, as well as the cheapest generic of the beclomethasone drops. These tend to be our most popular sellers. There was a spike in interest in non-medical products such as nasal sprays a couple of years ago, and in pollen barrier products. Some years the season affects people worse than others, but it always does well for us."
Mithun Makwana, Avicenna Pharmacy, Bristol
"Hayfever is one of the main reasons that people come in for in spring/summer. I fi nd that a lot of people suffer unnecessarily because they don't ask for advice, and this is where we can help. Some people ask for brands they've seen advertised on TV. Some people just want advice to help get rid of their symptoms and they don't mind which brand they use. We see a lot of the same sufferers coming back each year, which refl ects well on our service. GPs are changing the way they prescribe OTC products. They will only be prescribing to under-18s and pregnant women, with everyone else referred to a pharmacist. They have all received a letter from their CCG, so I expect to see more people than ever in for hayfever products this year."
Sponsored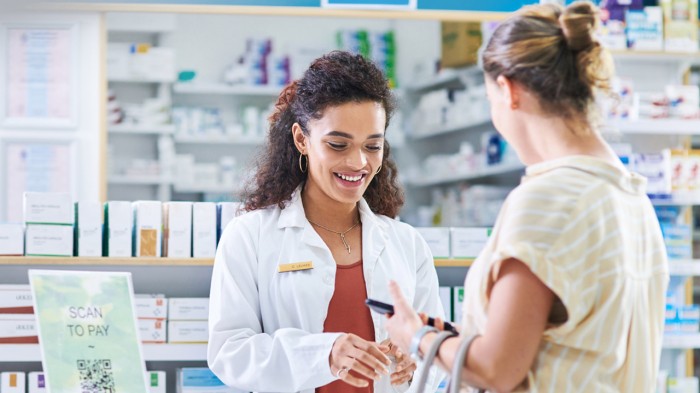 Sponsored Education
Refresh your knowledge on managing mild to moderate pain and understand when a combination product can help.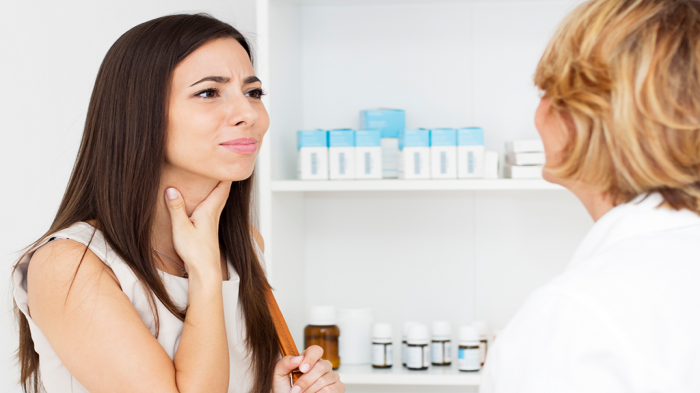 Sponsored Education
This module will help you to understand and educate customers about the risks of antibiotic resistance, and recommend products to help them effectively manage their sore throat symptoms.
Record my learning outcomes