Seasonal
Sneezing season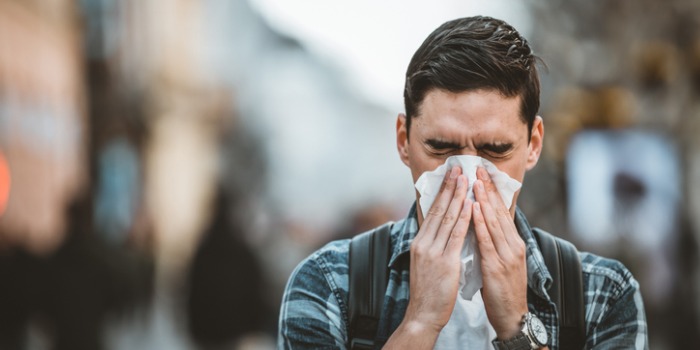 The start of spring means an influx of hay fever sufferers through pharmacy doors. Incidence continues to increase, with one in four adults and 10-15 per cent of children affected, says the charity Allergy UK.
"There has been a definite increase in the number of moderate to severe hay fever sufferers experiencing more frequent symptoms and longer seasons," says airborne allergens expert and creator of HayMax barrier balm, Max Wiseberg. "Pharmacy staff can offer a range of products, together with advice. People will be getting the right care in the right place, without the need to consult a GP – of particular importance during the pandemic."
Nurse advisor to Allergy UK Holly Shaw adds: "The choice of medication and treatment for hay fever can be confusing. Pharmacies are in a unique position to deliver patient education at the point of care, provide support and give expert advice."
Practical advice
The only way to prevent hay fever symptoms altogether is to avoid pollen exposure. But that's almost impossible, even if we are spending more time indoors than usual. However, there are lots of practical tips pharmacy teams can pass on to customers to help minimise symptoms.
Start treatments early, advises Allergy UK. Using treatments such as nasal steroid sprays before the start of the pollen season can help to reduce inflammation of the nose, while using antihistamines at the onset of the season can reduce itchy eyes and runny nose. "Advise your customers that medication can take a while for its maximum effect to work, which is often after two weeks," says Ms Shaw
Schedule time outdoors around the pollen forecast. "Make customers aware of the various allergens throughout the year so they can try and avoid them where possible," says Mr Wiseberg. Have a pollen calendar on display in the pharmacy
Be aware of pollen levels. The Met Office updates the UK pollen forecast daily during the pollen season (March to September). The pollen count is highest on warm, dry days and lower on cooler, wet days. Pollen levels are highest in early morning and evening
Wear a hat and wraparound sunglasses to stop pollen reaching the face and getting into the eyes. "Washing your face throughout the day and keeping hair out of the eyes can also help," says Mr Wiseberg. "After being outdoors, take a shower to rinse pollen from your hair and body and put on clean clothes."
Keep windows closed when indoors, especially early in the morning, when pollen is released, and in the evening, when levels are high
Fit a pollen filter in the car and keep the windows closed when driving
Avoid mowing the lawn or use a filtration face mask and sunglasses if you can't
Dry clothes indoors on high pollen count days
Dust your home with a damp cloth and vacuum regularly to help limit pollen in carpets and other surfaces
Remember your pets: they can carry pollen on their fur, so wipe down pets' coats with a damp cloth to remove it
Use a saline nasal wash. These may help reduce the amount of medication customers need. "A saline spray can help cleanse and soothe the nose of any impurities and allergens," says Ms Shaw
Try a barrier balm. "Recommend a nasal allergen balm to catch pollen and allergens before they get into the nasal passages and trigger allergy symptoms," says Ms Shaw. An article published in the journal Guidelines last summer recognised the potential role for these products, stating: "Allergen barrier balms that are applied around the nostrils may reduce the amount of pollen entering the airways and may reduce symptoms." Mr Wiseberg advises applying balm to the rims of the nostrils and bones of the eyes, to limit the amount of pollen able to enter the body
Take preventative measures early. A steroid nasal spray started two weeks before hay fever symptoms are likely to begin is a highly effective way to control symptoms in customers who have moderate to severe daily symptoms. "Avoidance of directing the spray towards the nasal septum and not fiercely sniffing the spray into the back of the throat provides optimal benefit," says the British Society for Allergy and Clinical Immunology
Use treatments regularly. "It is important to note that to get the maximum benefits, remedies should be used daily during the hay fever season, with treatment choice targeting the specific symptoms affecting the individual," advises Mathew Peters, services development pharmacist at Numark.
The importance of asthma control
Wendy Davies, health advice manager at Asthma UK and the British Lung Foundation, says: "It is important that asthma and hay fever are controlled properly to reduce the risk of hay fever triggering an asthma attack. Pharmacists have a vital role to play in ensuring people with asthma are reminded about the importance of managing their condition, while helping to recommend treatments to relieve hay fever symptoms. Reminding someone they should always carry their reliever inhaler is an important first step. For those who have a preventer inhaler, remind them to use it as prescribed to reduce the risk of hay fever triggering their asthma. If someone has severe asthma and their symptoms are triggered by allergies, they should be referred to their GP. For others with asthma, if their hay fever isn't improving after trying usual treatments or is getting worse, refer to their GP."
Treating hay fever and asthma at the same time could cut the risk of an asthma attack
A GP may prescribe montelukast to a patient with asthma if hay fever symptoms persist. "The tablets can be taken alongside a patient's inhalers and they can help treat both asthma and hay fever," says Ms Davies. "While it is not a licensed treatment for hay fever, it is an add on for asthma and some people find it helpful for their nasal congestion."
John Acland, head of e-commerce and category management at McKesson UK, says: "Treating hay fever and asthma at the same time could cut the risk of an asthma attack as antihistamines will reduce the effects of histamine released by the body in response to pollen."
Vinay Patel, Alphega UK services and contract pharmacist, adds: "Customers who have asthma and suffer from hay fever should manage their asthma more closely during the hay fever season. Regular use of steroid-based inhalers combined with bronchodilators such as salbutamol can reduce the risk of pollen-induced asthma attacks."
For more information about treating hay fever and asthma, refer to Asthma UK's website
The pollen season
Although it might feel like the pollen season is a while off yet, it probably isn't. "Studies have found that there is 21 per cent more pollen around than there was in 1990, and the season is starting earlier and lasting longer," says Olbas brand manager Claire Campbell.
According to Beverley Adams-Groom, senior palynologist and pollen forecaster at the University of Worcester: "For the early spring trees (hazel and alder), the cold January weather has delayed the season a little. For the birch pollen season, onset timing depends on the weather in February and March. A warm February is associated with an earlier onset, while for oak pollen, it is the March-April temperature that is most important. The grass pollen season onset is correlated with the mean temperature (>5.5°C) cumulative for February to May."
Climate change is having a big impact. "It is causing the oak pollen season to start earlier in Scotland. Pollen production in trees is being aided by warmer summers, which is reflected in a significant increase in the annual tree pollen totals in the following spring, most notably in the Midlands and South Wales," says Ms Adams-Groom. "We are also seeing an associated increase in the number of high count days for the tree pollen seasons. In the southern regions and the Midlands, we are seeing the first high day for grass pollen arrive earlier than average."
Improve your hay fever category
"Ensure that all formats are available for sale. One-a-day tablets are the core of the category, but nasal sprays and eye drops are both growing formats. Most customers don't know they can use a combination of all three formats for more effective relief from their symptoms," says McKesson UK's John Acland
"Ensure you stock the key brands, especially those being advertised. Take advantage of Alphega Pharmacy promotions to remain competitive. Display promotions with point of sale materials in visible locations for GSL lines to gain impulse sales. Remember to stock a variety of generic products too," says Alphega's Vinay Patel. He also advises using the Alphega planogram. "In the run up to the season, staff should complete any available training modules, and read up on all the category and industry news available," he says
"For first time sufferers, it can take a few attempts to find the right remedy. Ensure you have variety within the pharmacy and support customers on their journey to finding the right treatment," says Numark's Cathy Crossthwaite. "Customers may not be aware which products they can use alongside each other. Pharmacy is in a great position to offer this advice to customers and puts you at an advantage over other retailers"
"Ensure there is plenty of signage," adds Ms Crossthwaite, "and use established merchandising techniques such as beacon branding and product adjacencies."
The hay fever market
Last year saw healthy growth for the market, with sales growth of 28 per cent, says Cathy Crossthwaite, OTC business development executive at Numark. She puts this down to several factors: a warm, sunny spring and summer; people stocking up on remedies during lockdown, and perhaps some customers confusing Covid-19 symptoms with hay fever.
Numark figures show that the allergy treatments category holds 6 per cent of the total medicines sector in pharmacy. "There is a significant trend towards natural products. Although people are not necessarily giving up pharmaceuticals, they are tending to use them complementarily," says Mr Wiseberg.
Ms Crossthwaite agrees: "There is a general trend towards natural remedies and hay fever is no exception to this, with a number of introductions of nasal hygiene sprays.
For this season, Ms Crossthwaite thinks we may see a trend to buying larger pack sizes. "With customers taking fewer trips out due to social distancing, we could see movement towards larger pack sizes as customers start to ensure they have remedy relief to cover longer periods between shops."
It is also a good idea to highlight the fact that decongestant brands customers might normally associate only with colds and flu can help to ease congestion caused by hay fever. "Despite so many people struggling with this symptom during the hay fever season, our research tells us that 69 per cent of respondents do not know that cold and flu products, such as Olbas, can be used to help ease a blocked nose caused by hay fever," says Ms Campbell.
Views from the P3pharmacy category panel
"This is a really important area for us. Best sellers include nasal sprays such as Beconase and Otrivine. In the last year, we've seen a big increase in sales of saline nasal sprays. Popular antihistamines include Zirtek, Clarityn and Piriton. For decongestion, we do well with Sudafed and Actifed. We're definitely seeing many more customers come to the pharmacy first for hay fever rather than going to their GP. It's important to display GSL remedies for patients to pick up and browse."
Lila Thakerar, Shaftesbury Pharmacy, Harrow
"The season starts earlier than many expect, so we often start our offers in March. Having fexofenadine GSL this year will make a huge difference. We stock mainly generic antihistamines and do lots of three for two deals. We tend to offer Benadryl as an alternative, and recommend corticosteroid nasal spray. We make sure everyone is counselled on the range of tablets, drops and sprays. Linking a second product not only improves symptom control, it also adds another valuable sale."
Gareth Evans, Wansford Pharmacy, Peterborough
"Patients usually ask for treatments to relieve the characteristic symptoms of hay fever, including dry/itchy eyes, runny nose and sneezing. They tend to purchase antihistamines without risk of causing drowsiness, such as Loratadine or Cetirizine. It is quite surprising how long patients suffer with their symptoms. I have noticed quite a few asthmatic patients find their asthma worsens through hay fever season and so are either prescribed or referred to myself for supply of antihistamines."
Ellis Nugent, Well Pharmacy, Llantwit Major, South Wales
Sponsored
Sponsored Education
Bust the myths around acne causes so you can recommend effective products and self-care advice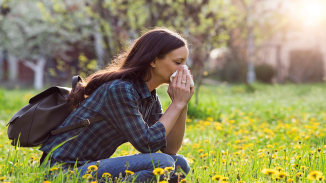 Sponsored Education
This module will improve your hay fever knowledge, helping you to understand its impact on sufferers and recommend the right products to ease symptoms
Record my learning outcomes