Boots working with regulators to address opioid misuse
News
Boots working with regulators to address opioid misuse
By Neil Trainis

Exclusive: Boots has said it is working with "external" medicines regulators and professional bodies to try and stop the misuse of opioids.
A spokesperson for the multiple told Independent Community Pharmacist the company is committed to addressing what NHS England has described as "an opioid epidemic" in the UK.
A study published by The Lancet revealed opioid prescribing in England more than doubled between 1998 and 2018. It also increased by 34 per cent between 1998 and 2016, going from 568 prescriptions per 1,000 patients to 761 per 1,000.
"To help tackle misuse of opioid painkillers, Boots is working closely with external medicines regulators and professional bodies to address this problem. In addition, it has devised a Codeine Patient Safety Card which is used by pharmacy team members to support appropriate sales of codeine-containing medicines," the spokesperson said.
They said Boots recently launched a training programme for its network of 5,000 pharmacists to support them to "help patients manage pain holistically through a range of medicines, other healthcare products and lifestyle advice".
The issue of wider opioid misuse was thrown into the limelight on Tuesday when three of the largest pharmacy chains in America, Walgreens Boots Alliance, CVS and Walmart, were found by a federal court to be liable of helping fuel the opioid epidemic in two Ohio counties. Two other companies, Giant Eagle and Rite Aid, settled lawsuits earlier this year and CVS said it would appeal.
In the UK, opioid overprescribing was the subject of a year-long study led by researchers from the University of Leeds that resulted in 15,000 fewer patients being prescribed painkillers.
During the study, 316 GP surgeries in West Yorkshire were given an update every two months on how many patients at their practice had been prescribed an opioid, with the exception of cancer patients or those with drug dependency. Another 130 practices in a control group in the same area did not receive any feedback.
As well as receiving an update, doctors were reminded to "initiate opioids with caution" and decide if a patient should continue receiving an opioid.
The opioid prescribing rate in the months before the study in the 316-strong group was increasing by 0.18 per 1,000 patients a month but during the trial, it fell by 0.11 per 1,000 patients. In the control group, it was 0.36 per 1,000 patients a month, rising to 0.54 per 1,000 patients.
The researchers said more than 400,000 fewer patients would take opioids if the trial took place across the UK.
Sponsored
Sponsored Education
This short video explores the myths around diarrhoea management so you can better support customers who are affected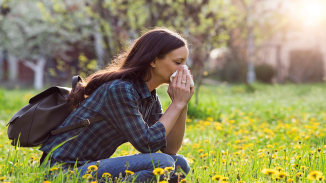 Sponsored Education
This module will improve your hay fever knowledge, helping you to understand its impact on sufferers and recommend the right products to ease symptoms
Record my learning outcomes