'Collaboration' is a big word for Shabina Azmi, as I quickly learn when I speak to her. As the chief pharmacist of Bedfordshire, Luton and Milton Keynes (BLMK) Integrated Care Board (ICB), she has oversight of pharmaceutical services planning within the BLMK ICB footprint.
While she brings to her role a wealth of experience in pharmacy practice, education and mentoring, policy and leadership, she is also keenly aware that it takes an army to move a mountain. That means harnessing the expertise of others.
Shabina says she has "great conversations with acute pharmacists and primary care network colleagues", among a host of other partners.
"The aim isn't to be the expert of everything in pharmacy," she says. "To be a chief pharmacist, you need to be able to communicate well and work with others to develop an agenda. We are all co-producing the BLMK pharmacy strategy. There's a misconception that this is a CCG pharmacist role, whereas in fact it is new and evolving."
Shabina took on the position in February, less than a year after England's 42 ICBs were established legally. Given that her role is so new (not all ICBs even have a chief pharmacist as things currently stand), I'm keen to learn about her goals, particularly at such a pivotal point for pharmacy and the wider healthcare landscape.
"My ambition in this role is to reform, recalibrate and raise profiles," she answers. "By 'reform', I mean the need to reform pharmaceutical care across BLMK, with a focus on prevention and health inequalities.
"We need to map back to ICSs [Integrated Care Systems, the overarching structures under which ICBs carry out service planning work] priorities, and to do this we need to increase access to clinical services and make every patient contact count."
Community pharmacies are an important part of this thinking. "I'm working with system partners across all settings – as well as with local residents – to leverage the accessibility of community pharmacy so this setting can provide more clinical services, and to encourage other professions to come into the sector," Shabina says.
Collaboration also involves encouraging cross-sector working, and that's what she means by 'recalibration'. "It's about working across the system, irrespective of profession, sector or place," she says. "We've been trying to break down silo working for ages.
"To give you an example, we want to reduce medicines-related harm by 50 per cent in the next five years, and while pharmacy absolutely can lead this, it doesn't just sit with pharmacy. All parts of the system are needed to tackle this.
"It's about working across the system, irrespective of profession, sector or place. We've been trying to break down silo working for ages"
"I would encourage a review of medicines-related harm and medicines optimisation with all parties in the room, to see what part of the pathways could be tweaked to improve outcomes at a local level from hospital discharge. It could be dispensing at place level, where local authorities fund pharmacists in care homes. It's important we join up all parts of the multi-professional system and recalibrate the way we work so it's not just pharmacy trying to solve particular challenges, but rather knitting pharmacy across the system."
Shabina is joined in this interview by the ICB's chief executive, Felicity Cox, who is herself a registered pharmacist and says it is important to get a range of views around the table and make best use of the whole workforce – including pharmacy teams. "It's often the community pharmacist who first spots the signs of someone with serious dementia or incipient heart disease, and we don't harness that," says Felicity.
Disease prevention and management is going to be a big focus in the coming years, she says: "Community pharmacy could do a lot around long-term conditions like diabetes – just look at the hypertension case finding service. Pharmacists are not just optimising medicines; they are specialists, and if they have the right training, they can do a lot."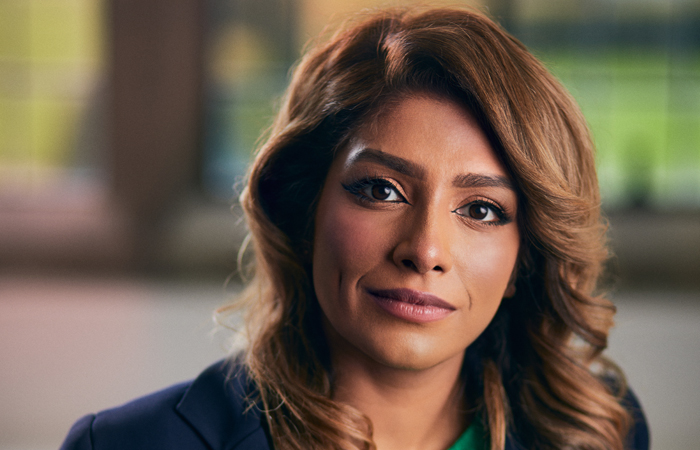 Pharmacy assistants are another untapped resource, Felicity says, explaining that in her view they may be better suited than GPs to connecting people into lifestyle initiatives such as Parkrun. "They are trained, and they are part of the community. I think with the pharmacy team, you've got the full package to tackle the lifestyle issues that are driving hypertension and diabetes."
Cancer is another area where Shabina sees potential for pharmacies to deliver. "I absolutely think pharmacy has a bigger role to play in cancer," she says. "We're seeing national pilots take place now in red flag symptom referral, but there's also potential with prevention and point of care testing. We need to encourage the sector to take these opportunities, but of course be remunerated effectively – I always stress that."
"Pharmacists are not just optimising medicines; they are specialists, and if they have the right training, they can do a lot"
Shabina's insights are partly derived from her own career, which began in community pharmacy – first at Tesco and then Boots, where she progressed from pharmacist manager to teacher practitioner. "I loved working in the community," she says."The patient facing element of it and the real difference you can make. It's not just medicines – it's all areas of health. I think sometimes the public don't see that side. And you don't just have one contact – you see patients all the time."
When it comes to attitudes to cross-sector working, is BLMK starting to see green shoots? "I think so," replies Felicity. "Covid has actually been a huge accelerator, with PCNs delivering vaccinations through pharmacies. That has really started to cement relationships."
To build on this, Felicity would like to see a "shared role between community pharmacy and PCNs – that would help to build relationships and opportunities".
Shabina echoes this: "We have a workforce crisis. Felicity and I absolutely believe that the pharmacy workforce could be better utilised to alleviate the burden and divert patients away from pressure points in the system, like A&E departments and GP receptions."
She talks about redesigning pathways "to ensure we have the right workforce across the three tiers: place, organisation and system".
That involves understanding "the priorities for our acute chief pharmacists, the local medical committees and local pharmaceutical committees, as well as mental health services".
"We know it's challenging out there," Shabina says."How can we retain our workforce? As Felicity said, one solution is to foster a culture of cross-sector placements and roles. Speaking to some colleagues in the system, there are 20-30 per cent vacancy rates in our Trust.
"We know community pharmacy is struggling to retain staff, and a lot of people are choosing to work in PCNs – although there's a little bit of attrition there too. How do we create roles where pharmacists are working across settings to make them well rounded and equip them with the skills they need to be able to work across the system?"
Shabina talks about "creating new roles" sitting across the system and asking "how can pharmacy be a part of the picture" when new initiatives are being formulated.
Demonstrating impact through "excellent pilots" and evidence-based evaluations will be crucial she says. "That's something I really want to get embedded in BLMK. It's not just cost-efficient, it makes a real difference to patient care."
Facilitating new ideas
Shabina is also director of research & innovation (R&I) at the ICB and is keen to highlight the importance of this area. "It's something we need to consider when we are commissioning services or developing new ways of working," she says.
"The Health and Care Act has very much set new legal duties on ICBs to facilitate and promote R&I.
"We need to think about how R&I is integrated into planning, reporting and the use of research evidence in decision making. We're trying to work with partners across the system to create an R&I board so we can deliver improvements across the system.
"The aspiration across BLMK is to widen opportunities to embed R&I across settings, making sure we support our population and partners in developing those ideas and bidding for funding to undertake projects. We want to enable effective ideas to be adopted promptly, because sometimes we think of an innovation, but it's very hard to get it off the ground.
"It's a challenging area, but we're keen to try to progress this."
Pharmacy collaborative
'Pharmacy collaborative' is a phrase that crops up several times in our conversation. What Shabina means by this is an approach that "brings together system partners from all parts of pharmacy within BLMK to understand each other's challenges and priorities – but also to look at areas where we can work together, like genomics, and clinical goals like the prevention agenda".
"Felicity says I try to change the world," she laughs, "but I can't as chief pharmacist do all this on my own. I am reliant on our system partners to work with me to knit together pharmacy, review and assess the system through different lenses, sectors and places, and bear that risk together as we reform care."
Felicity talks about 'the collaborative' in terms of making learning and development opportunities and "developing an expertise that people can see".
"As skilled clinical professionals," she says, "it drives me mad when somebody says they 'went to the chemist' – it's a scar on my soul. You're going to a healthcare setting to see a professional, and even back when I was in practice, people used to come in and see me before they saw the doctor. There's a real opportunity to re-establish that clear sense of pharmacy as the first port of call.
"Community pharmacy has such great organisational skills. A lot of what it knows has taken years for the NHS to know, like having your most skilled professional at the front of a pathway and how that saves time."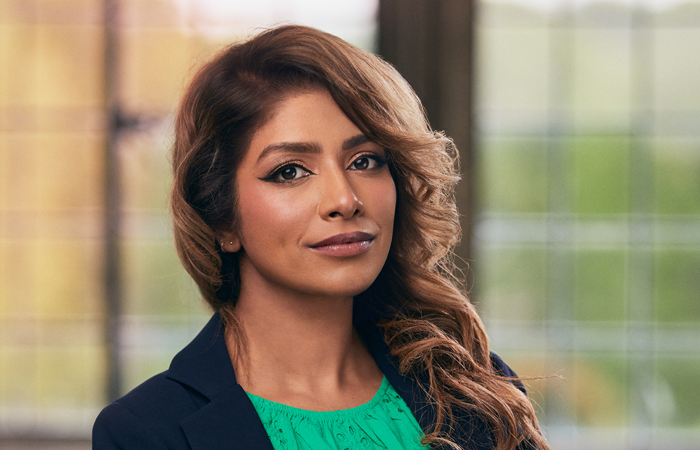 Seat at the table
ICBs present opportunities for practitioners who may have been somewhat overlooked in the past to get their voices heard, says Shabina. "We need to have good representation across senior leadership roles so we can factor in nuances and considerations of different sectors.
"The chief pharmacist role at CCGs was traditionally occupied by an acute pharmacist, but I think it's important to have new perspectives, break that mould a little bit."
Felicity adds: "We're really lucky that our medical director is a great believer in the multidisciplinary team. In time, we'll have a part-time chief allied health professional, and we're keen to have a chief social worker as well."
Felicity cautions against getting hung up on the question of which individuals from which sectors are represented on the ICB board itself. "The board table only fits so many people," she says, "and what comes to them tends to be stuff that's been worked on outside and then brought to them for sign off. Usually, the formulation is where you want to be."
Are some people reluctant to move from community pharmacy into health service leadership roles? "Pharmacists can be a bit too humble," Shabina responds. "Sometimes we forget about all our transferrable skills. I say, judge me by my actions, not my past experiences.
"If you're a system thinker, see the bigger picture and are passionate about the pharmacy workforce and you've developed leadership skills, then why couldn't you undertake an ICB pharmacist role?"
"We know community pharmacy is struggling to retain staff, and a lot of people are choosing to work in PCNs – although there's a little bit of attrition there too. How do we create roles where pharmacists are working across settings to make them well rounded and equip them with the skills they need to be able to work across the system?"
Prescribing opportunities
High on the agenda for community pharmacy is independent prescribing, supported by the initial education and training reforms that will see the 2025 cohort of pharmacy graduates qualified as independent prescribers (IPs) by the end of their foundation year.
There is a need to create capacity and access to supervision within pharmacies so that new and existing pharmacists can gain their qualifications. This is something Shabina is keenly aware of, having led on regional and national programmes in this area in a previous role with Health Education England.
"We know that even in a business-as-usual scenario, we don't have enough time protected to support the future workforce," she says. "But then there is the prescribing supervision, which requires 90 hours of supervision per trainee.
"They are looking at this nationally, but we also need to look at it as an ICB: where are our independent prescribers? How are we going to support BLMK undergraduates, or those who come to work in our region to access that time?"
Felicity believes community pharmacist prescribing is going to be "essential", and describes the recent Pharmacy First announcement as long overdue. "There are things in that service we could have been doing for a long time," she says, adding that it will offer significant benefits to patients. "It's absolutely the right thing to do, and I'm so glad we finally got around to it. We've got to make sure we've got a stable community pharmacy base for it to succeed."
Felicity says that when she was studying in the 1980s, she thought that "by the time I registered, I would get a prescription with a diagnosis and then choose the best medicine for that person. We're still not there yet. [Pharmacy First] is probably as close as we can get."
Shabina says the service will build confidence and foster cultural change. "Sometimes, even when pharmacists get their IP qualification, they're too worried to prescribe. These services will allow them to start practising and understanding it.
"You need to look at the remuneration and how that's going to support pharmacies, and release the time they need to do it effectively."
"Pharmacists can be a bit too humble. Sometimes we forget about all our transferrable skills. I say, judge me by my actions, not my past experiences"
Engagement challenges
Shabina and Felicity were quoted in the May issue of P3pharmacy on their views about contractual reform for pharmacy, including potentially moving away from a fee-per-service model to an outcomes-based one.
Felicity tells me: "I think if we're working in multidisciplinary teams, we might need to look at multidisciplinary contracts. I don't think any of the primary care contracts are currently fit for purpose. For pharmacy, given the fragility of the medicines supply chain, having a contract that's largely based on dispensing is probably madness for the future.
"There are whole disease areas that community pharmacy could manage, and you could create an outcomes-based contract on that. Diabetes is an obvious one – we have consultant diabetic pharmacists in hospitals, why not a community diabetes service?"
Many of our readers will be enthusiastic in principle about the opportunities being discussed within BLMK, but hammered by the realities of daily practice. What challenges do Shabina and Felicity encounter in their engagement with community pharmacies?
Shabina touches on the difficult environment facing contractors: "There's a lot of concern around pharmacy closures and being a viable business. That links to the contract, which we don't have the power to change, but it's being aware of the funding restrictions.
"A lot of businesses are closing, and that's a shame – to lose that person in the community is quite a big thing."
"Medicines supply is a big challenge," Felicity adds. "There is also a degree of frustration about the way pharmacists in GP practices are being used and how it impacts community pharmacies, and whether we should have gone down a different route with ARRS roles.
"There's an appetite for more service delivery that at the moment we don't have time to entirely subscribe to, as well as a sense that our pharmacists haven't got sufficient voice."
On that last point, Shabina says unity is needed: "My ideal would be to have a conference for all pharmacy colleagues in a year and a half to come in and share, build that network.
"It's about looking at ways to connect. Instead of reinventing the wheel, how can we share what we're doing and understand each other's world?"