Understanding customers makes business sense
Insight
Understanding customers makes business sense
Real-time learning from Warman-Freed Pharmacy, London
Understanding customers by putting yourself in their shoes not only increases empathy, but also ensures your healthcare and retail offerings are aligned with their needs. By implementing this approach, independent pharmacies can demonstrate a real connection with customers, helping drive loyalty and in turn commercial success.
The Warman-Freed pharmacy team recently spent time applying this methodology to plan their approach for the upcoming hayfever season. Consumer research and EPOS transaction data were used to identify customer trends linked to purchase behaviour. These learnings were then used to shape an allergy category strategy which will be put into practice in the coming months.
Improving outcomes
By truly understanding customers' needs, as opposed to making assumptions, pharmacy teams will be in a stronger position to deliver superior customer service and healthcare outcomes. This approach can play a key role in seasonal categories, where customers are actively looking for advice and recommendations from healthcare professionals – a key point of difference that sets pharmacy apart from grocery competitors.
Adding value to the pharmacy offer can be demonstrated in many ways:
On shelf: Ensuring availability and good stock of the right products at the right time
Promotions: Encouraging purchase through selected promotion
Staff training: Helping staff recognise the different types of customer needs.
Allergy relief with a difference
During the allergy season, supermarkets and larger pharmacy chains will always have hayfever tablets and related products on offer, which can make it difficult to win on price. Pharmacies therefore should focus more on adding value through sound advice. "Guidance on which formats work quickest, how to combine treatments for maximum, prolonged relief and providing access to options for more severe sufferers gives pharmacy the ability to win," advises Farah Ali, general manager of Warman-Freed.
"Pharmacy teams have the skills to educate the customer around the products they are taking, rather than just offering the cheapest product on the high street. This helps to ensure that the customer really does have the best chance of experiencing optimal symptom relief."
Developing a strategy
The Warman-Freed team identified four different types of customers within the allergy category using the 5 W's (who, what, when, why, where). They used these insights to create a set of axes to help categorise the different customers and their needs. The key differentiators were identified as the severity of symptoms and whether the person was preparing for the season or managing their symptoms.1
Next, the team overlaid the axes with a value that each of these customer types offer per visit to the pharmacy (see below). This will enable them to tailor their approach to target the largest opportunity.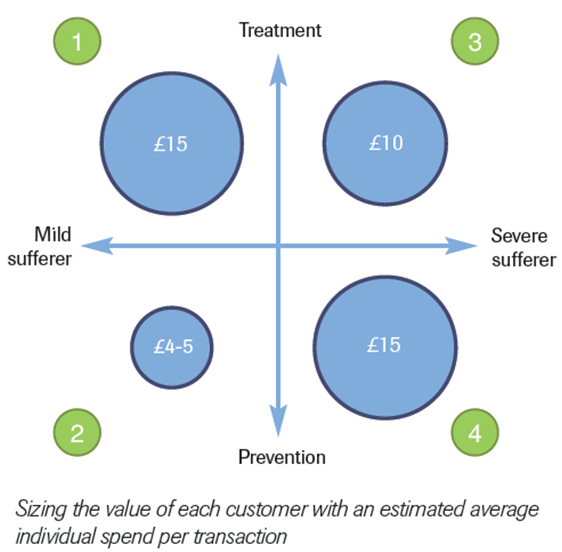 Implementing strategy
"Segmenting the customers into those who are seeking preventative measures and those seeking treatment creates a clear approach on how we manage the allergy offering at Warman- Freed," comments Ms Ali. "As a pharmacy we are well placed to remind people of the onset of hayfever and encourage sufferers to be prepared. At this point we can offer price promotions to incentivise preventative behaviour and attract customers who are in the pharmacy for other reasons." Warman-Freed Pharmacy's seasonal plan for allergy now looks like this: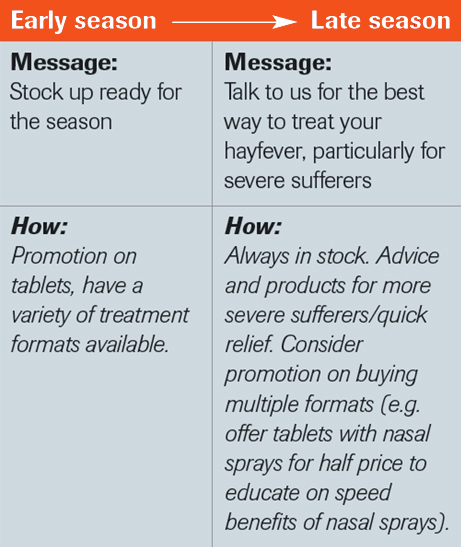 Farah concludes: "Having a unique approach to these seasonal categories is something that stands to help us better serve our local patients' needs. We firmly believe that with this approach, commercial success is almost guaranteed."
Click here to download a segmented view of Warman-Freed's allergy customers.
Sponsored
Sponsored Education
With research suggesting a possible link between COVID-19 and EPs, make sure you're confident discussing EPs and their treatment with customers
Sponsored Education
This module highlights a new opportunity to treat heartburn and reflux in the pharmacy with Omeprazole 20mg, which is newly available for customers to purchase OTC.
Record my learning outcomes