Insight
Time machines

The time that pharmacy automation frees up has never been more useful – or apparent – than it is right now
A recent survey conducted by Kantar on behalf of pharmacy automation supplier BD Rowa showed that local pharmacies play a key role in people's lives. The majority of respondents said they 'highly value' the specialist expertise and personal contact they get from pharmacy staff – and this is never more apparent than at times such as this, when community pharmacies are playing a vital role in providing immediate, face to face advice and care.
But while shifting the balance from dispensing to providing a growing list of additional clinical services is the direction of travel of the national pharmacy contracts, it takes staff time to do it. One way of freeing up this time is by automating tasks that can safely and successfully be done by machines, with many early adopters of such technology very clear about the benefits.
Decision drivers
Pharmacy technician and Dispensing Doctors Association board member Jacinta Edgar is the manager of Kepple Lane Pharmacy in Garstang, Lancashire, which is part of the 'hybrid' Garstang Medical Practice, where she is also a partner.
"The world of pharmacy is not about items now, it's about service", says Ms Edgar. "But it had got to the point where we were doing, on average, about 38-40,000 items a month and we couldn't increase services. We were falling over each other, so after about 10 years of looking at robots, I convinced the partners to install a BD Rowa Vmax at the start of 2019, and we've never looked back."
Pharmacist Neeraj Dhanani also took a decade to get automated. "I always wanted to get a robot", he says, "and when we expanded from a single unit into the space next door, I finally had the room to do it."
Trinity Pharmacy in Bishop's Stortford has had its Vmax plus ProLog 'hopper' for two years now, and Mr Dhanani says: "In terms of efficiency, there's nothing better."
A refit to expand upon their role as an integral part of a community regeneration project is also what prompted the automation purchase at Lincoln Pharmacy in East London. After 30 years at its original site, the pharmacy installed a Vmax when it relocated to below a brand new health centre in 2019 as part of The St. Paul's Way Transformation Project's aim to create a new environment for health and education in Tower Hamlets.
"We were a small site doing 12,000 items a month and finding it tough to meet the capacity needed for our community," says Sachin Patel, managing director and health champion at Lincoln Pharmacy. "After visiting a lot of pharmacies with robots up and down the country, we knew having one of our own would help us take on more."
Superintendent pharmacist, independent prescriber, and Sachin's father Atul Patel was also keen to make the most of the extra time with customers that the robot could create. "My vision was to use technology in the right way to give me more time with patients in order to address the cause of what's ailing them, not just the symptoms," he says.
Satisfying results
For some, the results of automation were almost instant. "We noticed the time saving within a week," says Ms Edgar, "and the safety element was also pretty much instant, with our near misses reduced by about 80 per cent". For Mr Dhanani, the robot is "a lot more accurate, plus the steady workflow has made the shop a much calmer place. If I go to our other shop that doesn't have a robot, I definitely see the difference."
At Lincoln Pharmacy, Sachin Patel says instead of taking hours putting medicines on shelves, staff can focus on being with patients. "This starts at the counter," he says, "and signing people up for more services has allowed us to show commissioners that we are providing services in exactly the place where they are needed."
For other robot investors, the results of automation overlaid what they already knew. Pharmacy manager Jon Flitcroft oversaw the installation of an 11 metre Vmax with twin picking heads at Albert Wilde Pharmacy in Fleetwood, Lancashire in 2017, and a second Vmax with internal ProLog device to input stock orders at the group's Cleveleys Pharmacy when it moved premises at the start of 2020.
"Certain types of dispensing errors have been virtually eliminated, and it's great for stock control because we know exactly what we've got. We change our ordering to match, and move stock to different branches where needed," explains Mr Flitcroft. "Plus we could use the same product database from Wildes with this one, which also saved us time."
Someone else who knew what to expect is Stephen Dickson, owner and superintendent of the Dickson Chemist, award-winning, familyowned group of pharmacies in Glasgow. With a bespoke BD Rowa Vmax already in its head office running central distribution for its eight pharmacies, Mr Dickson had no hesitation in installing an 11 metre machine in his Bridgeton branch to meet the fast dispensing requirements that came as a result of footfall from the neighbouring health centre.
"The walk-in business from the local GP practice meant we were very busy and customers frequently had a waiting time of 40 minutes," says Mr Dickson. "So my main aim was to reduce that time, and I knew the Vmax could do it. Now, our waiting time is well under 10 minutes, and usually two or three minutes."
Because we can leave the machines on overnight, putting away orders from the day, we come in the next morning to fully restocked, ready-to-go robots
Time and people redeployed
Cleveleys Pharmacy's kit has quadrupled its capacity for MDS, so staff now process that instead of putting stock away. The robot has also freed up space in-store, making way for three separate counselling points on the shop floor for customers who want advice, but don't necessarily need to make use of the consultation room.
Over at Trinity Pharmacy, the robot has enabled the team to streamline the dispensing process, which has created what Mr Dhanani describes as "quite a bit of slack in the system to go into the consulting room and not have to rush back into the dispensary. And because staff numbers have stayed the same, this has freed up time for services."
Ms Edgar says the arrival of the robot at Kepple Lane did cause concern among customers that staff would be cut, but she says that was never the plan. "We've had natural wastage and haven't recruited, but it was never about cost cutting for us, it was about safety," she says. "It has allowed us to train new technicians and develop our team further, and we've been able to increase the services we offer and the time we spend on them."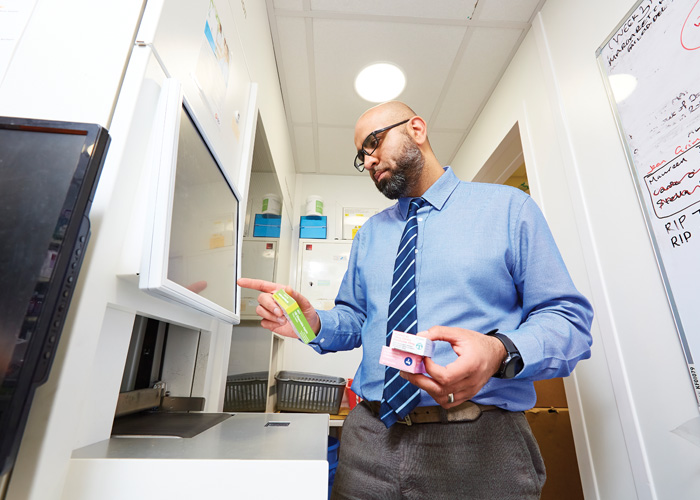 Extra help in challenging times
Pharmacies that have already made the jump to automation are doubly grateful at this particularly challenging time.
"The level of stock control the robot gives us is excellent," says Ms Edgar, "and that's been massively extra helpful at the moment, with the increased workload from coronavirus. We've split our staff in half, with each team working alternate days to give us better social distancing in the dispensary and enable us to work over seven days, and the robot is a vital part of that." Mr Dickson has experienced similar benefits: "Because we can leave the machines on overnight, putting away orders from the day, we come in the next morning to fully restocked, ready-to-go robots, which is super helpful."
Stock control also gets the thumbs up from Mr Flitcroft. "It used to take most of the day for one person to put stock away," he says. "Whereas now, it probably only takes 20 per cent of their time loading the robot and, at a time like this, it's great to have all hands on deck."
Mr Dhanani goes so far as to say he "wouldn't have coped" without his robot. "We had three really hard weeks, thanks to Covid-19," he says, "where I was off for two weeks, there were other staff off as well, and yet in that time, we processed more items than usual."
Lincoln Pharmacy saw 400 metre queues outside its doors at the start of the pandemic. "When doctors stopped seeing most patients face to face, our workload quadrupled," says Atul Patel. His son Sachin adds: "We've been bombarded, and we are still extremely busy, but the robot has allowed our staff to really take care of our patients, and reduced everyone's stress levels to some extent. We were able to put in the extra hours and cope with help of the robot. This shows what the future of pharmacy can be."
Automation 2020 is a P3pharmacy series, produced in partnership with BD Rowa
Sponsored
Sponsored Education
Work through a customer consultation to determine the possible cause of stinging, gritty eyes and recommend an effective treatment to help ease these symptoms.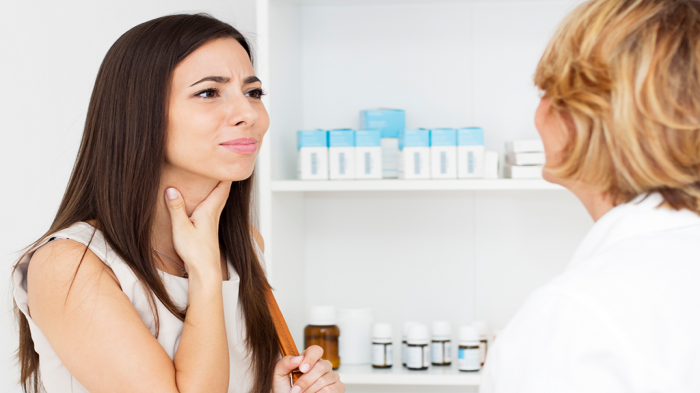 Sponsored Education
This module will help you to understand and educate customers about the risks of antibiotic resistance, and recommend products to help them effectively manage their sore throat symptoms.
Record my learning outcomes