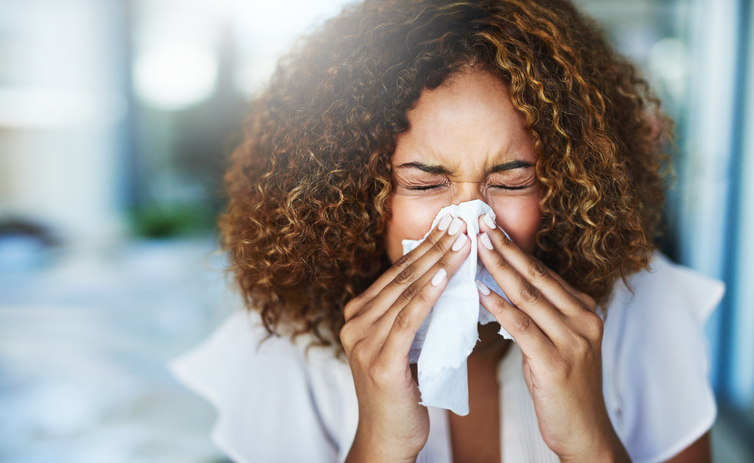 Many of us struggle to eat a healthy, balanced diet in winter and the result can be low immunity and lack of energy, which leaves us more prone to picking up viruses and infections. Vitamins and supplements may help your customers to boost their immunity and energy levels, but it's important to keep up to date with the latest guidelines and recommendations
"The winter period can be really hard on our bodies, weakening our immune system, increasing our risk of exposure to the circulating infections and zapping our energy," says Lucy Morris, service development pharmacist at Numark. "Lack of sleep, changes to our eating habits and reduced exercise contribute to this, as do the reduced levels of sunlight, which affects our vitamin D levels. It's important to get plenty of sleep and taking a tonic supplement may also help to restore energy levels."
The mainstay of recovery and keeping well is staying well-hydrated and eating a healthy, balanced diet. "If you have had a period of illness and are not eating properly, then a general multivitamin and mineral supplement for a short time can help replenish nutrient stores," says Clare Thornton-Wood, dietician and British Dietetics Association spokesperson. "A probiotic can be useful to replenish gut flora and keeping this healthy will benefit your overall health."
The best advice you can give customers is that leading a healthy lifestyle and eating a balanced diet will boost immunity and vitality. "That's not realistic for everyone, however, so taking a combination of vitamins is good insurance over the winter months," says pharmacist Lila Thakerar from Shaftesbury Pharmacy in Harrow.
Dr Emma Derbyshire, public health nutritionist and advisor to the Health and Food Supplements Information Service (HSIS), says probiotics and prebiotics are worth recommending for boosting immunity. "Omega-3 fatty acids have been investigated for effects on immune function with some positive findings," she says. "Copper, iron, magnesium, selenium, zinc, vitamin A, B12, B6, folic acid, C and D are all essential in supporting immune functions. An all-round multivitamin/mineral supplement would be beneficial as a significant proportion of the UK has micronutrient shortfalls."
Engage with customer before winter sets in. "Around the time of the flu jab campaign, our customers start to think about how they can boost their immune system to prevent winter illness," says Sadik Al-Hassan, pharmacist at Well. "There is a range of products available to boost immunity, but it's also important to offer our customers advice on improving their winter health."
Micronutrient shortfall
A study by Dr Derbyshire that examined data from the UK National Diet And Nutrition Survey found that adults in their twenties were falling short of recommended intakes of 12 key micronutrients, with levels for seven of these so low they posed a health threat. A similar pattern emerged for people in their thirties. The study found that adults were failing to meet the lower Reference Nutrient Intake for vitamins A, C, B12, riboflavin, calcium, folate, iron, magnesium, potassium, zinc, selenium and iodine.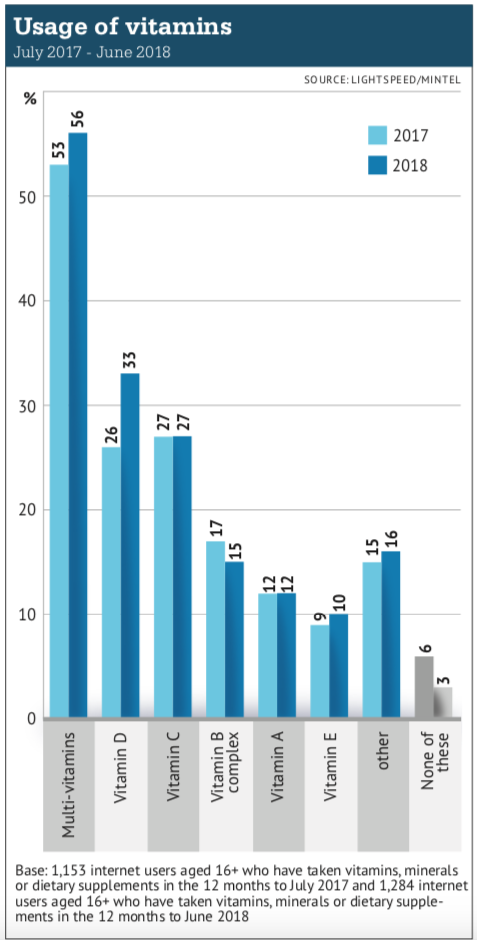 "Younger adults and females appear to be especially vulnerable to micronutrient shortfalls from food sources alone," says Dr Derbyshire. "Clearly, improvements in dietary quality are needed across mid-life stages. Alongside this, supplementation strategies should be considered to help adults achieve dietary targets at this life stage when they should be at their nutritional peak."
Long periods of stress can also affect the immune system, which makes customers more prone to winter viruses. "The most important thing to do is eat regular balanced meals," says Ms Thornton-Wood. "Adequate supplies of magnesium, B vitamins and vitamin C are important to keep stress levels under control as they are related to the function of the adrenal glands."
What sells well?
Cathy Crossthwaite, marketing co-ordinator at Numark, has noticed a trend towards natural remedies. "People are becoming more savvy at using techniques and products, such as echinacea, to help prevent cold and flu symptoms," she says. Multivitamins are a popular choice, especially for busy customers and parents. "Multi-buy promotions are popular, which can help to drive cross-category purchases," says Ms Crossthwaite. "Often, vitamins only cover a specific requirement, so having a multi-buy promotion encourages customers to purchase several products."
Ms Thakerar says their immunity-boosting best sellers include general multivitamins, fizzy single-dose vitamin C and B and echinacea. "If customers come in with viral symptoms, such as a headache, aching limbs or a blocked nose, you can also recommend these supplements as well as the traditional cold/flu remedies. For customers who come in with a prescription for antibiotics, especially a long course, we recommend a B vitamin supplement as antibiotics can deplete your levels."
"Products with vitamin C and zinc, such as Redoxon, are very popular," says Mr Al-Hassan.
Take on online retailers
These days, pharmacies are not only competing with supermarkets, but online retailers, too. Mintel says that while physical stores remain the most common place to buy vitamins and supplements, online has had a rising profile in the past decade, with 32 per cent of consumers having bought vitamins and supplements online in the past year, most frequently 25- to 34-year-olds.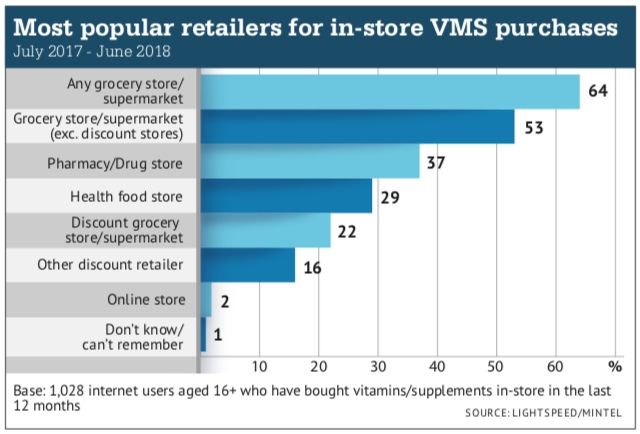 Supermarkets remain the most popular place to buy vitamins and supplements, but pharmacies can compete by offering specialist health advice and product recommendations.
"Support and advice are the USP for pharmacies and therefore the key selling point for them," says Ms Morris. "If customers are using long-term medicines, it's important they have the right advice to understand what they can and can't take alongside these. This is the point of difference between a pharmacy and online seller or supermarket."
It's a good idea to have a combination of strong, trusted brands, but also to compete on price. "We can provide expertise to our customers, and online sellers can't compete on this," says Ms Thakerar. "You need to ensure all staff are well trained to give advice on all the products you stock."
Dr Derbyshire agrees. "Pharmacies can compete with online retailers, mainly by the advice and information pharmacy staff can give," she says. "They can ask customers about their diet and suggest which supplements can make up any gaps. They can check that customers are aware of current recommendations, such as for folic acid and vitamin D. They can also compete by stocking quality, reputable brands, which improves customer confidence. Price is important, but provided the pharmacy is giving good advice and information, aiming to undercut online retailers is less important."
Own-label brands are another way pharmacies can compete, says Mr Al-Hassan. "For example, Well Pharmaceuticals has recently launched its own range of products to offer customers a brand they can trust at a price they can afford."
The supplements market
Mintel estimated the value of the vitamins and supplements market at £442 million in 2018, up 6 per cent on five years ago. "The ongoing trend towards health is expected to be a driver for the category, while the ageing population should continue to drive growth in the over-50 sector," it says in its latest report on the sector (September 2018). "The vitamins and minerals category is predicted to see a steady rise in value sales over the next five years, forecast to grow by 8 per cent to £477 million in 2023."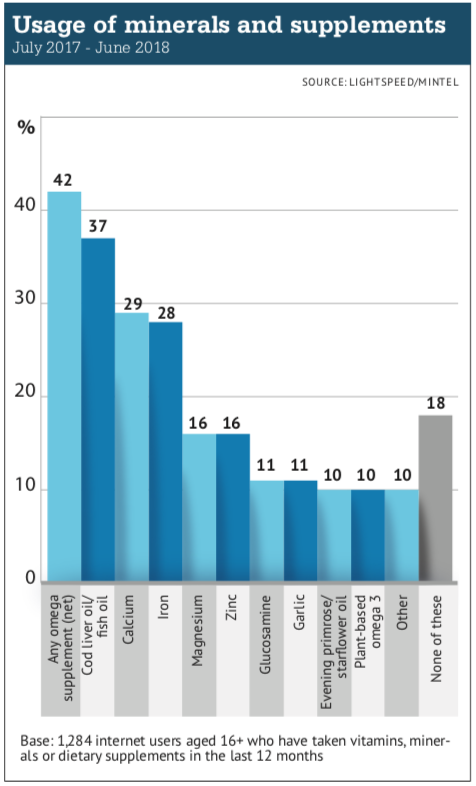 Supplements targeted at adults have driven growth, up by 27 per cent last year. Those aimed at over-50s are popular. Many adults say not being able to get the required vitamins and minerals from diet alone is a reason for taking supplements.
Almost 60 per cent of adults have taken supplements in the past year, and a third of adults take them daily, says Mintel. Women are more likely to take supplements than men, and affluent consumers are most likely to be regular users. Younger consumers are the main drivers of the VMS market, but boosting immunity is a sector that appeals to older customers, too.
"Bolstering the immune system, especially in terms of reducing the risk of contracting colds and flu, is one area where there is scope to grow VMS usage among older consumers," says Mintel. "While 44 per cent of over-55s take extra measures to avoid contracting colds/flu in winter, just 17 per cent take extra vitamins/supplements to prepare themselves for the season."
Multivitamins are the most popular supplement. They were taken by 56 per cent of users last year, mostly 45- to 54-year-olds. Usage of vitamin D continues to grow. It is now taken by 33 per cent of users, up 7 per cent on 2017, making it the most popular single vitamin supplement. Fish oil supplements are the most popular choice among over-55s, with 47 per cent taking it. Calcium and iron usage is a growing trend, up 9 per cent and 6 per cent respectively last year.
Innovations
Launch activity in 2018 was mainly focused around range extensions to existing brands, says Mintel. Innovative recent launches include Forum Health Vita-Mag magnesium spray, a non-ingested body spray; Get More Multivitamin Gum, a peppermint sugar-free gum; and Panta Rhei Vitamins To Go! Immune Drink supplements shots.
There has been a lot of interest in turmeric as a health supplement, thanks to its antioxidant and anti-inflammatory benefits. Pukka, Nature's Bounty, BetterYou and Youtheory have all launched turmeric products.
GR Lane, manufacturers of GOPO Joint Health say their product is an alternative to 'ineffective' paracetamol or an NSAID as a long term joint care option. Consultant rheumatologist Rod Hughes says the galactolipid in GOPO has been shown in clinical trials to significantly reduce arthritis joint pain and reduce paracetamol consumption by 40 per cent. Meanwhile ADM Protexin say that a new double blind randomised controlled trial has shown that their probiotic Bio-Kult significantly reduced the frequency and intensity of episodic and chronic migraine in sufferers, compared to placebo.
The market remains fragmented, says Mintel, with the combined activity of the top 10 companies making up only 37 per cent of total launches.
The vegan trend
About 5 per cent of the UK population is vegan or vegetarian, says HSIS, with even more of us taking a flexitarian approach to our diet and choosing plant-based meals as an alternative to meat. The vegan trend quadrupled between 2012 and 2017, says The Vegan Society and demand for meat-free food increased by 987 per cent in 2017. One in three of us now regularly buys plant-based milks and more than a quarter of all evening meals are vegetarian or vegan. Almost half of UK vegans made the switch in 2018 and the move to plant-based diets is expected to continue growing.
Many people adopt a vegan or vegetarian diet for health as well as ethical reasons, but there are many who may be putting their health at risk by not ensuring they consume alternative dietary sources of vital nutrients such as iron, vitamin B12, omega-3, vitamin D, calcium, iodine and zinc.
"Nutrients that might be difficult to get in a vegan/vegetarian diet are B12, calcium, omega 3, iron and iodine," says Ms Thornton-Wood. "Some can be obtained from food with a varied, well-planned diet and by using fortified foods. For those who are not managing to get these nutrients from their diet, then a general supplement suitable for vegetarians/vegans can be used or individual supplements, especially B12, omega 3 and iodine."
Mintel says the growth in calcium supplements could be linked to the plant-based diet trend, while meat-reduction diets may be linked with a rise in iron supplement sales. Vitabiotics has tapped in to the trend, with the launch of Wellwoman Vegan.
Build a better vitamins and supplements category
"Vitamins and supplements can be a confusing category for customers – there are so many different subcategories. Navigation is key. Pharmacies should use key leading brands such as Berocca, Seven Seas, Centrum to help customers navigate the category. The fixture should be merchandised by subcategory to help customers search for what they need," says Lucy Morris.
"Positioning can help with link sales. Positioning immunity vitamins alongside cold and flu remedies can encourage link purchases," says Cathy Crossthwaite.
"Make sure all products are easy to access for your customers. Some may be impulses buys, so it's important these products are visible – ideally keep them at eye level," says Lila Thakerar.
"Displays in immunity and vitality can often suffer from too much choice. A more focused section based on a value and premium offering makes it easier for customers to find a product that meets their needs," says Sadik Al Hassan.