Offering advice on common ailments is the norm when you work in a pharmacy, but asking for it might be daunting for your customers, especially if the problem is a sensitive one
Embarrassing health problems are surprisingly common. Yet many people suffer in silence, rather than seek the help they need. There's no definitive list of the top sensitive health issues in the pharmacy, as what's embarrassing to one customer may seem commonplace to another.
Some customers will be happy to talk freely about all sorts of ailments, but others may be too embarrassed to discuss seemingly minor conditions such as dandruff, haemorrhoids, head lice, bladder weakness and foot odour. Consultation rooms make it easier to have private discussions with customers about more difficult topics, but customers may not know about this service unless signage telling people that they can ask to see the pharmacist privately is very clear.
It is important that information about embarrassing and sensitive conditions is openly displayed to prompt pharmacy customers to seek help more often. A spokesperson from the antiperspirant Odaban, says a customer seeking advice from the pharmacy team may be able to make a big change to their life without seeing their GP. 'Often conditions such as excessive sweating or odour are long-term background problems that eat away at a person's selfconfidence,' he says. 'Pharmacists, through the products, services and support they offer, can start customers on a route that empowers them to get the better of such problems once and for all.'
Pharmacy advice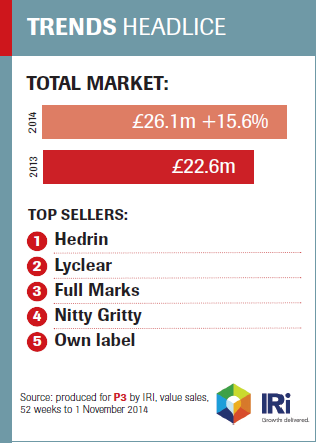 Michael Stewart, information pharmacist at Numark, says that the female health category is a 
particularly sensitive area and effective merchandising is essential. 'Many of the more effective preparations tend to be located behind the counter, which lends itself nicely to support interaction with the customer. However, very often customers would much rather get in and out with their desired purchase with none or indeed very little interaction at all.
This is where well-displayed leaflets can play an important part come away from their experience with more knowledge and less embarrassment,' she says. 'Although some conditions, for example piles, may be seen as embarrassing, they are also very common. So make sure that the customer knows that they are not alone. Pharmacies should have a good choice of products on display, including herbal products such as Nelsons H+Care Haemorrhoid Relief Cream.'
Product choice
Embarrassment is often the reason people don't use the right products to manage their symptoms. Donna Wilson, TENA training & brand manager, says that pharmacists should look out for women buying large volumes of sanitary protection. 'This may be an indication that the customer is experiencing bladder weakness but is unaware of, or too embarrassed, to seek advice on the correct product,' she says. 'It's important to open up a dialogue and ensure the correct absorbency is being purchased, while reassuring the customer their experience is very normal.'
'P&G research has told us that 67 per cent of women suffering from sensitive bladder are not using the correct product,' says Christina Turner, P&G brand manager for Femcare. 'If a customer is browsing the category and looks like they need help, discreetly ask if they need any help or guidance. New Always Discreet offers suitable products for effective management covering every individual need, including Liners, Light Pads, Moderate Pads and Pants/Underwear with varying levels of absorbent capabilities.'
Symptom secrets
With some embarrassing conditions, sufferers may simply disguise the symptoms and ignore them, rather than seek help. Michael Harrison Blount, lecturer in podiatry at the University of Salford, says it's important to start treating fungal nail infections immediately. 'I have some patients who have avoided treatment because they didn't want people to see their condition and would rather cover it up with nail varnish,' he reports.
According to a spokesperson for Scholl, a key reason for not treating foot symptoms is customer confusion. 'Many people simply don't know whether they have a wart, a verruca, a corn, or even know the source of the pain at all,' he says. 'If a customer is confused, they may not necessarily come to the pharmacy counter to ask for help. Ensuring that a pharmacy has a well-signposted and well-stocked foot care section is important to attract people in.'
Head lice are a normal part of childhood, but are often mistakenly associated with poor personal hygiene. According to Caroline Wheeler, Hedrin marketing manager, Hedrin research has revealed that 34 per cent of parents admit to keeping an infestation secret. 'Nearly half were concerned their child would be teased about the issue and 36 per cent the could deal with it themselves before anyone found out,' she says.
'Pharmacists should explain to parents that regular weekly checking of children's hair and use of clinically proven protection products, such as Hedrin Protect & Go, is the best way to keep these bugs at bay. Products and information should also be clearly displayed in front of the counter, as well as behind, so parents can self-select if they wish.'
Growing concerns
Highly visible symptoms, such as hair conditions, can cause significant embarrassment. 'Pharmacists can improve their communication by learning the facts about hair los, and the correct way to approach it,' says a Nourkrin spokesperson. 'Nourkrin has developed the 'L.Q.A. approach' (Listen, Question and Advise) to help guide the conversation between the pharmacy staff and customers concerned about hair loss/hair thinning. In 2015, Nourkrin will be introducing a further initiative to help provide greater support and education to independent pharmacies.'
Rebecca Bennett, Johnson & Johnson healthcare professional relationship consultant, suggests that all pharmacy staff should feel confident enough to be able to answer any queries quickly and quietly about dandruff products such as the new Neutrogena T/Gel 2-in-1 Dandruff Shampoo Plus Conditioner.
'If you don't know, don't be afraid to say so – but try to suggest further sources of information that a customer might try,' she says. 'Make it clear via signage or badging that the customer can speak to a trained professional in private if they wish. It is important that your range of products for such conditions are easy to shop, and it might be helpful to put up a small sign to offer further consultation.'
Comment

Reena Barai, SG Barai Pharmacy, Sutton 'I find embarrassing conditions an interesting category, because it tests my consultation skills and dealing with a customer sensitively and with dignity. If you have a shop full of people, it can be difficult for a customer who wants to talk about something embarrassing. We have a PSNC poster to promote our consultation room so patients are aware that they can talk about sensitive issues in private as soon as they walk in. It is important to demonstrate empathy towards your patients and explain that conditions that are often seen as embarrassing, such as cystitis, thread worms, constipation and haemorrhoids, are quite normal and easily treated. Embarrassing conditions is a category where pharmacy can really come into its own.'

Alan Bradley, Cornwell's Chemist, Newcastle-under-Lyme 'I find that patients feel comfortable bringing their queries to me in the pharmacy, which they might feel too embarrassed to share with someone else. The two most common conditions that patients find embarrassing are vaginal thrush and cystitis. Both of these conditions are easily treated within the pharmacy so it is important to stock a large range of products for dealing with them. It is essential that your patients feel comfortable and confident enough to visit your pharmacy and get a treatment for these so-called embarrassing conditions rather than suffering in silence.'

Bipin Patel, Broadway Pharmacy, Bexleyheath 'Embarrassing conditions is a very important category for pharmacists. Of course, not everyone feels embarrassed talking about sensitive issues in front of others or has the same idea about what embarrassing means, but for the ones who do feel concerned, it is important to provide them with a quiet and discreet area for them to discuss it with you. We have a consultation area and a quiet area available in the pharmacy and we ask the patient to choose the place where they feel most comfortable. Perhaps it could be useful to have a card sitting at the counter of the pharmacy that says something along the lines of "I'd like to speak to the pharmacist in private" that a patient can lift it up without anyone else in the store having to know what it is about.'