Views
Career Notes
Shirin Alwash
Who's influenced you in your career to date?
My pre-registration tutor was a stickler for the rules, and I was dreading working full-time and studying for the biggest exam of my life. I soon found that although my tutor had high expectations of me and the rest of her team, she had equally lofty expectations of herself.
She catapulted me into the real world of pharmacy, and I found myself mirroring her high standards. I learnt how development and training can have a big impact on your team's performance and wellbeing. I went on to take one management role greater than the last, smashing services targets and GPhC inspections whilst developing a team full of smiles.
What has been your best moment as a pharmacist so far?
Before last year, I'd never been to the Pharmacy Show and wish I had been more mentally prepared for the number of people about to watch my talk on Parkinson's disease. Representing Paydens pharmacies, and with my colleague Stephanie Bancroft, I presented the pilot on Parkinson's specific medicines usage reviews. The aim is to prove how an expert in medicines can be trained to support PD patients with what can be a complex medication regime. The hope is that one day this service is commissioned and rolled out nationally, so watch this space!
What's been your most significant job move to date?
I had been qualified 2 years when I took the jump in 2016 into managing a team of 22 in a flagship pharmacy. I quickly realised the hard graft it would take to turn this pharmacy around and prepare for the GPhC inspection we knew was looming. Sixty hour weeks and drinking my own weight in coffee was not sustainable, but I was determined to get us on track. My management and HR skills were put to the test, but I quickly learnt to utilise my teams' strengths and within a matter of weeks we had secured brilliant results at our inspection; our only adverse comment was about the carpets!
What are your ambitions for your career?
Sourcing advice and information about medicines via technology is becoming more and more the norm. I have just started working on my YouTube channel where I hope to make a change to people's health on a wider scale. As one of the ten Royal Pharmaceutical Society Ambassadors I respond to media enquiries on their behalf. My additional workload outside my day job has given me a flavour of what can be achieved outside of the traditional pharmacist role.
What gets you out of bed each day, professionally?
Starting my day with something that I do for me is a must. I used to wake up and be out the door, already thinking about my working day. This morning, I got into my fluffy dressing gown and started writing the content for my next Vlog.
How do you relax?
Being out of my comfort zone makes everything else seem trivial and I find it resets my batteries. On a ski trip with seasoned snowboarders I found myself going down a ridiculously treacherous slope at what felt like a million miles an hour. Somehow I remembered the instructions from my distractingly handsome ski instructor and made it in one piece to the ice bar at the bottom of the slope. Before you know it, I was on the ski lift going back up for more without a single thought for the emails stacking up in my inbox!
Optimist or pessimist?
Life is too short for pessimism and smiling uses fewer facial muscles. Fewer facial muscles means less wrinkles. Win-win.
Sponsored
Sponsored Education
Bust the myths around acne causes so you can recommend effective products and self-care advice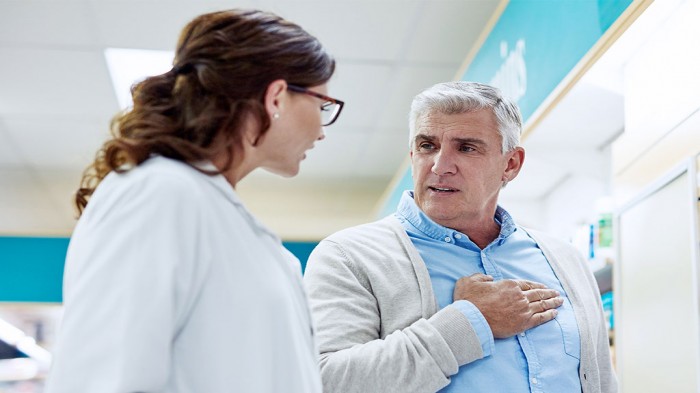 Sponsored Education
Discover the key benefits of Guardium so you can recommend this PPI with confidence to help ease heartburn and acid reflux symptoms
Record my learning outcomes