Building the future - part two
Views
Building the future - part two
Seven community pharmacists tell us what they're working on, and what they'd like to do next. In the second part of three, Sadhna Sanghvi of Strand Pharmacy in Rochdale and Geeta Sharma, whose Waterbeach Pharmacy is in the village of the same name, just north of Cambridge.
Sadhna Sanghvi
Sadhna Sanghvi registered as a pharmacist with the RPS in 1979. She is the owner of Strand Pharmacy in Rochdale, and the area's community pharmacy PCN lead.
Sadhna's interest in healthcare was inspired by her father, who brought his family to Birmingham from Lucknow, India, in 1969 and opened his own GP surgery. "As a young girl, I worked in the surgery when the receptionists were on holiday," explains Sadhna. "My father wanted me to study medicine, but I couldn't stand the sight of blood. A friend of his suggested pharmacy, so I started off at the local Boots branch in Harborne in the summer of 1975, and then I got into Leicester School of Pharmacy."
In 1979, Sadhna married Nilesh, a fellow pharmacist from Leicester, and the couple moved first to Kent for work, then to London, until their first daughter was born in 1982. "By that time, I was managing a pharmacy and working full time as well as looking after a baby, so when the opportunity arose to buy Strand Pharmacy in 1983 – where I still work now – we took it."
In 2006, Sadhna got involved with the Vision for Kirkholt Steering Group, which is made up of local shopkeepers who meet every quarter with public health representatives to push forward ways of improving the health of the community as well as the economics. Strand Pharmacy was also the first pharmacy in Rochdale to become a Healthy Living Pharmacy (HLP).
Although Sadhna thinks things have improved since she started out in the profession, she says: "What is annoying about pharmacy is that the pace of change is really slow, and you really have to push to make things happen.
The mindset needs to change. Primary care should be GPs and pharmacists working in collaboration
"For example, I was at an LPC meeting in 2012 where they were talking about an inhaler technique service. Manchester and Bury had got it as a pilot but not Rochdale, so I persuaded the LPC CEO to let us do it. I got trained and started in 2013. Because of our industrial heritage, we have a high profile of respiratory diseases such as asthma and COPD in our area, but around 80-90 per cent of people don't use their inhaler properly. They say they've been doing it for 20 years, but when you ask them to blow into the checking device, it's way off, or they use their blue inhaler for instant relief so we need to reinforce the use of the preventer. Covid put a stop to this service, but we've been invited to express an interest to do it again."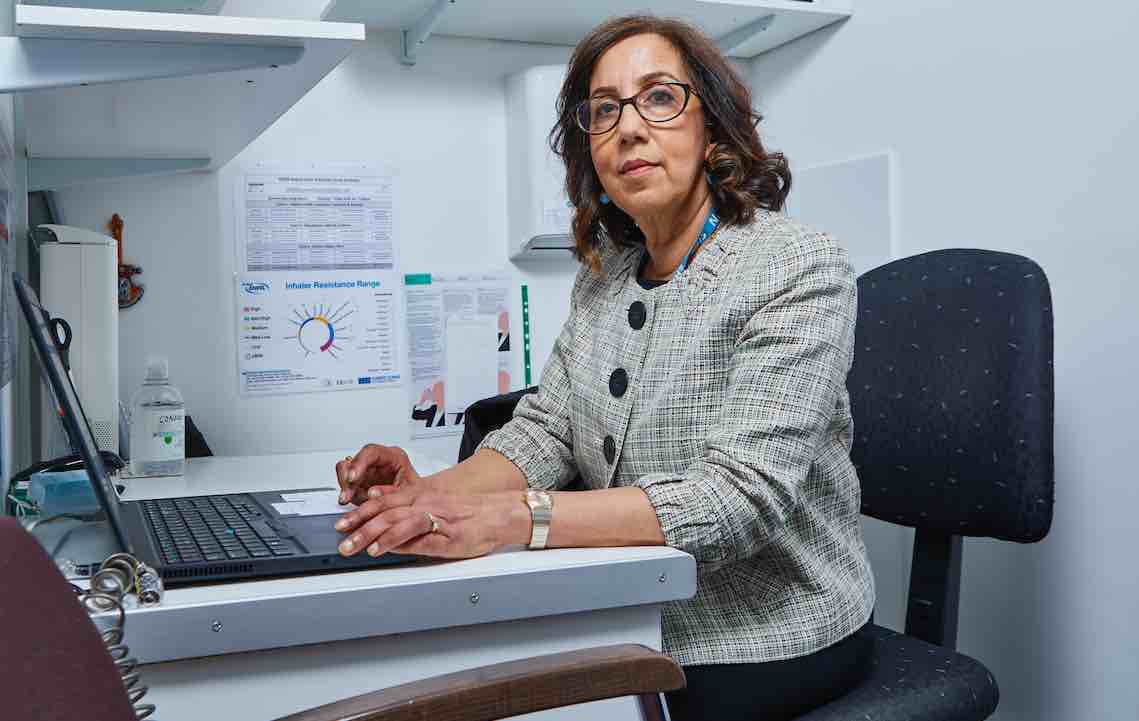 Sadhna also gave flu injections as soon as pharmacy was involved, but admits: "It was seen as a big competition between GPs and pharmacy, and it still is. Then there was the smoking cessation service we did, which was taken away from us in 2016 when private companies could pitch in for a contract, although it has come back to us for now."
Her plan for the future is to focus on services, but she admits this is a challenge in her community. "People in London think every pharmacy can afford to do private services, but in an area like ours, we are not going to make any money from these because of our demographic. We had just starting asking for feedback from the residents about what they wanted us to offer, and then Covid came. What I can do is engage with patients for the NMS and we are getting more of these now that surgeries have opened up, and I have just got a UTI PGD, because where else can you go on a Saturday apart from your local pharmacy?"
Sadhna still feels pharmacy has a way to go before it's on a level with GPs. "The mindset needs to change. Primary care should be GPs and pharmacists working in collaboration for the health and wellbeing of the patient, not in competition."
Nonetheless, her role as a community pharmacy PCN lead has raised her optimism and Sadhna says she feels "positive" about the future. "I think the GP CPCS will be a great thing, and the DMS is also going well. As well as looking after our customers, I feel part of my role is to help protect the NHS so we can all use it at its best – which is what my father thought too. Part of the way to do that is for the powers that be to engage more with pharmacy."
Geeta Sharma
Geeta Sharma started her professional career more than 20 years ago working for Boots. After a "breath of fresh air" spell at an independent pharmacy in the Midlands, she bought Waterbeach Pharmacy in the village of the same name north of Cambridge in 2005 with her pharmacist husband. She now has interests, some jointly with others, in nine pharmacy businesses.
"I actually saw myself going into hospital after my time in the corporate world," Geeta says, "but we decided to own our own pharmacy. Then we acquired a second, and another. Working really hard to develop your businesses, figuring out what individual communities want, took over. But
I love talking to people, particularly the elderly. I think it's quite a privilege to be able to help those who are more vulnerable."
As Geeta's family grew, she spent less time at Waterbeach, then stepped out for a while to oversee things, doing locum days when needed. But for the past year she's been back full time in Waterbeach, Monday to Friday. "I'm very much into it; it's where I started. We bought our house here; it's our community."
Geeta says the best bit of returning to frontline practice is being able to pursue the clinical ambitions she started out with for people she knows: "Hopefully they see that I'm focused on seeing what the community needs and bringing it to them."
However, she says that while the NHS contract remains supply driven, you cannot just rely on "erratic" NHS income. "When you've been a contractor for so long, you've seen all the changes in the payment structure, MURs going, DMS [Discharge Medicines Service] and CPCS [Community Pharmacist Consultation Service] coming in. We're not paid for DMS because we don't have the infrastructure. Addenbrookes does not have the technology to deliver it, but we do the service anyway. We have conversations with hospitals when a patient of ours is discharged, we communicate with the GP, organise prescriptions and so on. NMS works very well, but the rest of it doesn't. GPs don't use the CPCS, but they refer people to your pharmacies anyway. You're providing a service, but there is now a structure for that; your time and skill needs to be valued.
"Collaboration needs to work for everyone. Setting up something like the CPCS, which pharmacists can absolutely deliver on, is all about collaborative working. If your GPs are not on board, you're not going to be engaged. It's lose-lose, and you will waste the time and resources that have gone into developing those services. It takes planning, realism and honesty – we are a business, so we need to make sure it's worth our while, but we all want to contribute to the wider picture of health, and preventing people getting into secondary care.
"I've asked my local practice so many times 'what can I do to help?'. It would help me; it would help my local community. Is there something they are struggling on? 'No. We're fine, thank you.' Just to sit in their meetings would help me see their prescribing changes, their long-term plans. There might be something that comes up in the pharmacy that might help them achieve their goals."
Geeta's response has been to go down the private services route. She says: "You look at what your community needs. For example, GP practices have dropped removing ear wax. I got trained in ear irrigation in October last year, microsuction in November, worked out my operating procedures and costs, made sure my equipment was up to scratch. I probably do between five and eight appointments a week. I find it very rewarding, getting that feedback one to one. Then you think: what more can I do to have that kind of impact?"
I thought, right, I've got my otoscope, got my stethoscope, what am I going to do?
Geeta introduced the service to her local practice manager and advertised in local papers. It is now spreading by word of mouth, with people travelling from a distance to take up the offer. A new private holistic weight management service has taken off; she is now investigating allergy testing and has just applied, for the third time, to run a Covid vaccination centre.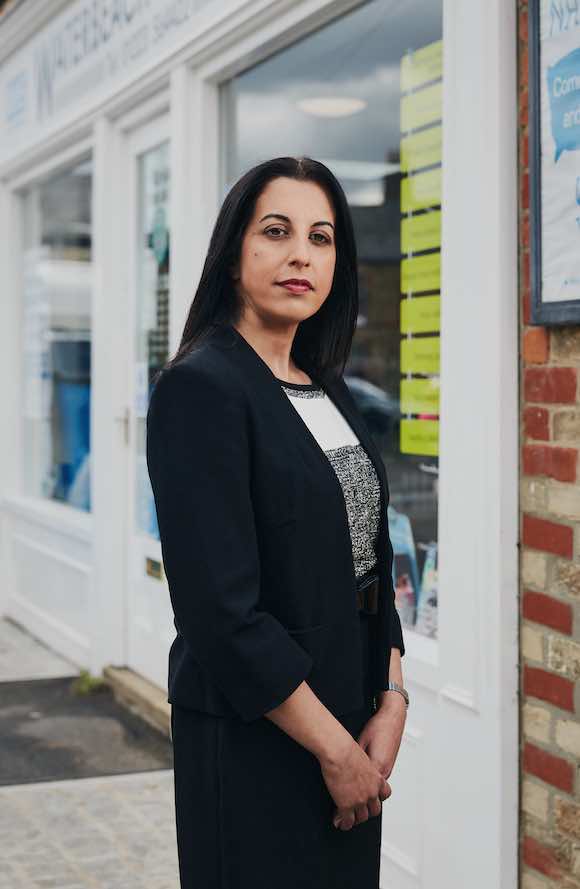 Completing an independent prescribing (IP) course in February last year gave Geeta the boost she needed, she says. "My DMP [designated medical prescriber], the paramedic I sat with in the surgery, was phenomenal. He taught me a lot of my hands-on clinical skills. I thought, right, I've got my otoscope, got my stethoscope, what am I going to do? You need to know your limitations, your competencies, but there are many things I'd love to do. And it was a little bit lonely to begin with because it was just me. Where's my safeguarding? Where do I go if I can't exercise these skills?"
Geeta did further training to figure out how to start a walk-in minor ailments clinic, before coming up against the IT challenge. "How do I document this? When you work in a GP surgery, you're all set up."
Working with others in the same boat, Geeta has contributed to the development of subscription software that enables her to document patients, appointments, findings, and the outcome of clinics. "I document consent, all of my notes. I can take pictures and upload them, invoices and so on. It took a long time to develop that software, but now I know I'm doing things the right way. We put the time and the investment in; we're not CQC regulated, but I'm ready if it goes that way."
Geeta notes the drift of pharmacists into clinical work, general practice and primary care networks (PCNs). "I considered it after my stint with the DMP, but I want to prove that you can do this in community pharmacy," she says. "I've now invested in one of my locums to do the walk-in training. He's very clinical – that's what he wants to do – and I can keep him doing that in the world of community pharmacy.
"As a contractor, you have to remain optimistic. Anyone with any vision can see what the outcome would be if everything got handed over to internet pharmacy. Where would people go if community pharmacy shut tomorrow? Who are they going to call? GPs couldn't cope. Secondary care?
"It's okay to say 'I own a business and I need to do well'. The days of talking about 'how much is bendroflumethiazide?' are gone. Let's get back to why we came into pharmacy."
Geeta says old fashioned approaches stand in the way of improving pharmacy services. "We are tied into our 8.30am to 6.30pm responsible pharmacist role. That doesn't help. GPs have training time to improve their processes or whatever; dentists can shut their doors. Any training I've done has been at weekends, sacrificing family time. There's no support bubble for pharmacy because recognition isn't there in the first place.
"We're a service driven industry. While the supply of medicines drives the contract, that's what community pharmacists are going to do. We've come a long way, but the model needs to reflect that. Training needs to be supported and the funding structure needs a drastic overhaul. That supply model is just wrong. It doesn't work."
Click here for the first part of this article and here for the final part.
Sponsored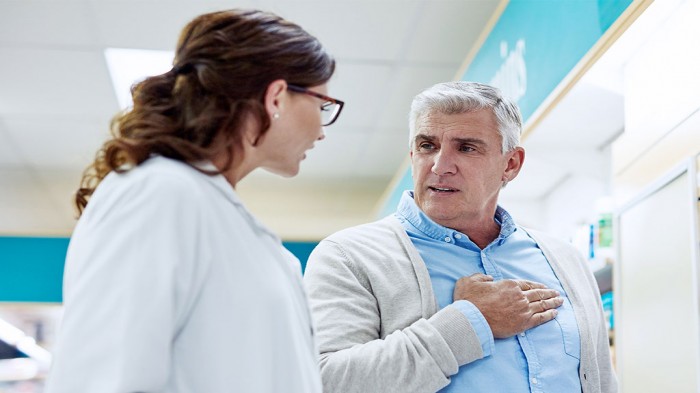 Sponsored Education
Discover the key benefits of Guardium so you can recommend this PPI with confidence to help ease heartburn and acid reflux symptoms
Sponsored Education
Work through a customer consultation to determine the possible cause of stinging, gritty eyes and recommend an effective treatment to help ease these symptoms.
Record my learning outcomes