Multifaceted T&R is open for business on all fronts
Views
Multifaceted T&R is open for business on all fronts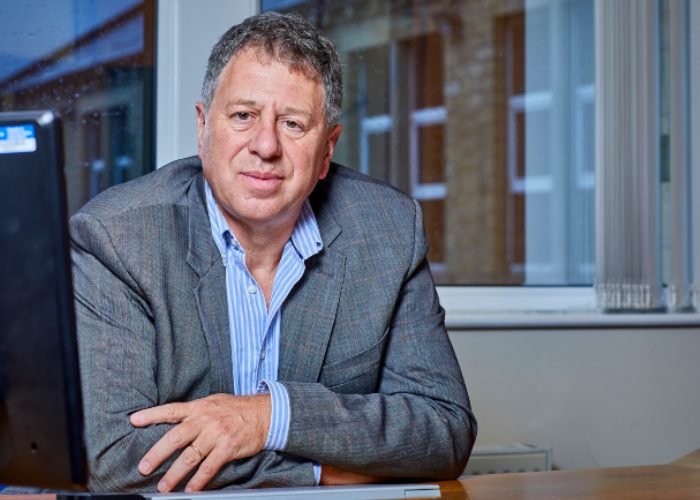 "The most fun I've had in a long time is here," says Roger Scarlett-Smith, executive vice-president UK/US atThornton & Ross. "There are so many opportunities to create new things, whether it's the pharmaceutical pipeline in biosimilars and generics, which is a whole new area for me and very productive, or the acquisitions we've recently made, breathing new life into some brands that haven't had enough consideration. We're doing a whole load of things Thornton & Ross wouldn't have considered before, given our heritage."
And what a heritage. We're sitting in Roger's office at the Thornton & Ross site in Linthwaite, Huddersfield, which is both the firm's head office and its main factory, and has been since Nathan Thornton and Philip Ross founded the business in the Colne Valley in 1922. "We're part of a bigger picture of industrial life arising in what was the crucible of the first wave of the industrial revolution," Roger says. "A lot of those mills have closed down, but you've got fresh air, fresh water and green valleys, and now what we hope is more high tech and added value jobs coming in through what we're doing."
As a major employer, Roger clearly sees the next phase of the T&R story, since its acquisition by the German STADA group, as important for the town of Huddersfield. "I used to live in Pittsburgh and it reminds me a little of that: a town that's shed its industrial image and is now moving into high tech, medical, education, still with roots in that gritty success, with a determination to make things.
As for the strategy for that next phase? "We're aiming for growth across a very wide portfolio," Roger says. "Wherever we can see opportunity and differentiation; we're not necessarily looking to move into markets that are well served by big players. We want to find appropriate niches which are under-served. There are enough of them out there in the big world of healthcare." He says this approach is pragmatic: "We're not up ourselves with some great strategy."
Shaking off the boundaries
The latter months of 2019 were a busy time for STADA, where Roger is now executive vice-president UK/US. In November and December, STADA announced the acquisition of Takeda's OTC portfolio in Russia, as well as the Czech headquartered consumer healthcare company Walmark, a strategic collaboration with Iceland's Alvotech for seven biosimilar candidates in Europe, and the acquisition of Biopharma's pharmaceuticals and consumer healthcare business in Ukraine. "We're shaking off every boundary and expanding in many different angles," says Roger.
We want to find appropriate niches which are under-served. There are enough of them out there in the big world of healthcare
Turning to the UK, and the T&R business in particular, Roger says: "It's about finding opportunities that have been underserved or ignored then addressing them, either through our existing brands or acquiring in those areas. In most markets we are in, market share is less important than consumer penetration. It's really about the size of the market, rather than who's winning. We are growing these smaller markets through penetration. I don't think we are taking business off anybody. In order to succeed, it's not important that other people have to fail; it's more than a zero sum game. There's a lot of unmet need out there."
He says this successful strategy is not new, but has helped the business over a number of years. "It's something Dieno [George, Roger's predecessor who completed the tie up with STADA] did very successfully. An excellent chain of acquisitions and deals, like KY-Jelly, Genus, Internis, creating a business that's built up from companies, not necessarily at huge scale, but with the opportunity to meet the needs of a wide variety of healthcare customers.
STADA Arzneimittel AG
Headquarters: Bad Vilbel, Germany
Business: Generics and consumer healthcare
Sales: €2.33bn in 120 countries (2018)
Earnings (adjusted): €503.5m
People: 10,400 worldwide (Dec 2018)
Recent Announcements
August 2019 Purchase of OTC brands from GSK including Oilatum, Savlon, Polytar, Eurax and Tixylix
November 2019 Acquisition for undisclosed sum of Walmark a.s, a Czech-based manufacturer of consumer health brands in multiple categories, with direct presence in nine EU countries and sales to more than 40 worldwide. More than 540 employees.
November 2019 Acquisition of Takeda's portfolio of around 20 OTC and POM products in Russia, Georgia and the CIS for $660m. Takeda's 500-strong sales and marketing team expected to transfer on completion in the first quarter of 2020.
November 2019 Entry into exclusive strategic partnership with Alvotech (Iceland) for the commercialisation of seven biosimilars in all key European markets and selected markets outside. The originator products currently generate $50bn in sales globally.
December 2019 Acquisition of Biopharma's prescription and consumer health business in the Ukraine (population 50 million), including production facilities in Bila Tserkva in the Kiev region. Employees transferring: 300.
He now sees further opportunities as heath systems start to reassess their purpose. "It hinges around how we bridge between prescription volume and the cash which is moving increasingly into OTC, he says. "Pharmacy has a pivotal role in that, in creating the confidence to self-medicate, where people might have had prescriptions in the past. Most of what we do fits well with community pharmacies in meeting the needs of a community, in bridging the gap between what people are aware of and what they really need. We don't have many high profile brands. We do advertise Covonia, but we do a lot of work behind the scenes with bloggers, working with websites, creating materials that can be shared. We're pragmatic and targeted as to how we reach consumers, but a lot relates to community pharmacy, and how we can support them.
I mention a recent one day pop-up 'bath-time' event for online influencers of mothers with young babies, designed to support Oilatum Junior. "We spend a lot of energy on reaching out to professionals and others through industry events," Roger says. "One of the things that has driven Zoflora is to have a stand at the Ideal Home Show, which was mobbed. It was absolutely massive at Crufts. We're not just there to wave the flag; this face-to-face engagement is really important. It's about getting the conversation going about our products, whether that's online or in the community pharmacy, or whether it's peer-to-peer."
Sixty million bottles of Zoflora are produced each year in the Linthwaite factory, where a new multi-million pound dedicated production line, producing 300 bottles a minute, has just come onstream. This investment shows the ongoing commitment to the site. "We need it because we were just running out of capacity," Roger says. "It's a very big volume business, so with brand new equipment, logically laid out, hopefully it will run like a Rolls-Royce. Zoflora is our largest growing brand. Home hygiene is an important factor in health. Zoflora is a phenomenal success in grocery, and pharmacies are increasingly taking it up and doing well with it."
It's perhaps no surprise to find that T&R has acquired brands since Roger's arrival from GSK, where he spent more than 30 years. He says consumers should be the winners. "We are able to give a lot more attention to Oilatum and Eurax than GSK were able to give. We can make them more of a focal point in our portfolio.
If pharmacists or pharmacy assistants are well enough informed, they can guide people to solutions they may not even realise are out there.
"Take something like Eurax in itchy skin. Users swear by it, but that's an under-met need. If we can generate awareness in the whole area of itch relief, we can make a small brand into a moderately big one. It's not going to be a world beater, but it can be a sizeable business and one we can nurture and grow. In our garden, we have a number of smaller flowers, but they are all very beautiful.
"That's somewhere pharmacies can play a role. If pharmacists or pharmacy assistants are well enough informed, they can guide people to solutions they may not even realise are out there. Childhood eczema disturbs families, creates sleep problems, causes irritability. Our new programme with Oilatum is about making bathtime fun again. That's again something where community pharmacy can help."
He picks out Flexitol as another brand where T&R has tested a different approach – time user-generated content. "We gave the product to a load of people and said 'just try this, what do you think'? Their reactions were uniformly good. It's one of those things where people who are suffering from dry or cracked skin don't know enough about what they can do. We're proud to be the leader in that area; it's not huge, but there's a lot of need out there."
Putting products into customers' hands
Roger says the company needs to do more sampling. "With many of our brands, you feel it working. In dermatology that's critical. Getting product into people's hands so they can try it is an important part of our strategy. For something like Flexitol, we know we haven't touched at least 50 per cent of the people who should be using it. Until we have closed that gap, we've got to be pretty restless."
He sees an important win-win. "Clearly, the individual is going to benefit, but the healthcare professions will be achieving better outcomes – delayed hospitalisations, delayed foot surgeries – and of course commercial opportunities. I can't see a loser here. We all celebrate when the shares go up, but the shares go up because we've got new consumers into the market."
These days, however, T&R is much more than a consumer healthcare and home hygiene product. "The biggest success we've had this year is our generic bortezomib product for multiple myeloma," Roger says. He says that as well as the price, the user-friendly formulation – it is provided ready mixed where other products need compounding – has been a big win. "It's about making the compound more useful for more people. It's a nice story.
"And we have an affiliate called Natures' Aid, which has traditionally operated in a limited number of independent pharmacies, Holland & Barrett and independent health food stores. It's the fifth biggest vitamins and naturals business in the UK and we think it's the fastest growing. It's got a really interesting product pipeline. We're into CBD oil and MCT oil extracted from coconut oil, which is very popular now, and a great range of vitamin drops. We're looking closely to see how we can modernise those products further, add efficacy and environmental credentials. It's another incremental opportunity for pharmacies to think about.
STADA Group Health Report 2019
The STADA Group Health Report contains the outputs from a survey of more than 18,000 people across nine European countries – Belgium, France, Germany, Italy, Poland, Russia, Serbia, Spain and the UK. As well as informing the company, the report is published to provoke debate among health professionals and system managers.
Among the highlights from the UK arm of the study:
• The UK is split on whether we'd be happy to be treated by a doctor via webcam for a minor illness: 49 per cent would try it, but 51 per cent say it would feel weird or they'd want personal interaction
• We are similarly divided over the use of robots in surgery. Half of us say we would be willing to have a robot involved in surgery if under supervision from a doctor, but 23 per cent say they would never put their life in the hands of a machine
• Nearly eight in 10 of us would agree to have our genes tested to be informed about future risks to our health. But only 28 per cent of us know what can actually be discovered by genetic testing
• The UK is more aware of mental health issues than other countries, but many are still skeptical. Half of us say we've been close to or experienced a burnout, and 41 per cent say the rise in burnouts is very alarming. However, one in six of us say it's a fad or 'hyped up'
• Women are more likely to try to get better themselves when they feel unwell, with 36 per cent saying they self-medicate with household remedies for a minor illness rather than to going to a pharmacy or GP. Only 23 per cent of men say the same
• Most of us are not planning on changing our status as organ donors when the law changes next year: 55 per cent say they will keep their status as donors because it is 'good and sensible'
• More than half of us feel optimistic about the future of health, believing in scientific progress and the potential to cure.
The full report can be downloaded from www.thorntonross.com
As we take a quick tour of the factory, appropriately attired of course, you can tell Roger feels very much at home, even though he was originally hired on a temporary basis. "I had no intention of taking a permanent job, but I really fell in love with the opportunity and the spirit of the people here as well. I could apply all the learnings I've had over many years in different markets around the world with GSK in a very concentrated way with a tight team.
"And I really like the fact that we are all on the same site. Many multinational companies get dispersed and everybody is working in different parallel silos, and you never really bring it together as one unit. Here, everybody knows everybody, for better or worse, but overall it's a huge benefit. Responsiveness is much stronger when opportunities arise; we're much nimbler. There's more interaction between marketing, sales and manufacturing. That helps with tricky customer service issues, which are difficult to manage if you don't have that ongoing connection.
"We do have a global manufacturing set up, so we have the benefits of being able to use the manufacturing network and leverage it for costs and expertise. But proximity makes a huge difference. It's easier to create a sense of one external customer, rather than continually serving internal needs. We have appropriate scale to meet the needs of a wide variety of customers. We're at scale for things that matter.
"We bought the GSK business because we can bring that manufacturing in-site, and that provides opportunities to create synergies in development and manufacturing."
Roger comes back to the thing he says matters more: "If we find the right way to collaborate with our healthcare professional customers to meet the needs of the public more effectively, that's what we can do to help everybody be a winner."
Sitting on the senior executive committee (the board) of STADA, Roger can also see the possibilities ahead. "It's very exciting from a corporate development point. We've developed a dynamic strategy to be the partner of choice in healthcare across Europe. We do business outside of Europe, but we want to double down for our home continent, rather than overextend into other areas.
"We've bought into the biosimilars pipeline with Alvotech, and Walmark has a nice footprint around Eastern Europe, particularly in natural medicines, herbals and vitamins, which was not a strong area for STADA. The Ukrainian business we have just bought gives us scale and penetration advantages, with 50 million people in a market many might have fought shy of going into, and we've licensed a Russian business from Takeda recently. With the consumer healthcare business from GSK, that's filling in a patchwork quite effectively."
I wonder whether we have seen the last activity for a while. "I don't think we're done yet, but we will see," Roger says. "What supports making four major acquisitions in the last six months is that the base business, not just in the UK, is going quite well, so our private equity investors see a great core to build on. We were the lead market to get the investment in the GSK brands. New volume in the factory will help create a more efficient platform, so that's a nice fit.
"For GSK, when you've got Voltarol, the largest OTC brand in the world, and Sensodyne in oral care, the way to succeed is to throw more energy behind those. That inevitably means that other brands have not been reaching out as effectively as they could do to the users who need them. That's the market opportunity we are picking up at T&R."
"One of our really important growth opportunities will be how we work with the generic pipeline from STADA, which around Europe is famous for generics manufacturing."
Roger says STADA owns producers in Serbia who supply high quality, low cost generics across Europe. "We haven't really exploited that up to this point, but we do see a good growth opportunity there."
The first cab off the many ranks now at Roger's disposal was in biologicals, with Movymia, a biosimilar teriparatide for the treatment of osteoporosis, launched in September 2019. "It's quite a complex product to sell," Roger says, "as it needs to be administered in homes, through homecare. We've geared ourselves up to do that; we think we can demonstrate that we can manage quite a complex product. That gives us the confidence that we can work with a number of speciality biologicals going forward.
If we find the right way to collaborate with our healthcare professional customers... we can help everybody be a winner
"I've obviously collaborated closely with pharma teams in the past, but this is the first time I've managed a pharma business. T&R is unique: it's a pharma business and a consumer business and a semi-ethical business. The overlap can be quite strong between pharma and consumer. Take bone health, for example. We have Fultium®, which is the leading vitamin D3 brand, but is available OTC as well. As more and more things move from prescription to OTC, we're ready to take that up."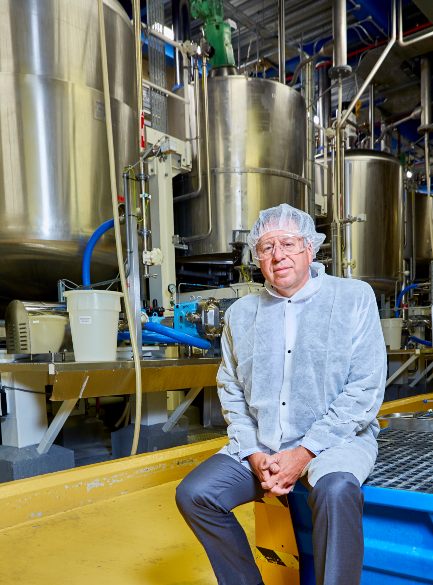 The launches have prompted significant investment in people too, with a reorganised prescription sales team building on the success of bortezomib since its 2018 launch, and investment into the regulatory affairs team at Linthwaite. T&R has always had prescription medicines, but the scale has just gone up several notches, with more to come, not just from Alvotech but from STADA's own pipeline. "The big gateway tends to be regulatory, so we have not been shy about investing in additional resource where necessary," Roger says. "We've added 100 people this year in the site overall, so we are scaling up. We're bursting at the seams."
Room for expansion
I look past Roger to a green space on the far side of the site. "We are in discussion with the local authorities about what we can do," he says. "We own the cricket pitch, but it's used for cricket and it's Yorkshire. Come on. We are OK for the next year or so."
All in all, pharmacy can expect to see and hear more from Thornton & Ross. "We have an experienced, pharmacy-focused team," he says. "The pharmacist has an opportunity to make sure they don't lose business as products move from prescription and with this very strong overlap we have between prescription and OTC, we have an opportunity to help them navigate that. We are a really strong player now, particularly after the GSK acquisition, in top to toe dermatology needs. The consumer knows they have an issue; they don't really have to be diagnosed, they just need the right kind of help, and community pharmacy is very strongly in position to provide that first kind of help. In most cases, they can find a way to help that patient there and then.
"The particularly exciting area for pharmacy, and it's always going to be different from grocery, is the consultation with an informed practitioner. We are very committed to the development of programmes that will support pharmacists and pharmacy assistants in making a confident recommendation."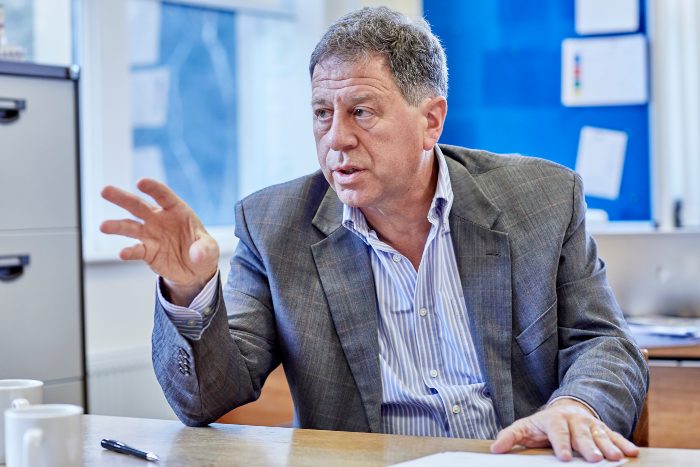 Major career highlights?
I've been very lucky. My first big brand was Ribena; that grew very strongly. In its time, in the '80s, it was a 'go' business. I launched Lucozade Sport – that's probably a billion dollar brand now. I really enjoyed my first major international assignment, which was in America. I was head of marketing for the US business, then I went back there as president in the late '90s. I loved my first ever GM role in Australia – that was such a fun place to be.
What gets you to work?
I'm lucky. I've ended up in a situation where I'm enjoying myself more than ever before. It doesn't have the scale I'm used to, but I don't care. I'm much more interested in growth and development.
What keeps you awake at night?
With a product portfolio as diverse as this, there are loads of things to think about. We have a very complex supply chain and what keeps me up is how we can manage that so our customers are always supplied well. That's the biggest challenge right now.
How do you relax?
I like to travel. In spite of my rotundity, I'm a keen mountaineer, so I like to go rock climbing and hiking in the Alps. I nearly summitted the Matterhorn last Summer, but was beaten back by the weather. I'm also a keen golfer. Used to be single figures, but I've been moving up – I have less time for golf right now!
Sponsored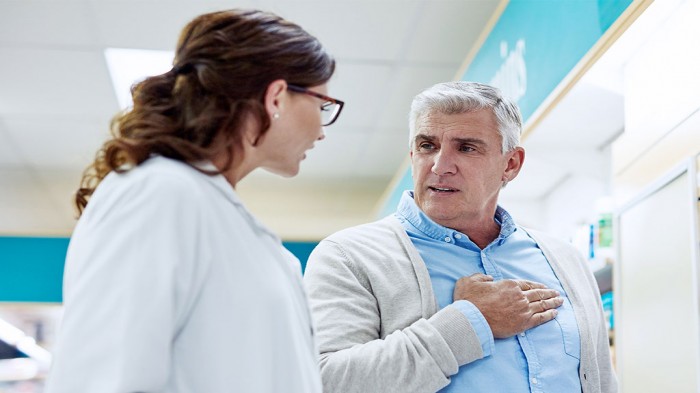 Sponsored Education
Discover the key benefits of Guardium so you can recommend this PPI with confidence to help ease heartburn and acid reflux symptoms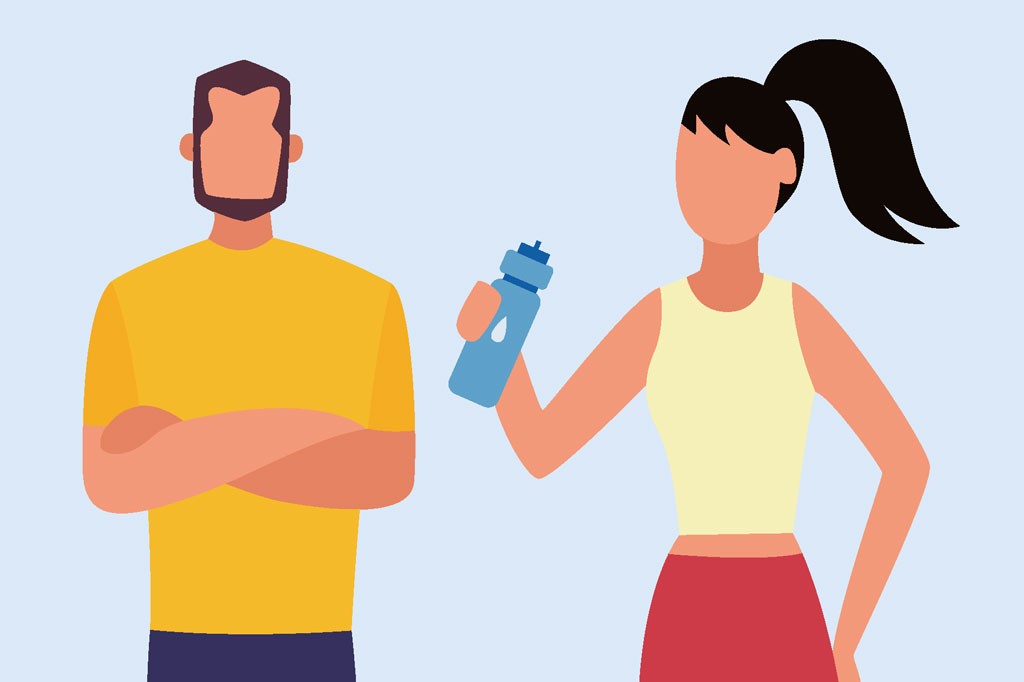 Sponsored Education
Understand the important role oral rehydration products play in helping prevent dehydration after illness
Record my learning outcomes