Your new resource pack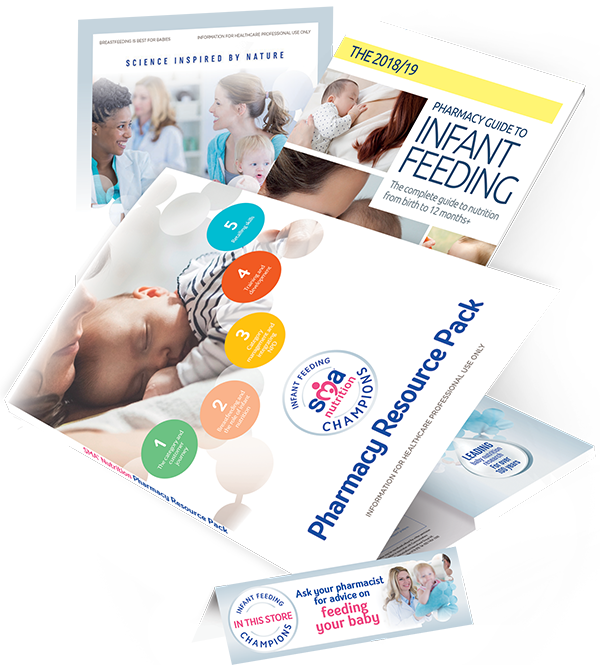 What the team recieves:
The SMA® Nutrition 5-Stage Plan – Supporting you and your team in improving the infant feeding service you provide. Information, resources and advice that you can offer parents through their infant feeding journey

Product Advice – guidance on the full range of SMA® Nutrition products

The Infant Feeding Guide – an essential guide for healthcare professionals

Conversation prompter – eye-catching signage to be placed on the counter, directing customers to ask for infant feeding advice.

Receive our quarterly infant feeding e-newsletter

Access the Infant Feeding Hub for NPA accredited e-learning modules
About SMA® Nutrition
SMA® Nutrition have been leading baby nutrition research for over 100 years and develop formulas that reflect the latest research and innovation to help meet the nutritional needs of babies. Every product has a tailored nutrient profile for each stage of growth and development. SMA® Nutrition also offers a range of core and special feeds, as well as a range to support preterm low birthweight babies.
*Ensure prior consent is obtained from the team member to be enrolled for the collection of their personal data (name and job title). Details will be used solely by Communications International Group to administer the SMA® Nutrition Infant Feeding Champion network. All personal data processed by Communications International Group will be processed in accordance with the Data Protection Act and the privacy policy will apply (for more information please see www.p3pharmacy.co.uk/privacy-policy or contact Communications International Group on 020 7534 7218). Completion of this form will be deemed as acceptance of this policy.

®Registered Trademark ZTT685/03/2019