Who's been taking their SEO medicine?
Running Your Business
Who's been taking their SEO medicine?
If you've got a website, you will know that keeping it healthy is not easy, but according to digital marketing specialists Salience, it's vital if you want it to be seen by potential customers.
Search engine optimisation (SEO) can help, but with weblogger algorithm updates constantly changing what counts as healthy online, it can be hard to keep up. And 2019 has had its fair share of algorithm updates so far.
Salience's Online Pharmacies Insight Report ranks the top 57 pharmacy and drug-related online sites over the past year, ranking them by key performance metrics such as visibility, rank and social (table).
Perhaps unsurprisingly, Boots are way ahead, despite a 30 per cent visibility drop as measured by Salience, who comment: "They are doing really well still, and so it'll take a lot for them to lose their place. The brand has been trending in searches for the past 10 years and although they have seen peaks and troughs over time, overall they are trending well ahead of the other brands in the top five."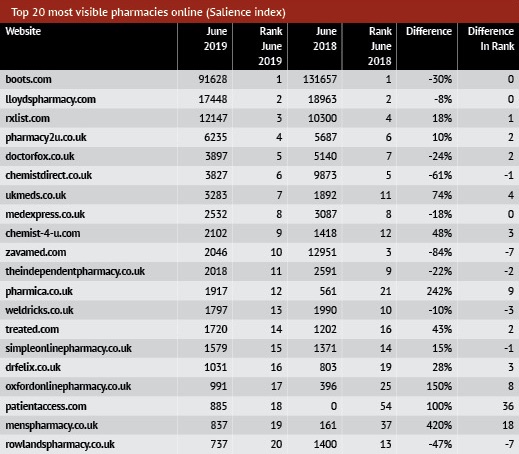 Lloydspharmacy has had a smaller visibility drop of 8 per cent, and hold onto second place.
Raised profile
Pharmacy2U is up to third among the pharmacy sites, with an increase in visibility. Doctor Fox has seen a drop, but has still managed to climb two places in the rankings, to fourth, as other brands' visibility has dropped.
Brands who "need to take a look at their SEO health", according to Salience, include Zava and Rowlands, who have fallen in the table thanks to visibility drops.
Salience admits that getting seen in its rankings is a bit of trial and error, as predicting what the next algorithm update will hit is not an exact science.
"We can make some educated guesses to what makes a healthy online lifestyle. As the last few updates have focused on expertise, authority and trust (E-A-T), brands should focus on proving these three things if they want to do well.
"There are several ways to prove E-A-T, ranging from having good quality content and backlinks, to fast site load speed. Although there is no certain cure, and it'll be different for each brand, these points tend to be a good start when looking at your website health.
As the last few updates have focused on expertise, authority and trust (E-A-T), brands should focus on proving these three things
"As a general rule, there is a positive correlation between the number of inbound links and domain authority," the report says.
Need for speed
Interestingly, page speed rankings, sourced by Salience from Google's own page speed insights, throw up a different top three. Paydens come out best, followed by Zava and Express Chemist.
The full report also notes the importance of high competition keywords (like 'arthritis treatment' and 'cold medicine') and opportunity keywords (examples include 'online pharmacy' and 'malaria tablets') that are "vital to strengthening visibility and authority" and "a clear route to improving online performance" respectively.
Salience specialises in digital strategy for retail, lead generation finance and charity.
Further information: salience.co.uk
Sponsored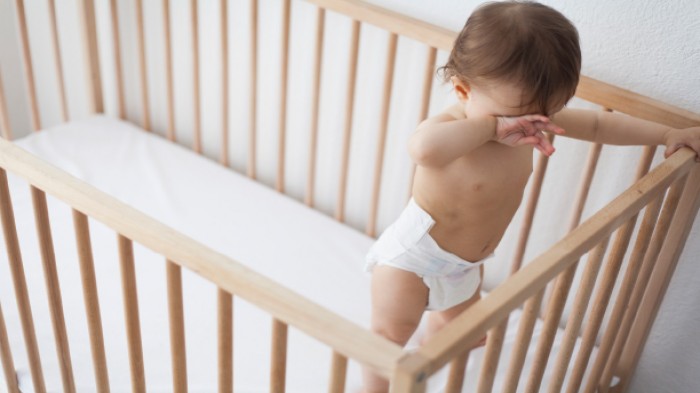 Sponsored Education
Prepare to advise parents and carers on appropriate management of their children's eczema.
Sponsored Education
Bust the myths around acne causes so you can recommend effective products and self-care advice
Record my learning outcomes