Brand insight: P3 June 2018
Product Update
Brand insight: P3 June 2018
Women's health and child & infant health
Women's health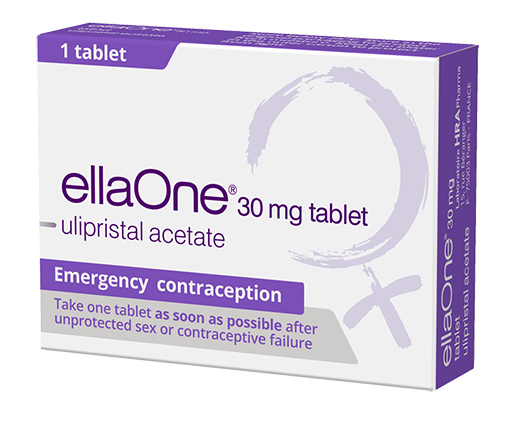 ellaOne is the most effective oral emergency contraception at preventing pregnancy in the first 24 hours after unprotected sex and should be taken as soon as possible after unprotected sexual intercourse.1,2
ellaOne is a single tablet that contains 30mg of ulipristal acetate.2 The treatment is one tablet to be taken orally as soon as possible, but no later than five days after unprotected intercourse or contraceptive failure.2 ellaOne is suitable for the vast majority of women regardless of their weight. Over 16 million women have used it in more than 70 countries around the world.3
References
1. Glasier AF, Cameron ST, Fine PM et al. Ulipristal acetate versus levonorgestrel for emergency contraception: a randomised non-inferiority trial and meta-analysis. The Lancet 2010; 375: 555-562
2. ellaOne® Summary of Product Characteristics
3. HRA Pharma internal sales data since 2009
HRA PHARMA ellaonepharmacists.co.uk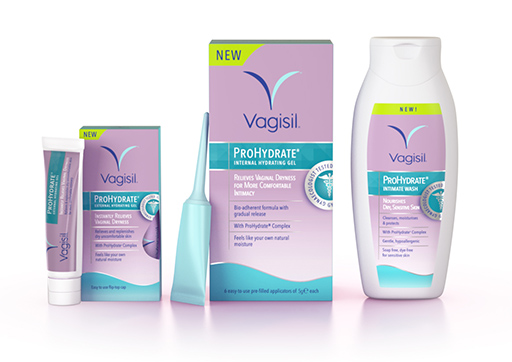 Vaginal dryness is said to impact over a third of UK women. Vagisil ProHydrate is described as a range of gentle products designed to help women with the condition.
Vagisil ProHydrate Internal Hydrating Gel, is a bio-adherent formula, which coats the vaginal wall and slowly releases moisture over time. It comes in a single-use pre-filled applicator.
Vagisil ProHydrate External Hydrating Gel is a soothing gel designed to replenish dry and uncomfortable vaginal skin, while Vagisil ProHydrate Intimate Wash contains a moisturising blend of hyaluronic acid, jojoba and shea butter to cleanse skin.
PHARSAFER 0333 3215254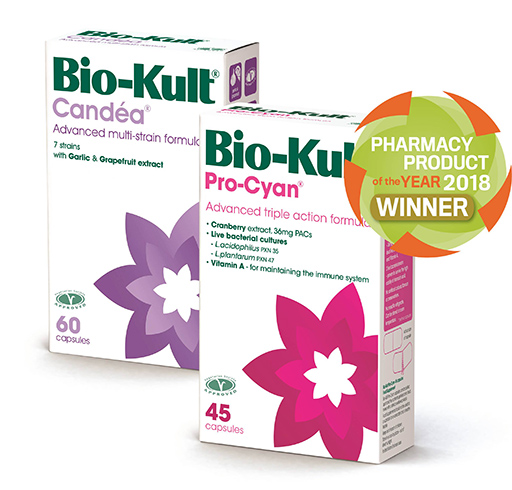 Bio-Kult Pro-Cyan is a triple action formula scientifically developed with cranberry extract, two specifically selected bacteria strains and vitamin A, which help maintain normal levels of bacteria in the gut in order to help maintain a healthy urinary tract.
Bio-Kult Candéa is a live bacteria supplement with seven strains of bacteria, together with added garlic and grapefruit extract. Taken daily it claims to help strengthen the body's natural defences against Candida overgrowth and may help to prevent it changing from its yeast-like form to the invasive filamentous fungus form.
PROBIOTICS INTERNATIONAL 01460 243230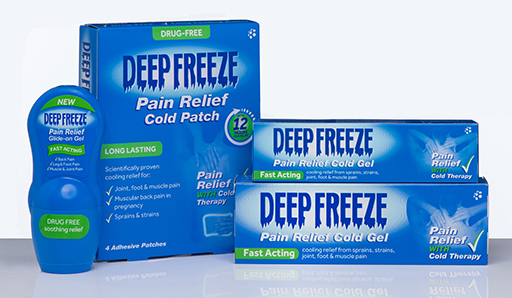 Over two-thirds of women experience back pain during pregnancy.1 Deep Freeze, a range of drug-free cooling products, can help to ease back pain during pregnancy and after the birth, with a choice of three formats.
The brand is being promoted to mums with a new digital advertising campaign on the parenting website Mumsnet, running during May and June. The Deep Freeze range includes: Pain Relief Cold Patch, an adhesive patch applied to the skin; Pain Relief Cold Gel, giving targeted relief at the site of pain; Pain Relief Glide-On gel, which uses a rollerball for easy application.
Reference
1. Liddle, Sarah D, Pennick, Victoria. Interventions for preventing and treating low-back and pelvic pain during pregnancy. Cochrane Database of Systematic Reviews, 2015; 9. John Wiley & Sons, Ltd
LASER HEALTHCARE 01202 780558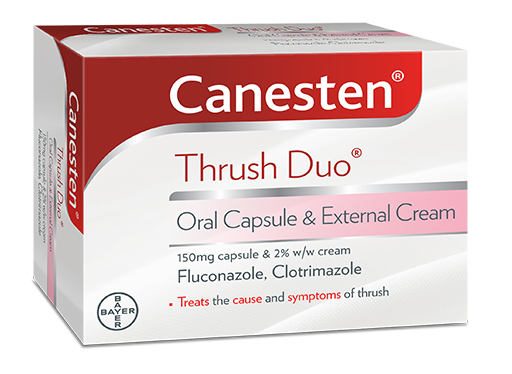 Thrush is a common vaginal yeast infection, resulting from an overgrowth of Candida albicans. There is a wide range of treatments from the Canesten range that can help women with thrush to clear both the infection and calm the external irritation, says the brand.
Canesten Thrush Duo Oral Capsule & External Cream is described as a convenient, easy way to both calm the itch and clear the infection. The on-the-go single-dose oral capsule, which contains fluconazole, works from within to clear the thrush infection, while the double strength thrush cream, containing clotrimazole, is used to calm the itch.
BAYER 0344 243 6661; canesten.co.uk
Child and infant health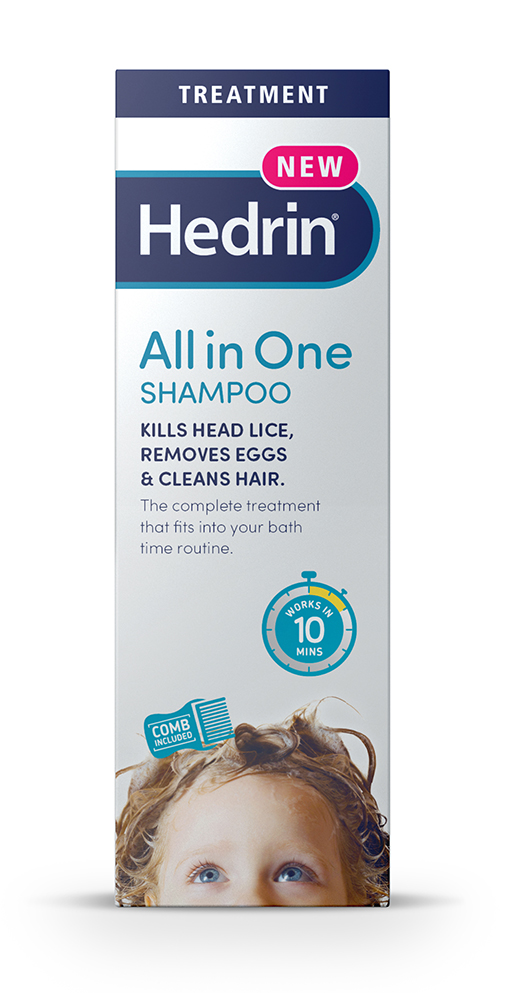 Hedrin has extended its range with the launch of Hedrin All-in-One Shampoo. Hedrin All-in-One shampoo kills lice in just 10 minutes and claims to be twice as effective as combing alone. The new product is designed with convenience in mind, giving parents a quick and effective way of dealing with headlice.
The shampoo is allergy certified, pesticide free, skin friendly and easy to use. The product is part of Hedrin's mission to take the drama out of headlice, reinforcing the message that it doesn't need to be stressful to deal with. A national TV, press and digital campaign supports the launch.
THORNTON & ROSS 01484 842217; hedrin.co.uk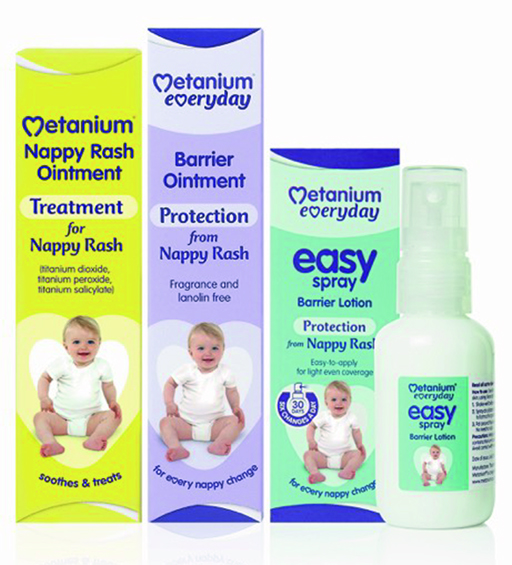 The Metanium range offers a choice of products to both treat and prevent nappy rash. Metanium Everyday Easy Spray Barrier Lotion and Metanium Everyday Barrier Ointment help prevent nappy rash; and Metanium Nappy Rash Ointment is licensed to treat nappy rash.
A new guide to nappy rash is being offered by Metanium to all members of the 'Your Baby Club'. The guide is being promoted extensively through social media. Additional promotional plans include sampling at baby shows, print and digital advertising with parenting titles, an ongoing partnership and promotions with baby websites, as well as reader offers and competitions.
THORNTON & ROSS 01484 842217; metanium.co.uk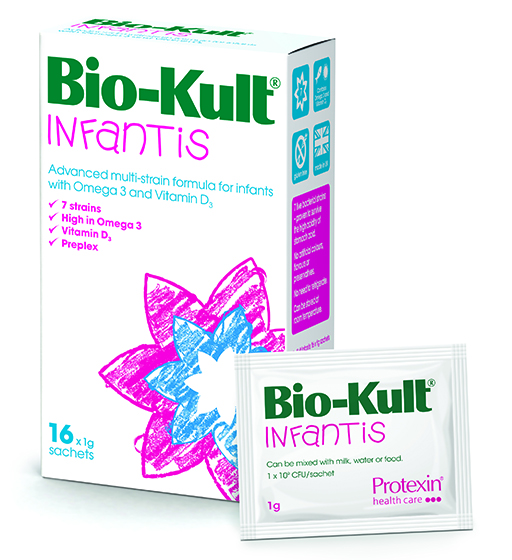 Bio-Kult Infantis is an advanced multi-strain formula for babies, toddlers and young children. Each sachet contains seven strains of live bacteria, proven to survive the high acidity of the stomach. These strains may help to reduce diarrhoea in gastroenteritis, improve constipation and improve symptoms of eczema. Studies have also shown a reduction in crying time in babies who are suffering with colic.
Infantis contains omega-3, believed to contribute to early brain development and cognitive function, as well as perplex, DHA and EPA, all high in omega-3 fatty acids. Bio-Kult Infantis also contains vitamin D3, which helps to contribute to the normal function of the immune system.
PROBIOTICS INTERNATIONAL 01460 243230
Sponsored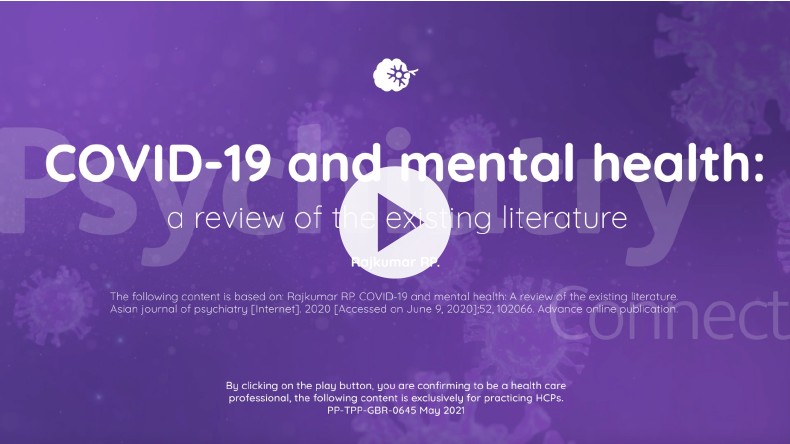 Sponsored Education
Viatris has created this short video based on a publication reviewing global research into the potential impact of the Covid-19 pandemic on mental health. It identifies six areas where psychiatrists can play a role in supporting people's mental health through these difficult times.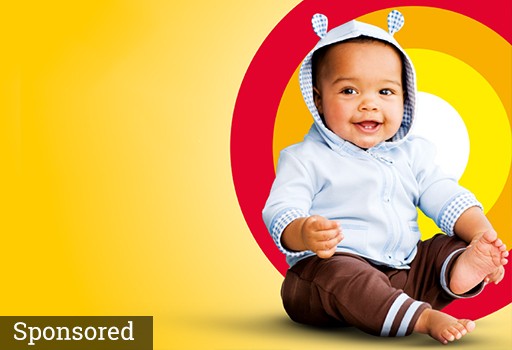 Sponsored Education
Get to grips with the current guidance on managing fever in children and how antipyretics can help, and discover products you can recommend.
Record my learning outcomes