Business first at Pharmacy Show 2016
Pharmacy Show
Business first at Pharmacy Show 2016

The Pharmacy Show (25-26 September, NEC Birmingham) is a focal point in the community pharmacy calendar, and the Business Academy at this year's event promises to deliver valuable take-home messages for pharmacy professionals and business owners. P3 takes an advance look at the conference sessions
With so much change afoot in community pharmacy, and further changes looking like the only certainty, it is vital that those in the sector can access up-to-date information on changes to their working parameters and exchange knowledge with their peers and with product suppliers. The Pharmacy Show provides a great opportunity for this, bringing representatives of the profession together under one roof.
The Pharmacy Business Academy forms one of the core conference streams at this year's show. Chaired by Numark's Raj Nutan, this "academy" will deliver 30-minute "how to' sessions that set out practical advice for healthcare professionals and business owners. The comprehensive agenda will touch on issues such as marketing, driving efficiencies, staff motivation and increasing turnover.
Delegates will hear how other pharmacies have successfully introduced new services and learn how to navigate their way through areas such as PGDs, SCRs and collaboration between community and GP pharmacists. Here is a taster of some of the talks on offer – we're sure many will be relevant to helping your business thrive in the coming years.
How to sustain a strong pharmacy profession
Raj Nutan, Numark
"For the first time since I qualified, I can honestly say that community pharmacy will change going forwards. We have often said that pharmacy is at a crossroads, and then we seem to just stay there. But now is definitely the time that we will either be pushed down one path or, indeed, forge our own. The issues facing our profession demand that we work together to think differently about how we sustain a strong profession in an ever-changing NHS. It is a pleasure being involved in this year's event and I look forward to meeting you during the Business programme or at the Numark stand."
Better profit through data
John Hogan, Real World Retail
"Head office managers are very busy and everything they do needs to drive better performance, but they all too often miss out on profit opportunities due to the required information not being at their fingertips. In many cases, operations stand to be improved across all areas: stock optimisation, claim performance, buying, patient capture rates, and implementing category management in FOS. This talk will explain how harnessing data can boost bottom lines for pharmacy chains."
Tax – what you need to know
John Ierston, UHY Hacker Young
"This presentation will focus on current tax planning opportunities in retail pharmacy and point out some of the more common pitfalls. In particular, the presentation will discuss: l Basic tax planning for pharmacies l Using pension contributions for tax planning l Pharmacy property l Tax considerations of pharmacy acquisitions and disposals. Attendees will learn how to structure a pharmacy business to minimise direct tax on profits, and about profit extraction issues for pharmacy owners."
Maintain and grow your business
Mike Holden, MH Associates
"In these uncertain times, it is crucial that pharmacists develop the skills and knowledge required to maintain and grow their business. This session is targeted primarily at independent pharmacy owners and will be a whistle-stop tour through strategic business planning and why this is important. It will cover key elements such as defining your purpose, understanding your market opportunities, business development, what success looks like, and the importance of business metrics."
Branding strategies
Gavin Birchall, DOSE Design and Marketing
"Pharmacy is under increasing commercial pressure and, in a saturated market, business owners need to find a way to stand out from the crowd. This talk will make the case for how effective branding can help. Attendees will learn how they can assess where their pharmacy is in the branding cycle and take away some simple steps to create a sustained competitive advantage through improved branding."
Making better use of the most precious commodity
Andy Chilton, Velresco
"Community pharmacy is always under pressure to do more, but finding the necessary time can be a significant challenge. Delegates will hear that a one-size-fits-all approach to time management is no longer enough – while some organisations benefit from a simple solution, others need a more complex improvement plan. Taking a rigorous approach to time management can yield unexpected solutions. For example, one pharmacy found that buying a new printer cut down on the time needed to change paper, freeing up to two hours a day."
Maximising income
Noel Wicks, Right Medicine Pharmacy, and Leyla Hannbeck, NPA
"There are some business basics that all pharmacies should apply to make sure they are fit for the challenging times that may be ahead. At this session, hear the Top Five Business Basics that you can implement in your pharmacy straightaway. And find out about the new range of business solutions available from the NPA to help you minimise costs, maximise income, manage your finances and shape your business for the future."
Leadership for success
Ian Strachan and Leyla Hannbeck, NPA
"The Manifesto for Independent Community Pharmacy cites effective leadership at all levels as one of the conditions for success in the sector. From shaping the values of your pharmacy business, to motivating staff and effecting change, leadership is key. Amazon founder Jeff Bezos tops Fortune magazine's latest World's Greatest Leaders List, but we don't need to look so far afield for examples of successful leadership – it is on display every day in pharmacies across the UK. So, put aside your leadership theory textbooks; this session will be highly practical and based on personal experience of leadership in community pharmacy."
Leaving the EU – what does this mean for UK pharmacy?
Jay Patel, Day Lewis Group; Rekha Shah, Pharmacy London; Gareth Jones, NPA; Nick Evans, Ellis Whittam; chaired by Leyla Hannbeck, NPA
"Brexit could impact on community pharmacists in ways we may not currently appreciate. After all, although we know that the UK's relationship with the EU will change, we do not yet know how. The issues that need to be addressed in this panel presentation range from the free movement of pharmacy professionals, to parallel trade, to employment law and Europewide obligations for pharmacovigilance. We mustn't put off analysing the ramifications of Brexit – change is coming to a pharmacy near you sooner than you might think."
Register for your free place at www.thepharmacyshow.co.uk/P3
P3 is media partner for the Business Theatre at The Pharmacy Show

Sponsored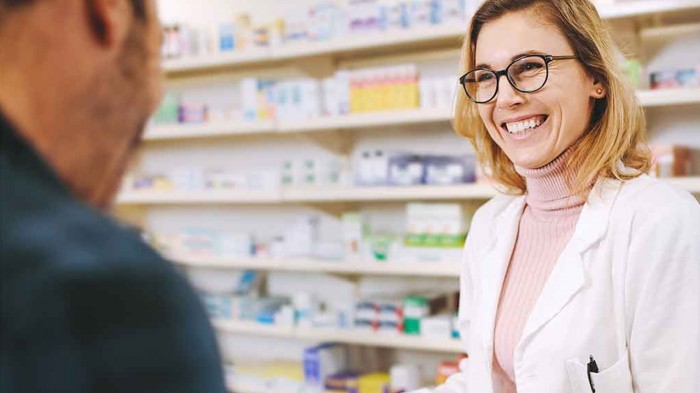 Sponsored Education
Update your knowledge on a POM to GSL hayfever switch with this short video
Sponsored Education
This module highlights a new opportunity to treat heartburn and reflux in the pharmacy with Omeprazole 20mg, which is newly available for customers to purchase OTC.
Record my learning outcomes