Sigma Conference 2016: news round-up
News
Sigma Conference 2016: news round-up

High margin levels may add to financial blow, warns PSNC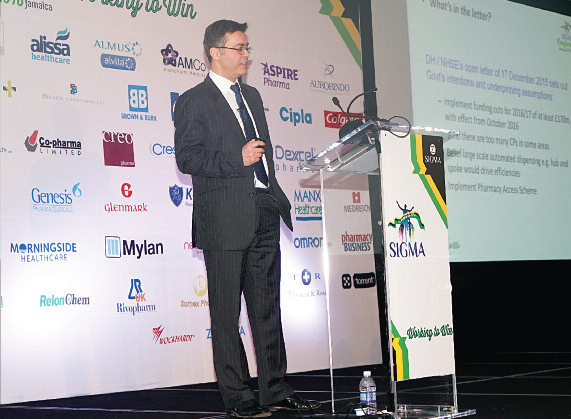 Pharmacy funding in England is set for a period of "huge instability" over coming years, predicted Mike Dent, director of pharmacy funding at PSNC. And to add to the blow of potential cuts this October, a clawback on existing funding is also on the horizon "Margin levels in 2015/16 look high and an overpayment is likely," said Mr Dent.
Funding cuts of £170 million for 2016/17 are on top of an efficiency squeeze, with further cuts possible in future years. Community pharmacy will be expected to absorb any volume increases, plus the cost of national business changes including the introduction of the National Living Wage and new pension arrangements, said Mr Dent. "From a pharmacy cost point of view it's a disaster. Six per cent is a huge underestimate of the cuts you are facing."
The recent junior doctor stand-off shows that government is in a tough mood. "The imposition of contract for junior doctors is a clear indication of intent. This doesn't feel like something they are going to back away from easily."
He commented on a range of aspects included in the government's proposals – the hub and spoke dispensing and click and collect models, clustering of pharmacy businesses. It is hard to see how the wider use of a hub and spoke model could contribute to reducing costs, said Mr Dent. Community pharmacies already have a huge economic incentive to maintain a "tight ship". It is also not that clear what the benefit of click and collect is going to be, and there has been no comment from the DH on what extended prescription duration could mean for contractors.
The statements made by government about clustering of pharmacies are "a crude generalisation," he said. "We don't know if the pharmacy is in that location because that's where a big GP practice is or if it's busy or not."
Two funds for pharmacy feature in the government's plans. Anyone familiar with the essential small pharmacies "debacle" may feel scepticism about the Pharmacy Access scheme proposals, he thought. And potential funding from the Pharmacy Integration Fund is not "money that is going to be landing in your pocket," he suggested.
Work with us: we can show you what we can do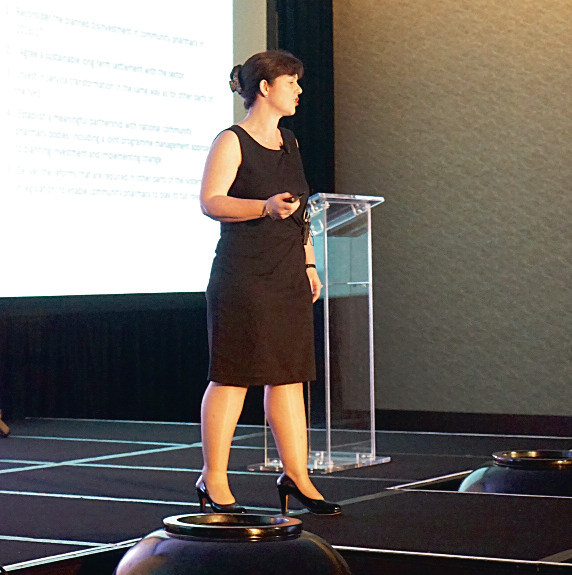 In a passionate message to Simon Stevens and the NHS, Pharmacy Voice's Claire Ward encouraged the NHS to make the most of the skills of community pharmacy. "Work with us: we will make changes and show you what we can do," she said.
Community pharmacy has undersold itself for "too many years," Ward told delegates. "If there is ever a time to step up and show you are what capable of doing, it is now." Pharmacists should show that they are health professionals that support the aspirations of the NHS, she said. "Why wouldn't we share that ambition? We have got to make the commitment to change this sector; we need to deliver the changes that the sector needs."
However, there is a danger that as they stand the Department of Health's "unthoughtout" proposals could destroy the local pharmacy network that is capable of delivering huge benefits to the health service, she warned. A vision that is shared by all is needed. "We need an appetite for change that starts with shared vision of community pharmacy as an integrated part of the NHS," she stressed.
The world is changing and we have to adapt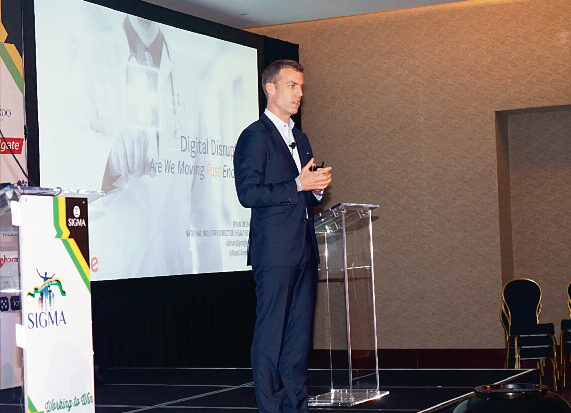 We all know that the world is changing with the use of technology and that we all have to adapt, but we may not appreciate how quickly things are already happening or be thinking appropriately to respond in the right way, suggested Ryan Olahan, healthcare director for Google USA, speaking at the Sigma conference.
"See how Airbnb is disrupting the travel industry. Facebook and Twitter are massive media companies that don't have a journalist. And we will have driverless cars in our lifetime," he said. These "disruptive" business models and technologies change the status quo, and usually enter markets quickly, leaving some established businesses behind. Will we all even need to own our own cars in the future with driverless technology? he asked, pointing out a ripple effect of change.
Predicting the future and what that might mean for our businesses is important for all business sectors, including pharmacy.
"Disruption is a good thing. We just have to see it coming and adapt to it," he said. At Google, staff are challenged to think of "10 times" ideas – the innovations that could change the market most dramatically – rather than less ambitious and more usual "10%" moves. "Everybody understands that the world is changing, but the problem is that we are thinking incrementally," he commented.
One in 20 searches on Google US are health-related. In the UK there are 420 million Google searches for "pharmacy" and pharmacy-related topics, he said.
Burt says nothing to be done about 6% cut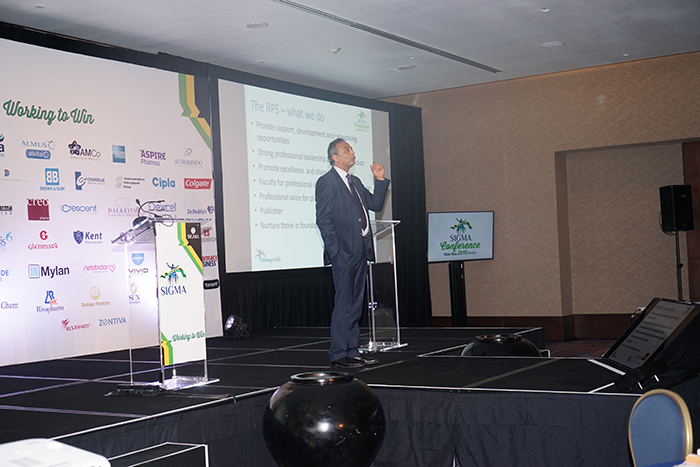 It is unlikely that the proposed 6 per cent cut to pharmacy funding will be reversed, because it has been imposed by the Treasury, said Ash Soni, president of the Royal Pharmaceutical Society. He said that pharmacy minister Alistair Burt told him this when he went to visit his pharmacy in Streatham last month.
Speaking on a recorded video presentation to the Sigma conference, Mr Burt said he recognises that the proposed changes bring uncertainty, but that he wants to work "collaboratively" with the sector "over coming months. "There is greater potential for the wider use of community pharmacy services," he said.
Plan to set cash aside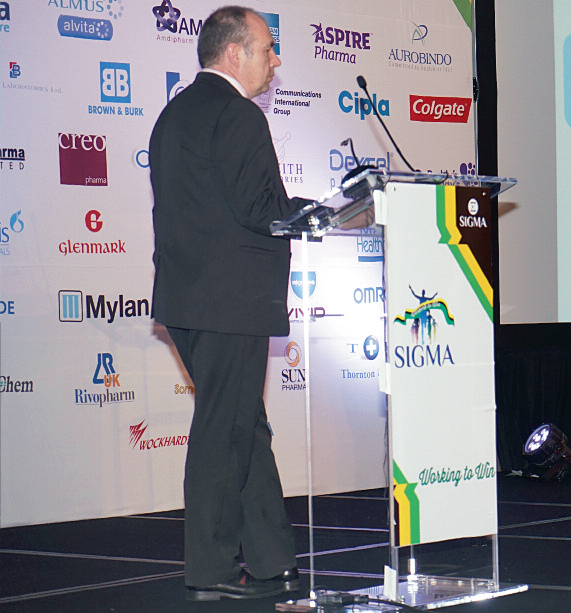 Pharmacies in England may need to set aside up to £40,000 to protect against pharmacy cuts and other business changes such as the National Living Wage, Fin McCaul, of the NPA told independent pharmacists. "Protect yourself with cash flow, making savings and doing things differently," he said.
Being fully aware of the dynamics of your pharmacy business is key when under pressure, he said. "Please learn to understand your business and move it forward," Mr McCaul advised independent pharmacists. He suggested the Check 34 system as a key tool for doing this.
"It shows you where you are losing money and what your competition is doing." Sign up and apply its useful functions, he said.
Independent pharmacists share their learning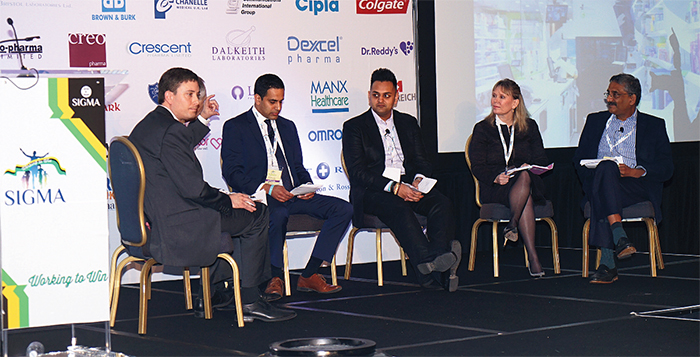 Pharmacists should work as closely with their teams as possible and mustn't be afraid to innovate. This was the prevailing message from a panel of four "inspirational" pharmacists specifically picked to share their experiences in pharmacy. The quartet was introduced by Paul Gershlick, a partner at lawyers Veale Wasbrough Vizards. "It was very interesting to interview these four inspirational pharmacists. Pharmacy has to adapt and change quickly in order to survive and thrive. They gave a number of concrete measures that pharmacists can take," he said.
His colleague John Zucker said: "All four pharmacy panellists are passionate about what they do. Each recognises the need to enthuse, encourage, train and retain a happy, helpful workforce. They have each looked for new ways to develop and build their businesses and have invested in their businesses either in money or time or both. For any business to survive it has to take risks and crucially, it must take action. That is what each of these have done."
Here are the learning points from the pharmacies:
Bernadette Brown – Cadham Pharmacy, Glenrothes, Fife
Focus on quality and consistency of advice and clinical services
Find out what patients want and ensure that the whole team gets to know them
Innovate - find new ways of working.
Dushyant Patel – Blakeberry Pharmacy, East Ham, London
We must adapt and change
Pharmacies must have a highly trained team
Patients should feel comfortable that they are getting good advice from the pharmacy.
Amish Patel – Hodgson Pharmacy, Longfield, Kent
Work together, break down barriers and unite with the local contractors around you. Share best practice
Step back, "tidy up" and ensure basics are being followed, such as ensuring no gaps on shelves. Improve work flows
Invest - invest in your team and your business. Make use of resources around you. To save or make money or to make improvements, you have to invest.
Rikin Patel – Sharmans Pharmacy, Northwood, Middlesex
Every pharmacy must have their own vision based on local needs
Each pharmacy needs to have strong leadership
Every pharmacy needs an engaged and motivated team to deliver their vision.
Legislation changes may take time
Legislation changes, such as that to allow independent pharmacies to use the hub and spoke model, may take longer than the few months that the government is suggesting, commented lawyer David Reissner of Charles Russell Speechlys. "Changing the law to allow it is a lot more complicated than the government appreciates," he commented.
While calling for change, the government is "largely ignoring" key issues for community pharmacy that need to be resolved swiftly, such as supervision and decriminalisation. The indications are that decriminalisation legislation may be introduced this autumn at earliest, he said.
Prescription direction also remains a problem for community pharmacies, but this is not easy for the law to deal with, said Mr Reissner. "There are ways, but it's not easy. A last resort is complaining to the GMC about the conduct of doctors."
In addition, pharmacy contractors should be alert to the potential for a future review of market entry, he said. "Don't miss this – the government must review this by August 2017."
Changes need evolution, not revolution
Any changes to community pharmacy require evolution not revolution, said Jay Patel, director at Day Lewis. "Pushing for so many changes in such a short space of time is not in the interests of pharmacy or of the patient."
Innovation is key to winning as community pharmacy changes. Consider people, process and technology as key factors when implementing a new service, he advised.
Independent pharmacy's relationship with the patient is better than anyone else's, he said. "Nobody knows their patient better than you and no pharmacy chain can compete with that." Pharmacies have already got the tools and resources to be successful in the current climate, "you just need to use them a little better," he suggested.
Build services into your dispensing process, so that staff can identify opportunities. The least important aspect is technology, he said. "Technology only works if we have people processes working first."
"The only survivors are clinical pharmacies and the best way to do that is to reinvent your pharmacy as a Healthy Living Pharmacy. Embracing HLP in our organisation made a massive difference - the biggest difference for us."
Lack of understanding of what pharmacy can do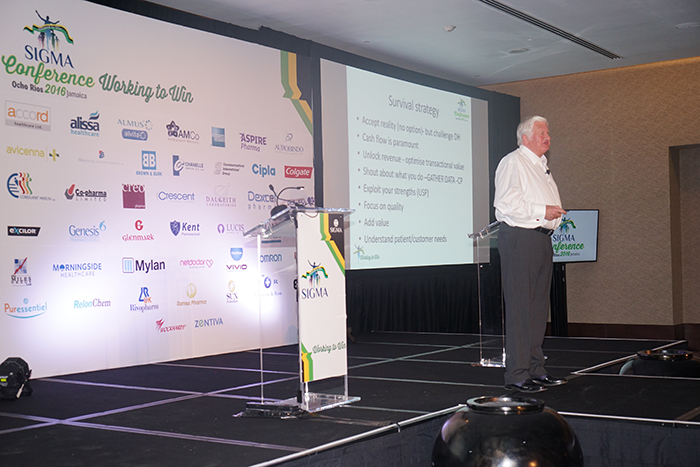 There is still a lack of understanding about pharmacy can do, Mike Smith of Alliance Healthcare has claimed. "I don't think the Department of Health understand what we can do. And that's why we are in this position today."
He criticised pharmacy's PR. "We have to really step up our PR to get public opinion on our side," he said.
Pharmacists should do ask much as they can to help with debating the government's plans for pharmacy. "Get involved in the consultation process; make representations to your MP; kick commissioners' doors down. Find out what your patients actually want."
"It's a tough time", but "moaning is not going to help," he said. "We have to work with the Department going forward."
Skills for a different future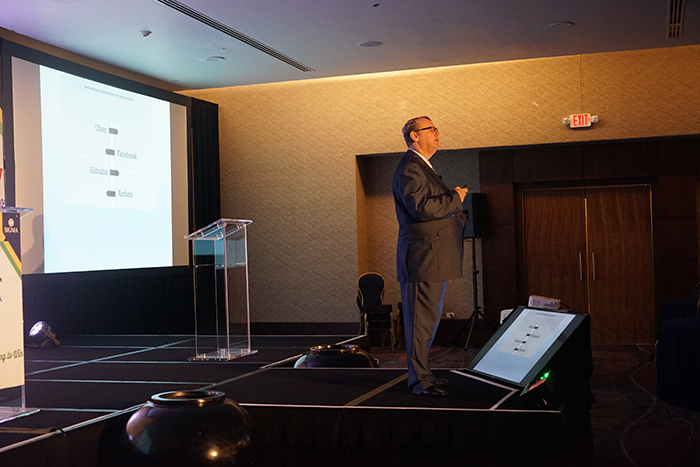 "Training your staff will always pay off," healthcare consultant Trevor Gore of Maestro Consulting, and previously with RB, told delegates at the Sigma conference. People worry about training staff who might then go on to leave, but "what happens if we don't train them – and they stay!" he quipped.
Encouraging staff to change their ways of working may be important for community pharmacy. But change is a difficult process. You don't change the habit that took years to build in a minute," he said. An equation for change includes vision, skills, incentive, resource and an action plan, he said. Information on it's own doesn't change behaviour – people need to care enough about the change to begin.
Are your OTC sales growing?
"Are your OTC sales growing" independent pharmacists attending the Sigma conference were asked? Over half (56 per cent) said "no", and this was identified as an "opportunity" by OTC specialist David Mitchell, of Healthcare Consulting Ltd and previously of Johnson & Johnson. "OTC sales can and should go forward if you give it the same attention as you have given your prescription business over the years," he said.
In brief:
Ian Strachan, chairman, National Pharmacy Association "I want you to remain ruthlessly positive. We are going to come through this as a sector. We are a valued profession that contributes an awful lot to the economy."
Ash Soni, Royal Pharmaceutical Society… "We have got to a point where pharmacists are working with care homes and are not being paid for it."
 
Sponsored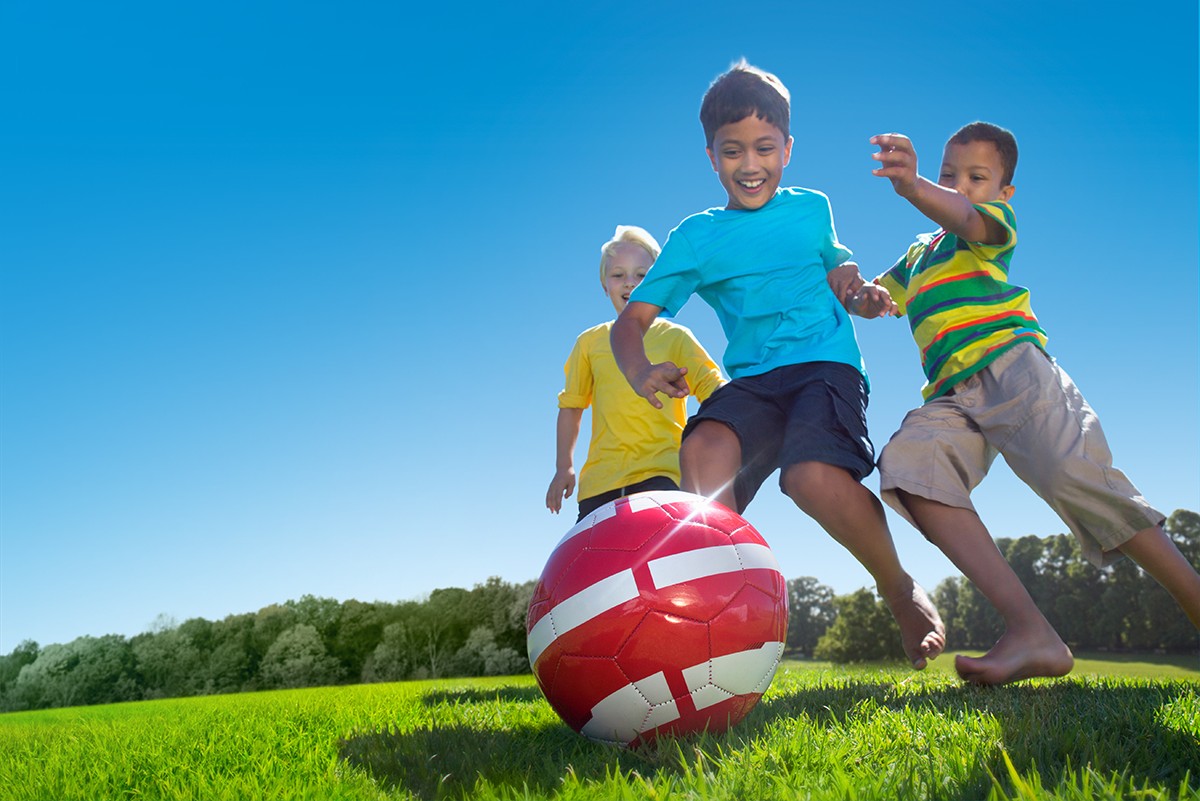 Sponsored Education
Work through this new-style module to increase your confidence in reassuring parents of children with allergies, and know what advice and products to recommend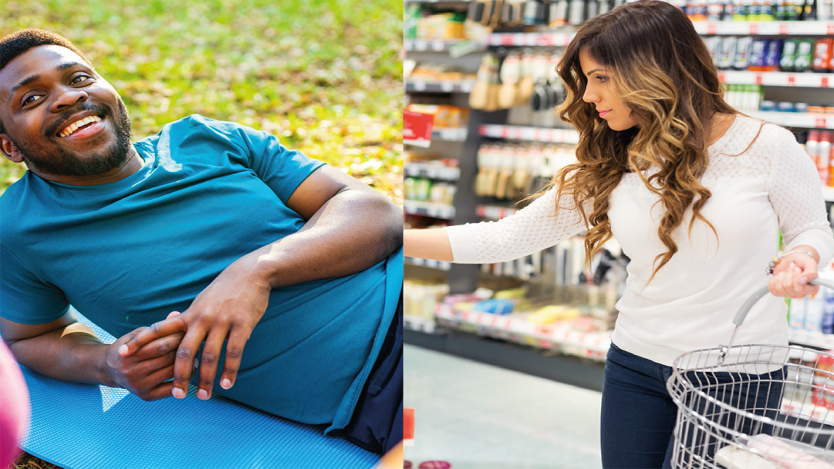 Sponsored Education
Learn how to recommend the most suitable emollient for your customers in this interactive video
Record my learning outcomes