Pharmacists should "embrace" records access
News
Pharmacists should "embrace" records access
With the roll out of pharmacy "read" access to summary care records expected to be complete in England in 2017, pharmacies should embrace greater access to patient information, said Harpreet Shergill of the Health and Social Care Information Centre (HSCIC).
"Embrace SCR and do not be afraid of it," he said. Making good use of SCR could accelerate progress towards the goal of transformational "read/write" access to patient records for pharmacists, he suggested.
Inertia on achieving read/write access to patient records for pharmacists "is holding back patient care in this country" despite being "crucial" to the future work of pharmacists, said Sir Kevin Barron MP and All Party Pharmacy Group chair. Both were speaking at an event discussing records access, hosted by the RPS London Central Local Practice Forum.
RPS wants to see read/write access to patient records, although the battle is not yet won, said Sandra Gidley, chair of the English Pharmacy Board.
There is an urgent need to move technology forward in pharmacy, agreed Mohammed Hussain of NHS England. He called for a "bonfire" of faxes used in pharmacy to communicate, saying that they "belong in museums". How many pharmacists even use email for contacting patients or clinicians – so they don't have to interrupt what they are doing when telephoning? he asked.
As roll out of SCR access progresses, pharmacists need to communicate with patients about the summary care record, what access to the record means for them, and to reassure them about the professionalism of pharmacy and the security and confidentiality of their patient data, added Oliver Colville MP, APPG vice-chair, to ensure patients see this as a positive development.
Approximately 97% of the population have an SCR and is already being used in many settings across the NHS, such as A&E departments, hospital pharmacies, NHS 111, GP out of hours services and walk in centres. The largest group to access SCRs at present are hospital pharmacists, said Mr Shergill, with SCR already live in 229 trusts.
Sponsored
Sponsored Education
Safely recommend the most effective laxative for every customer with constipation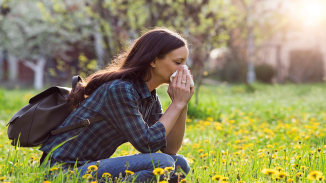 Sponsored Education
This module will improve your hay fever knowledge, helping you to understand its impact on sufferers and recommend the right products to ease symptoms
Record my learning outcomes