Encourage more people to self care, PAGB urges
News
Encourage more people to self care, PAGB urges
Education and encouragement are key to overcoming barriers to self care, PAGB has said. A new report from the organisation serves as a reminder that pharmacists are highly trained professionals and should be patients' first port of call for self-treatable conditions.
With Self Care Week 2016 underway, PAGB has published its Self Care Nation report to underline the benefits of self-treatment for common conditions such as headaches, colds and sore throats. 5,000 UK adults were surveyed for the report, revealing a discrepancy between attitudes to self care and pharmacy and actual behaviour.
The research indicates that most people are passionate about saving the NHS and appreciate the convenience that pharmacy offers. However, while 81 per cent thought GP and A&E services should only be used when it is essential to do so, 34 per cent had visited a GP for a self-treatable condition in the past 12 months. 47 per cent said they wouldn't visit a pharmacist first for advice on common conditions, with a fifth of these giving the reason that pharmacy teams are less qualified than doctors and nurses. 
Despite people visiting pharmacies regularly to pick up prescriptions, only nine per cent take advantage of additional services such as flu jabs and advice on common conditions and minor injuries.
Low rates of self care have a knock-on effect on health services, the report suggests. Each year, there are 57 million GP consultations and 3.7 million A&E visits for self-treatable conditions, costing the NHS an estimated £2.3 billion.
PAGB chief executive John Smith said: 'Our research highlights a need to support people in feeling more confident about visiting the pharmacy for advice on self-treatable conditions. With 11,500 community pharmacies in England providing easy access to highly trained healthcare professionals without the need for an appointment, they are ideally placed to provide the advice people need while at the same time reducing pressures on stretched GP and A&E services."
"We need to overcome the barriers to behaviour change through better education about the benefits of self care and ensuring people are consistently encouraged to take more responsibility for their health."
Pharmacist Steve Riley commented: "The findings from the research are worrying. It is clear more needs to be done to raise awareness of the skills and expertise that pharmacists have. Pharmacists go through a minimum of five years of training and are qualified to provide information on medicines and a wide range of health concerns. Many are trained to provide additional services, such as flu vaccinations. We also know when symptoms need to be assessed by a doctor and will signpost people to other NHS services as needed."
Sponsored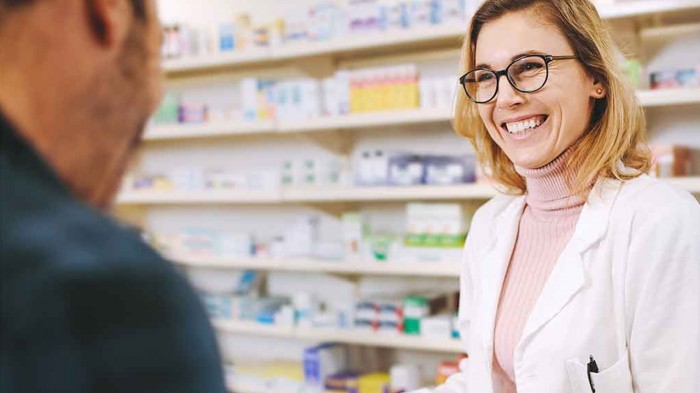 Sponsored Education
Update your knowledge on a POM to GSL hayfever switch with this short video
Sponsored Education
Work through a customer consultation to determine the possible cause of stinging, gritty eyes and recommend an effective treatment to help ease these symptoms.
Record my learning outcomes