Business confidence up, but still negative
News
Business confidence up, but still negative

Pharmacists' confidence rating in the 2019 Lloyds Bank Commercial Banking Healthcare Confidence Index - an annual survey of GPs, dentists and pharmacists on the outlook for their businesses - is -17, up six points from last year (and up 24 points from the -41 recorded in 2017 in the aftermath of the cuts announcement). The 2019 figure is the second highest recorded since the index began in 2011.
Among respondents in the survey, 94 per cent said they were looking to grow their business over the next five years, either organically (51 per cent) or by acquisition (43 per cent). And 60 per cent of pharmacists expected profits to increase in the next year, up from 48 per cent in last year's survey.
Ian Crompton, head of healthcare banking services at Lloyds Bank Commercial Banking, says: "It's reassuring to see that both long- and short-term confidence have continued to recover, particularly since pharmacists were understandably shaken by the funding cuts announced in 2016."
Enduring concerns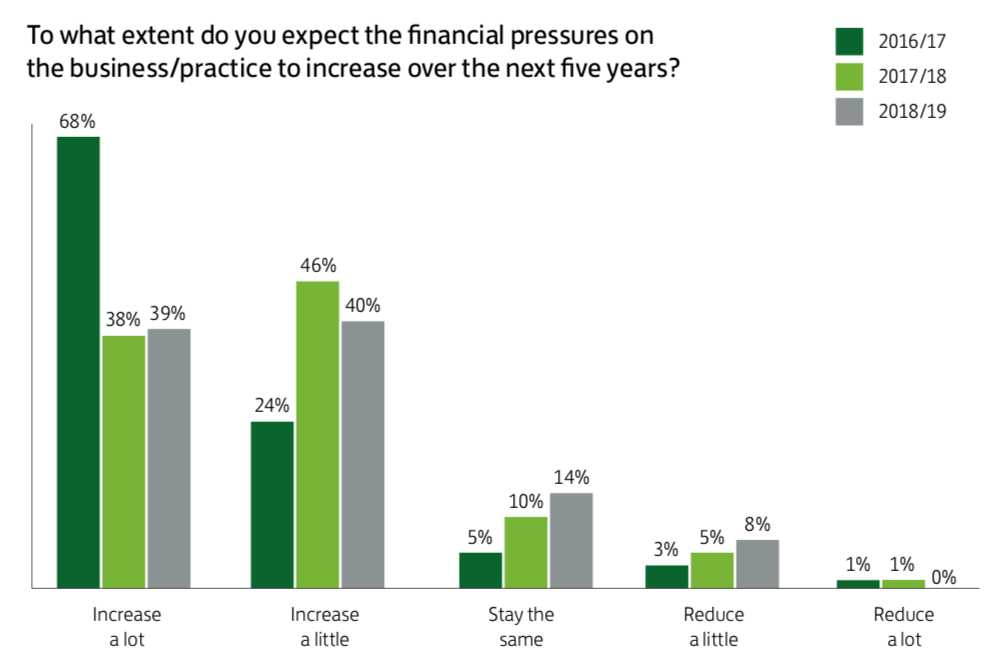 The signs of pharmacy's long-term financial concerns are still evident, however. Despite encouraging positivity around short-term profits and improvements to patient care fuelled by roll out of digital innovations like EPS, 79 per cent of pharmacists expected financial pressures to increase over the next five years, a small improvement on last year (84 per cent).
Commenting on the finding that two thirds of pharmacists (68 per cent) saw internet pharmacies – Distance Selling Pharmacies (DSPs) – as a threat, Kevin Nichols, managing director of The Pharmacy Consultancy, said: "Personally, I don't believe this is as imminent a challenge as the respondents seem to, with over half (52 per cent) expecting this to materialise in the next five years."
A similar proportion (65 per cent) believed, at the time of asking, Brexit would have a negative impact on their businesses, most likely due to ongoing uncertainty over the final arrangements.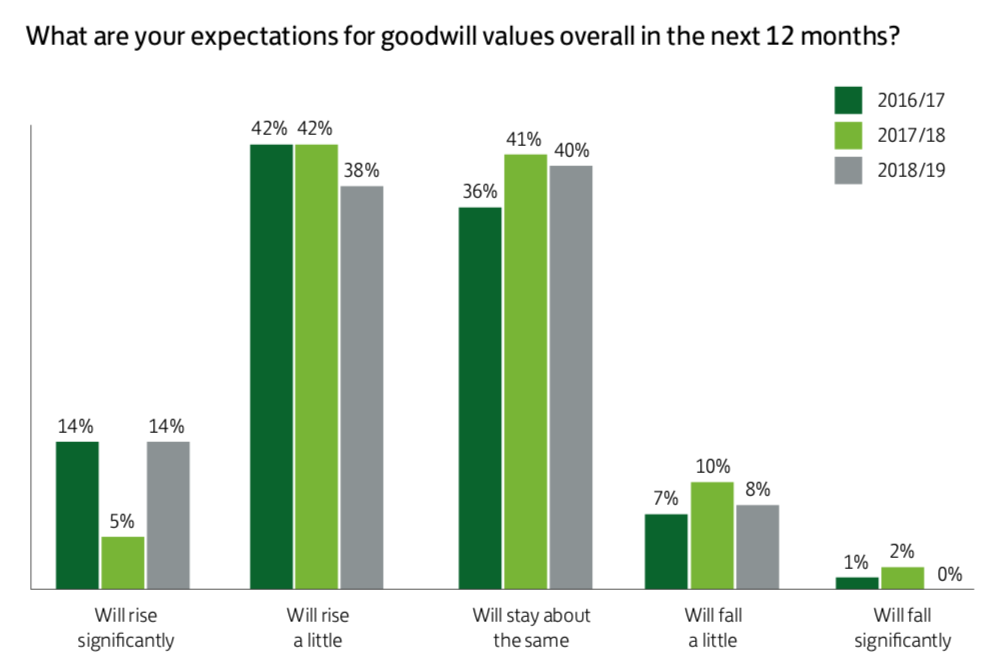 Opinion was, however, split over whether the development of primary care networks presented an opportunity (44 per cent) or a threat (47 per cent). A small majority (52 per cent) believed they would result in a fall in prescription volumes.
Anecdotally, says Mr Nichols, goodwill values for pharmacies are "still holding up well, with particularly strong demand from new entrants to the profession wanting to buy their own business." Only 6 per cent of pharmacists are looking to sell up in the next five years, with 17 per cent planning to retire in the same timeframe.
Increasing confidence
The Index, which measures overall business confidence using a blended figure of short-term and long-term projections, found confidence across the primary care sector has increased from -21 to -16 this year – the highest level since 2011. Dentistry is the most optimistic profession in the primary healthcare sector for the seventh year running, with an overall rating of -3. GPs remain the least confident, on -28.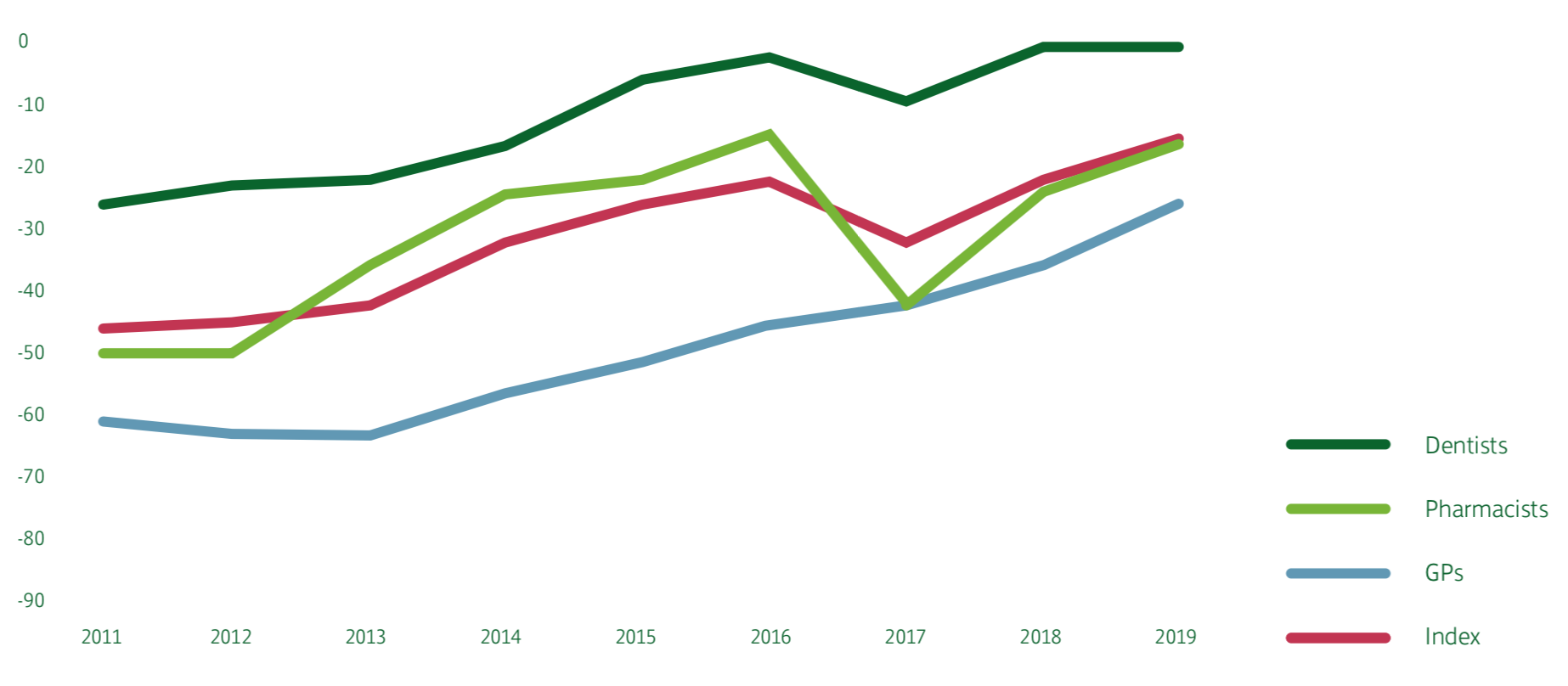 Mr Crompton comments: "While financial pressures remain a significant concern among dentists, it seems the profession holds exciting organic growth plans. Dentists expect their practices will grow in value and it looks likely that we'll see many more moving to grow their income from private patients by offering a broader variety of treatments. The number of dentists who would encourage friends or family to enter the profession has grown from a half (53 per cent) to three quarters (74 per cent) in the last three years.
"GPs seem to have accepted the move towards practice consolidation, albeit this may now be more via networks than full mergers. The numbers of GPs looking to retire within the next 10 years, however, remains high at 49 per cent, with 71 per cent of practices expecting to be seeking partners or salaried cover within five years.
Research undertaken by Lloyds Bank Commercial Banking. Total sample size was 447 primary care professionals (143 dentists, 149 pharmacists and 155 GPs). The research was conducted via online survey and face to face interviews. Fieldwork was undertaken between November 2018 and January 2019.
Sponsored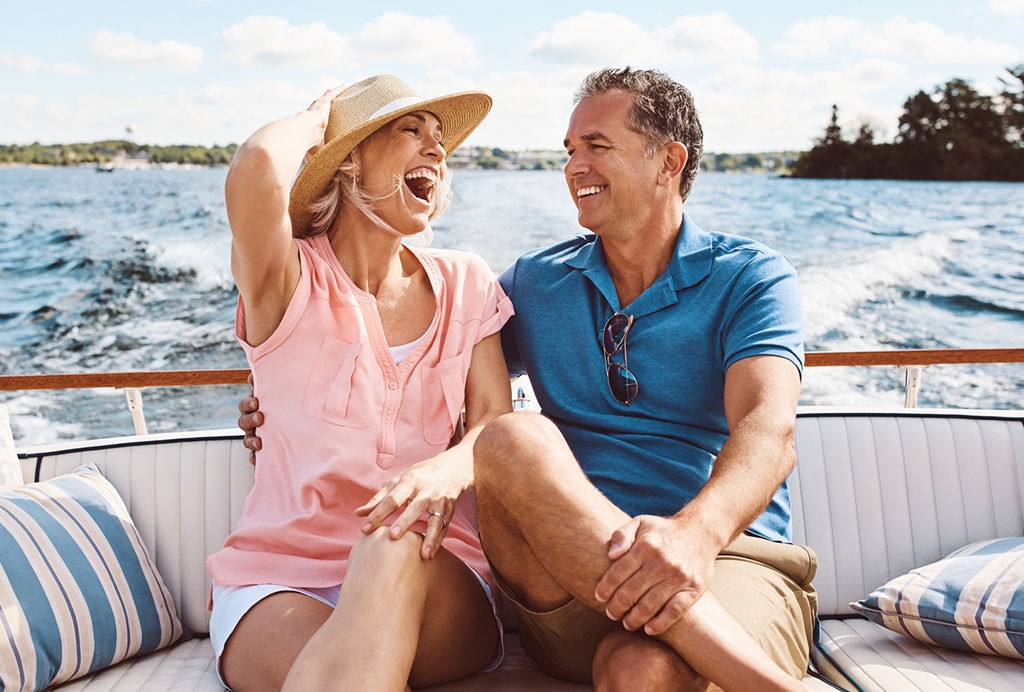 Sponsored Education
Learn how to help customers ease the discomfort of haemorrhoids with suitable recommendations and self-care advice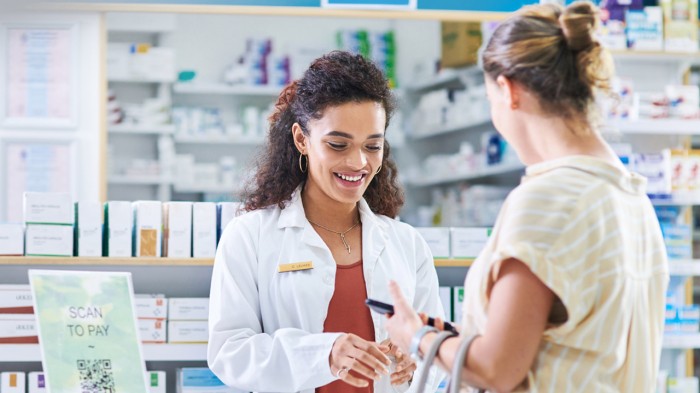 Sponsored Education
Refresh your knowledge on managing mild to moderate pain and understand when a combination product can help.
Record my learning outcomes