Dispelling myths about back pain and joint pain
Healthy living
Dispelling myths about back pain and joint pain
Back pain and arthritis are the largest contributors to disability in the UK. But many sufferers are not helping their condition – what can you advise them?
In most cases it's essential to keep moving and continue doing regular activities, such as exercise, so that what may often be a minor problem doesn't develop into something more serious.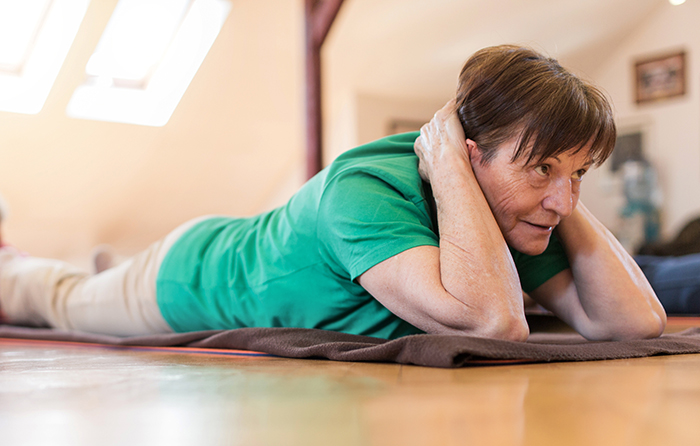 Each year, about 10 million UK adults consult their GP about musculo-skeletal problems. Back pain is the most commonly reported type of pain, while three in 10 of over 75s are in chronic pain due to arthritis, according to Arthritis Research UK. These complaints have a huge impact on ability to work – in each of the last five years, over 10 million working days have been lost to musculo-skeletal disorders.
Back pain myths
According to the Chartered Society of Physiotherapists, widely held myths about back pain are perpetuating problems for many sufferers, and this is something pharmacy staff can help to address. "Pharmacists can help to dispel myths by taking a person-centred approach to each patient. An understanding that pain is a multi-dimensional experience driven by many factors will help," says Uzo Ehiogu, specialist physiotherapist with expertise in spinal pain and a spokesperson for the CSP.
A new campaign by the CSP aims to bust the four biggest myths about back pain. CSP chair, Catherine Pope, commented: "It's understandable why these myths are held – indeed, some would have been the established view in healthcare before new research came out. But as evidence moves on, so must we – and that's why it's so important people understand what causes back pain and how best to tackle it. In most cases it's essential to keep moving and continue doing regular activities, such as exercise, so that what may often be a minor problem doesn't develop into something more serious."
The four biggest myths the campaign aims to tackle are:
Myth: "Moving will make my back pain worse."
Fact: It's essential to keep moving. Gradually increase how much you are doing and stay on the go.
Myth: "I should avoid exercise, especially weight training."
Fact: Studies have found that continuing with exercise and regular activities can help you get better sooner, including using weights where appropriate.
Myth: "A scan will show me exactly what is wrong."
Fact: Sometimes it will, but most often it won't.
Myth: "Pain equals damage."
Fact: Modern research has changed our thinking. The level of pain experienced is rarely proportional to the amount of injury sustained to the back.
Managing joint and back pain
At Alphega member Savages Pharmacy in Burnham, pharmacist Ani Patel has this advice on helping customers: "Supporting customers with joint and back pain is a significant part of a community pharmacy's offering, so making sure that customers know about the help available is crucial. Colleagues at the counter are ideally placed to start conversations on pain management, with dispensing staff then able to identify those with associated prescriptions."
It's important to get these messages across to patients with chronic back or joint pain (beyond six to 12 weeks), says Mr Ehiogu: "Pain does not equal damage and pain is affected by many factors. Exercise is medicine. It can reduce pain because it releases chemicals, which suppress neuronal activity. It can also improve tissue strength which can help to restore normal joint function."
Jillian Watt, director of marketing and NPD at Mentholatum, says: "We would like pharmacists and counter assistants dealing with a customer who wants to self-treat joint or back pain to consider recommending a topical analgesic and continued gentle movement, rather than tablets and rest." Mentholatum has produced a useful guide, 'Pain relief without pills', which explains how various topical products can help to relieve joint pain."
Careway member pharmacist Meir Kattan, of Kalmak Chemists, London, suggests an MUR for customers with ongoing pain where you can discuss additional means of aiding pain relief, such as relaxation, exercise, TENS, yoga and pilates.
Nick Baverstock, marketing director joint care at Pro Bono Bio, says: "Customers will appreciate a more personal approach and the larger pharmacy chains have started to recognise the importance of this. LloydsPharmacy, for example, has a pain management service where they work out a suitable approach for treating pain with the customers. We have set up a Flexiseq blog and social media page where we publish regular helpful articles from patients, care groups and charities and these are valuable for joint pain sufferers." He also suggests teaming up with local physiotherapists and occupational therapists to help build an advice fact sheet and a better understanding of joint and back pain.
Flexiseq Active has been added to the brand's range, with a lower price point and a lighter strength formulation for early stage osteoarthritis suffers or those looking for something new for joint pain. The original Flexiseq product was also relaunched with new packaging this autumn.
Seek early advice
It's common for joint and back pain sufferers to self-treat and not seek advice for their pain until it becomes unbearable. Pharmacy can encourage patients to seek early advice and appropriate treatment. "If you see someone who is clearly finding it less and less easy to move freely, or who has begun to buy pain relief products on a regular basis, it is worth making sure that their condition has been diagnosed, then letting them know there are a number of ways in which they can use OTC treatments to ease their discomfort."
Encourage your team to speak to patients in a supportive and empathetic manner and to avoid sounding too interrogative, advises Mr Patel.
Refer customers to an OT or physiotherapist if they need specific advice on pain relief devices or aids to help them manage their arthritis pain, suggests Rachael Twomey at Arthritis Care. This will help determine what support or products would suit their needs best.
Get the most from medication
Many patients will be on regular medication for their joint/back pain and you can help them to get the most from this. "If someone is on medication you are likely to see them more often than their GP. If they appear to be struggling, you are ideally placed to offer a MUR, or for some patients recommend an OTC product they can use when they need extra help," suggests Ms Watt.
Mr Patel agrees: "Sometimes a review is completed to identify compliance issues, such as not having the dexterity to open the pack, incorrect dosing pattern or waiting until pain is present before taking medication. A patient's understanding of their condition and the way the medication works is key to them getting maximum benefit from it."
Mr Kattan says it's important to talk to customers about trying to manage pain in a sustainable way rather than waiting until it's unbearable before treating it. The pharmacy team can also recommend use of supplements such as glucosamine, chondroitin and omega 3.
Mr Ehiogu has this advice to pass on to customers suffering with back pain: "Empower patients to think positively about their problems, because in the majority of cases acute pain will get better. Encourage patients to do some gentle exercise. Discourage bed rest in all but the most extreme cases (if they need bed rest, they need to see a doctor). And if in any doubt, advise your customer to see a physiotherapist."
Arthritis Care has published a leaflet of self-help tips that your customers can order online, called '40 bright ideas for living well with joint pain'. It can be ordered at arthritiscare.org.uk/guide.
"It includes simple measures such as decanting shampoo into a pump action bottle, using a travel kettle instead of a heavy regular one and using cushions to support painful joints in bed," says
Ms Twomey.
Improve the category
Ms Watt has this advice: "It's important to have someone in the pharmacy who can be seen as the 'pain expert', who can explain clearly how the topical hot, cold and NSAID sectors work and how to match the most appropriate product to the individual's needs."
"I have found that running a promotion on asking for advice on these areas and having a dedicated area with lifestyle changes, leaflets and physical aids in the pharmacy is a good way of promoting the help and support we can offer. It always generates interest and questions from customers," says Mr Patel.
Mr Kattan advises placing GSL analgesics next to rubifacients and patches to increase sales.
"Category management is essential as pain relief is a busy category, so have a good range of both licensed medicines and drug-free options. This needs to be supported by clear signposting, user-friendly merchandising, point of sale and educational materials," advises Ms Watt.
Deep Freeze Pain Relief Cold Gel is new to the Mentholatum range. It combines pain relief with cooling therapy. It is recommended for sprains, strains, minor sports injuries, joint, foot and muscle pain. It can be used to relieve arthritis pain and is safe during pregnancy. Mentholatum has renamed its Deep Relief gel as 'Deep Relief Joint Pain Gel' and updated the packaging. The new pharmacy-only pack communicates the product's dual action of pain relief and anti-inflammatory action.
Ms Twomey advises: "Many people with arthritis will self-medicate for as long as they can. If customers come in asking repeatedly for pain relief medication then this is your chance to ask what other help they are getting for their condition."
"I try to have team update meetings and use these to ensure that colleagues have a good understanding of the products available for particular categories. For this category, this would include hot and cold therapy as well as electrical heat pads available to order, shaped to suit the area of the body affected," says Mr Patel.
Comment

Sara Baco, Avicenna Pharmacy, Braintree, Essex "We see a lot of people with back pain, and many elderly people have joint pain problems. This is an important category all year round, but as we approach winter many find that their symptoms are aggravated. The main thing in this category for us is that whenever we get new products into the pharmacy, the staff are told about them straight away. We do try to keep up to date with the most recent products in all the categories and training is very important. People may have gone to several pharmacies asking about a new product and might not know enough information about it yet. So, we try to make sure that they can get the most up to date information from us. Interestingly, a lot of people say that when they stop taking cod liver oil and chondroitin supplements they do get their joint ache again."

Mithun Makwana, Avicenna Pharmacy, Bristol "The main problems that we are asked about in this category are back, shoulder and knee pain. People usually want something they can rub in and I would generally recommend Ibuleve Gel, Deep Heat or Voltarol to reduce the sensation of the pain, depending on what medicines they are taking already. Then there is Tiger Balm, Lloyds Cream and heat pads as options. A lot of these patients have already been to the doctor, but they are quite limited in the help they can provide, so what we can offer in the pharmacy is important. Our role is to guide people towards the choice that's right for them. Our general advice includes encouraging people to keep moving around as much as possible."

Ali Hashemian, Avicenna Pharmacy, Swindon "It depends what age group we are talking about, but almost every single person over 60 suffers from back and joint pain at some stage. However, a problem for the majority of people is that they don't want to take the medication, paracetamol, regularly, which is quite safe. They will often just take it when they are in a lot of pain, even though using it beforehand will prevent the pain and help the management of their condition. Therefore, we try to advise patients on the correct use of their medication – a medicines use review allows you to discuss this in detail. Some of the creams that are available over the counter – which would be second stage in my opinion – can be quite expensive, but we would normally recommend an ibuprofen gel when it's requested. There are certainly more cases of joint pain in the winter, and we do what we can to help."


In most cases it's essential to keep moving and continue doing regular activities, such as exercise, so that what may often be a minor problem doesn't develop into something more serious
Sponsored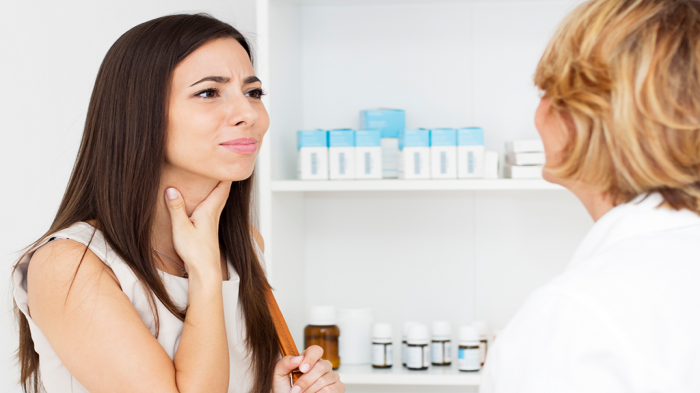 Sponsored Education
This module will help you to understand and educate customers about the risks of antibiotic resistance, and recommend products to help them effectively manage their sore throat symptoms.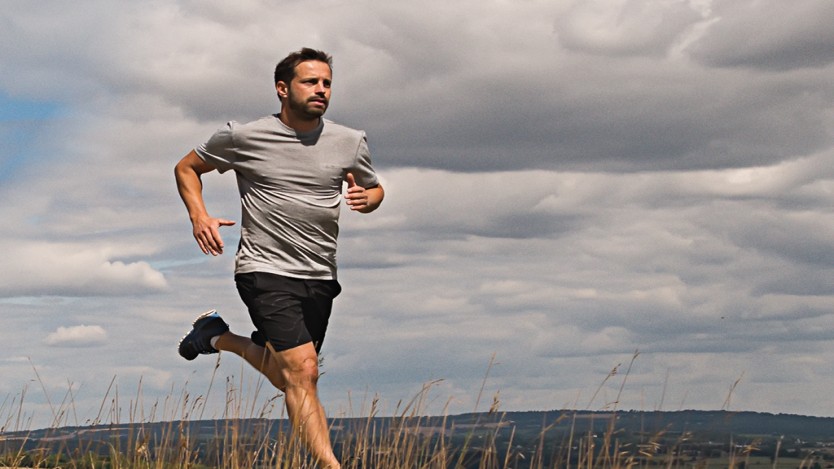 Sponsored Education
Make the right recommendations to support customers to stop smoking
Record my learning outcomes