Looking after hair and scalp
Common conditions
Looking after hair and scalp
The hair and scalp care market is set for growth. Are you ready with products and advice?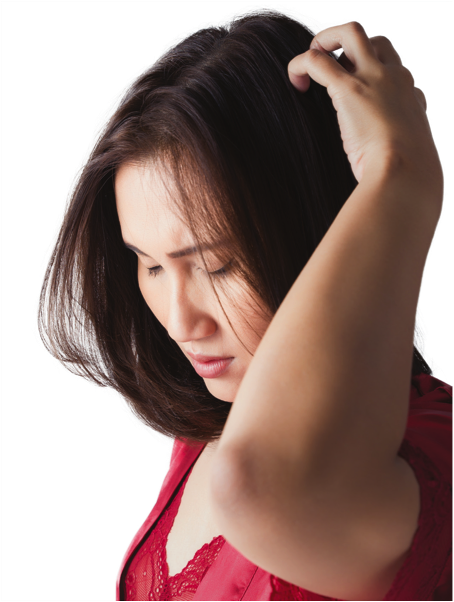 There may be opportunity for growth in the haircare sector. Mintel research from April 2016 has identified scalp care as a growth area, not just in the treatment of scalp conditions, but in preventing them, too. Scalp moisturising ingredients and protection are proving popular – Mintel found that 51 per cent of European consumers were interested in purchasing scalpfriendly and scalp treatment products. Research identifies women as the main consumers of medicated haircare products, although there has been plenty of interest in recent years in the men's haircare market, which is forecast to grow by 11 per cent to reach £94 million (from its current £85 million) by 2020.
Johnson & Johnson's professional relations manager Rebecca Bennett says sometimes women take responsibility for male partners' hair and scalp care, something that is worth taking into account when merchandising.
"Place medicated hair and scalp care products on the shelf near the more cosmetic shampoos to enable your customers to see that there are other options available," she says.
She also recommends using an in-store promotion with a focus on men's health, special displays and product links encouraging men to ask for help, or to try something new. It's often women who are in charge of buying the shampoo, so this needs to be taken into account when trying to promote scalp care to men.
"It is important to acknowledge scalp problems and find the best products to treat them," says Ms Bennett. "Sometimes women have to manage their partners' hair problems in addition to any concerns they have. Men tend to suffer more from dandruff, for example, but women are more often searching for information and treatments."
Common conditions
In the case of dandruff, Ms Bennett has some specific advice for pharmacy staff. "Dandruff is a common condition that can cause real distress to sufferers," she says. "They may have tried several different shampoos with no success. If this is the case, suggest they look for a treatment shampoo with dermatologically proven ingredients such as coal tar or ketoconazole, which may be more effective."
Neutrogena T/Gel Therapeutic shampoo includes Neutar, a solubilised form of coal tar, which may be helpful for people with these conditions. If there is no improvement after six weeks, advise people to consult their doctor, says Ms Bennett. As many as half of the UK population are affected by dandruff and scalp issues, according to Head & Shoulders. With many loyal male customers, the brand is now targeting women with a new product launch.
"A disproportionate number of our consumers are male. We're hoping the new 3-Action Formula will get more female shoppers to realise that Head & Shoulders is a brand that can give them hair that is both beautiful and flake-free," says Jo Vaughan, brand manager haircare at P&G.
The brand has more than medicinal benefits, she says. "With new 3-Action Formula with micro zinc, the brand is as good as other cosmetic shampoos on the market while giving dandruff protection none of them can." She is encouraging pharmacy teams to recommend the product to a wider audience on the basis of "not only the science behind the shampoo, but also the gorgeous end look to the hair".
Men may also respond to having the full Head & Shoulders range available on shelf so they can select the product that meets their individual needs, she suggests.
Hair loss
Many men are looking for products that can help prevent hair loss and restore growth. Prevention is better than cure, according to Matthew Gass, spokesman for the British Association of Dermatologists, who suggests that using a high-SPF sun product on the scalp and wearing a hat in the sun can help prevent lifestyle-related hair loss. Pharmacies can help concerned men by signposting them to their GP or, if they are concerned about a scalp condition, advising them that support is available at skinsupport.org.uk.
Hair loss, for both men and women, can be distressing, but there are clinically proven treatments available for purchase in the pharmacy. Both Regaine for Men and Regaine for Women contain minoxidil, the only clinically proven OTC medicinal treatment for hereditary hair loss.
Ms Bennett suggests that time spend preparing product displays is an effective way to get men to ask about hair loss products. "Product displays are a great way to draw attention to these products and encourage customers to ask for advice," she says. "Regaine for Men and Regaine for Women both have additional information and advice available online for consumers while they use the products and your support can be invaluable, too."
"The key for consumers who have hair issues is to feel understood and that you can tailor a solution for them," says Sandra Niland, Viviscal marketing manager. "That solution may be to conceal their thinning hair and scalp using fibres or to improve the health of their hair over time by taking supplements." Taking the time to ask customers about their lifestyle may help you ascertain if their hair issue is related to stress, poor nutrition or hormonal ageing.
"Often, it's a combination of many factors," says Ms Niland. "For example, a new mum will experience stress, lack of sleep, possibly not getting the right nutrition in addition to hair shedding more after having a baby."
Viviscal has developed a full system for consumers to use that includes supplements, fibres and densifying shampoo, conditioner and elixir. The haircare products help to ensure the scalp is healthy and nourished, while helping the hair to look thicker and fuller. "It's important to take Viviscal supplements twice a day, with water and after food," says Ms Niland.
Medicated products
In response to consumer demand, Polytar has returned to the market and is available to pharmacies and consumers looking for a medicated haircare product.
Polytar can be used to treat scaling scalp disorders, including seborrheic dermatitis, psoriasis and dandruff. "Making the Polytar brand available again was an absolute must for us, despite past supply issues," says Lisa Goodman, GSK brand manager. GSK has received many queries about Polytar over the past four years while it was not available. "It helped many people and we're sure its return with the launch of Polytar Scalp Shampoo will be welcomed by previous users. We are looking forward to working with pharmacists to ensure that sufferers are aware that a product from the Polytar brand is available again." Polytar Scalp Shampoo is available in a 150ml format.
Dermal Laboratories provides useful advice to pharmacy staff on helping customers to get the best from their chosen medicated haircare products. Experts at Dermal recommend advising customers who are buying scalp treatment shampoo to make it as effective as possible by telling them about the double-wash technique.
The "traditional" method of hair washing can make scalp conditions worse as the foam produced by a shampoo picks up the dirt and scale from the scalp, it is suggested. Instead of rinsing the foam away after the first wash, advise customers to use their hands to remove as much foam from the scalp as they can, and throw it into the shower or bath. Then, without rinsing their hair, they should shampoo again in the same way, and then rinse thoroughly under running water.
Taking the time to explain this washing routine to patients can help them to get the best from their therapy, suggests the brand.
Comment
Rena Dadra, Village Pharmacy, Harlington "I have noticed that we've had a lot of queries about minoxidil products since the Regaine for Women TV advert campaign started, and this has contributed to an increase in hair loss queries for us in general. This shows the power of television advertising in raising awareness about products and pharmacy services, and bringing people into community pharmacy. Those people may not have visited us otherwise. Of course, head lice is another big one for us as we have a lot of schools in the area, and we have a lot of queries from parents. We display head lice products prominently, as many customers prefer to be discreet in their selection and not have to ask staff where to find the products."
Fiona McElrea, Whithorn Pharmacy, Dumfries and Galloway "I would say this is not a massive category for us, but it is significant. A lot of these products can be expensive for customers, but quite a few are also available on prescription. Some of the bigger sellers would be antifungals and head lice treatments. Again, counselling the patient/customer is the most important aspect so that you can find out what the problem is and what will help them. Advertising definitely plays a big role in driving up queries in this category. This can be frustrating, for example when companies advertise before wholesalers have the product, or when multiples have an exclusive deal. As an independent, we don't really want to direct our customers to the chains."
Bina Patel, Kalsons Chemist, Westcliff-on-Sea "We do get a lot of queries. I would say that hair loss is becoming more prominent, and with dandruff and head lice these are three key issues we see that are to do with the scalp. I think when it comes to treatment of the scalp, it's looking again at what could be the causative agents, such as stress levels, nutrition or diet. We might look at offering supplements, too. When school starts back, head lice is one of the key areas that we need to stock up on. Prevention is the focus of many of the products available now. Even if the guidance on a product doesn't say to wet comb, we always sell a nit comb with head lice treatments. This way people can a) find out if they have a problem, and b) pick it up as soon as it happens, rather then letting it run wild."
Sponsored
Sponsored Education
This module highlights a new opportunity to treat heartburn and reflux in the pharmacy with Omeprazole 20mg, which is newly available for customers to purchase OTC.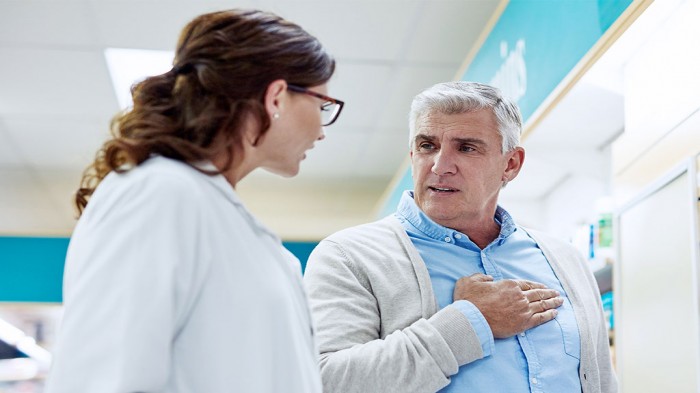 Sponsored Education
Discover the key benefits of Guardium so you can recommend this PPI with confidence to help ease heartburn and acid reflux symptoms
Record my learning outcomes