Managing skin conditions in pharmacy
Common conditions
Managing skin conditions in pharmacy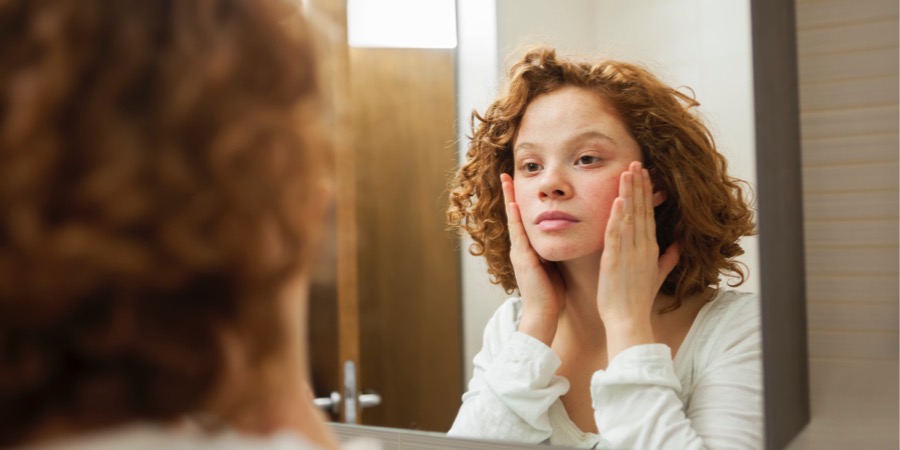 Skin conditions are among the most common reasons for patients to visit their GP, but with the restrictions in NHS prescribing for minor conditions, many are being directed to their pharmacy for treatment and advice. Sarah Purcell reports on ensuring your pharmacy is well prepared.
In the UK, 60 per cent of us suffer with a skin condition at some time and 70 per cent have a visible skin condition that affects their confidence, according to the British Skin Foundation. Acne affects 80 per cent of 11 to 30-year-olds and 20 per cent of over-25s, says Acne Support. Psoriasis affects some 1.8 million in the UK and the number of diagnosed cases is increasing. Eczema is one of the most common skin conditions, affecting one in five children and one in 12 adults, according to the National Eczema Society. Rosacea is a common problem, too, and affects one in 10 people in the UK, mainly aged 40 to 60.
Cuts in NHS prescribing for minor conditions means that GPs can no longer issue prescriptions for some skin complaints and patients are instead being directed to their local pharmacy for advice and OTC medication.
Skin conditions that are affected by restricted prescribing include cold sores, cradle cap, contact dermatitis, mild acne, mild dry skin, sunburn, nappy rash, warts and verrucae. However, the National Eczema Society reports some confusion among GPs around the prescribing of emollients for eczema patients. "Recent NHS England guidance lists emollients as items that should no longer be prescribed for mild dry skin and mild irritant dermatitis," it says. "This guidance does not include emollients for any type of eczema other than mild irritant dermatitis. Eczema, as a long-term condition, is included as an exception to the guidance."
There have also been cases of patients being asked to make their emollient last longer or being prescribed a cheaper alternative to their usual brand. "Liberal and frequent use of emollients is essential for the effective management of all types of eczema," says the National Eczema Society. "The recommended amount is 500g per week for older children and adults, 250g per week for younger children."
First-step advice
"There is encouragement to get patients to seek simple first-step advice from pharmacists when appropriate, as GP services are under increasing pressure," says Dr Walayat Hussain, consultant dermatologist and British Skin Foundation spokesperson.
Skincare has always been an important part of a pharmacy's OTC offering. "Where GP prescribing has decreased, this has increased OTC purchasing of smaller pack sizes – 50 to 100g – but the larger packs of 500g tend to be too expensive for many consumers," says Alphega member Anil Chauhan, pharmacist at MX Pharmacy in Preston, Lancashire.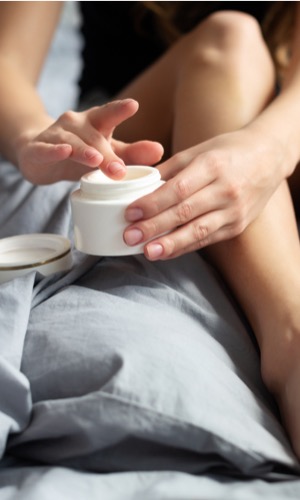 The changes in NHS prescribing mean customers are looking for professional advice and access to treatments away from the traditional GP route. "This offers pharmacy the opportunity to both grow this sector and increase professional recognition with their communities," says Lucy Morris, service development pharmacist at Numark. "Medicated skincare is already a high-performing category and this creates an opportunity to drive OTC sales and offer supporting services to ensure customers still receive the support they need. Also, with the increased availability of PGDs and more independent prescribers, access to appropriate prescription-only treatments is becoming easier without the need to visit a GP."
Cetraben senior brand manager Amy Brennan says there's been an increase in the number of customers going to their local pharmacy for mild cases of eczema. "Pharmacies are certainly the first port of call for mild skin conditions where an emollient or advice from a pharmacist is enough to manage them," she says.
The importance of training
"Skin complaints are among the most common reasons for patients to visit their GP, so as health professionals in the front line, I feel strongly that pharmacists should receive some formal training in skin disease," says Dr Hussain.
"Training plays an important role in providing a comprehensive OTC service," says Mr Chauhan. "Manufacturers are increasingly providing more materials in order for staff to engage customers with more confidence and online training is becoming more common and easier to access."
There are a range of materials available for training pharmacy staff from a variety of sources:
The Psoriasis and Psoriatic Arthritis Alliance, PAPAA (papaa.org.uk), offers an e-learning course for health professionals entitled Psoriasis in Practice
The British Association of Dermatologists (bad.org.uk) has an education unit that can provide guidance on training courses and e-learning as well as dermatology resources
The Centre for Pharmacy Postgraduate Education (cppe.ac.uk) offers a Dermatology Pocket Guide online training module for pharmacists and technicians
Numark has launched a Skincare Hub on numarknet.com, which gives its members access to training modules and resources
The Primary Care Dermatology Society (pcds.org.uk) has lots of dermatology resources that pharmacists can access, including diagnostic tables, an A to Z of skin conditions and news on the latest treatments
Bio-Oil (bio-oilprofessional.co.uk) has a new online training module to help pharmacists develop their knowledge of dry skin conditions and how they can be self-managed. A new patient leaflet on self-care for dry skin is also available
E45 has produced a modular training programme for pharmacy, with input from an expert panel. The focus is on proactive engagement between pharmacy assistants and customers with dry skin conditions. Visit hcp.e45.co.uk/susp
Johnson & Johnson's Pharmagenius website (pharmagenius.co.uk) provides online training on skincare for pharmacy staff
Reckitt Benckiser provides training modules on skincare at rbforhealth.co.uk
Cetraben offers training developed with the British Skin Foundation
The National Eczema Society (eczema.org) has a wealth of training and advice for professionals on eczema-related topics
Training Matters magazine has a skincare training module on caring for dry skin conditions (tmmagazine.co.uk/Skincare-Training-for-Pharmacy) aimed at pharmacy assistants.
More patients presenting with psoriasis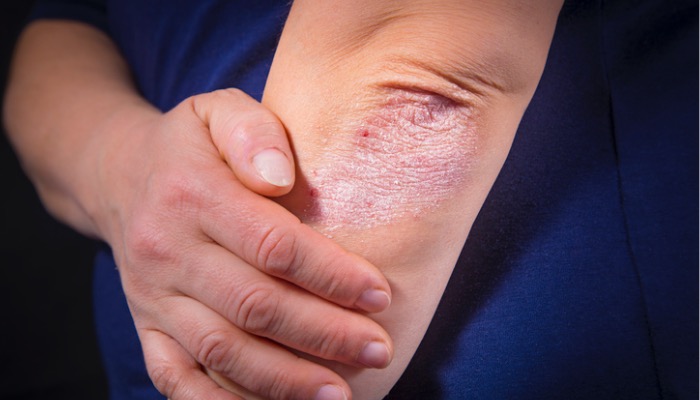 A study in the British Journal of Dermatology found that the prevalence of psoriasis has increased over the past two decades from 2.3 per cent to 2.8 per cent in the UK, although this may reflect presentation rates more than incidence rates. "Many more patients are coming forward to seek treatment when before they may have thought there wasn't anything to help them," says Dr Hussain. "Psoriasis is now established as a multi-system disease affecting skin and joints and associated with inflammation through the body, especially the cardiovascular system."
The cause of psoriasis is still a mystery. "The normal process of skin turnover of three to four weeks happens over three to seven days, so immature thick skin is pushed to the surface, causing thick plaques," says David Chandler, chief executive of the PAPAA. "There are known triggers, such as strep throat or skin injury, that can cause it, but as a multi-genetic hereditary disease, it's a complex process of why an individual's immune response manifests itself in this way."
Psoriasis new treatments
NICE has approved two new biologic treatments – Cimzia (certolizumab pegol) and Ilumetri (tildrakizumab) for treating severe psoriasis. A report in JAMA Dermatology has found that dietary changes, in conjunction with medical treatment, can help reduce the severity of psoriasis. The key recommendations are weight loss, a gluten-free diet and dietary supplements (including vitamin D).
Advising customers
There are many treatments available and one size does not fit all. "Topical treatments are not the end of the line for moderate to severe psoriasis, so patients should not struggle with these if their condition is extensive," says Helen McAteer, chief executive of the Psoriasis Association. "The most prescribed biologic for psoriasis came off patent in 2018, so patients using Humira (adalimumab) are being switched to biosimilar versions of it. CCGs are misinterpreting the NHS England guidance about items that should not be routinely prescribed in primary care, which results in GPs no longer prescribing topical psoriasis treatments routinely."
In terms of useful OTC treatments to stock for customers, Ms McAteer advises, in addition to emollients, "as many scalp treatments as possible as this is the area most people find difficult to treat".
Mr Chandler says prompt and effective treatment is vital. "Psoriasis has a tendency to spread quickly over a short period and can take a long time to clear, so getting access to treatment quickly and persisting with that treatment is very important," he says. It would be useful for pharmacists to know about the biologic agents that have revolutionised psoriasis treatment. "These therapies are mostly self-injected and target what is being stimulated within the immune process and block its action," he says.
Emollients are still the mainstay of treatment for anyone with psoriasis as they help soften hard skin plaques, remove scales and prevent itching. Customers should allow 30 minutes between using an emollient and other types of topicals for psoriasis. "I cannot over-emphasise how important regular moisturisation is in the treatment of psoriasis," says Dr Hussain. "By keeping skin well hydrated, flare-ups are minimised, itching is reduced and the pain associated with cracked skin is lessened."
There is much that pharmacists can do to help psoriasis patients. "Simple things such as reinforcing the benefits of using emollients frequently and liberally, if using topical steroids checking they have had the condition reviewed recently or offering an MUR, discussing potential trigger factors and offering lifestyle advice can all have a significant impact on customers with psoriasis," says Ms Morris.
Consumer insights
Epaderm/talkhealth conducted the Eczema Tracker study with a cohort of 200 parents over a 12 month period to better understand the daily physical and emotional challenges of managing their children's eczema.
Key findings from the study include:
• In an average month, parents visited pharmacists twice
• Over 65 per cent of parents bought an emollient over-the-counter before visiting an HCP
• Some 80 per cent of parents who sought advice in the pharmacy found pharmacist visits helpful
• A total of 74 per cent of parents said they would benefit from receiving more information about emollient application
• Over 50 per cent of parents preferred advice face-to-face rather than finding information online.
The skin conditions market
There has been increased interest in natural formulas for skin conditions. "There is an increasing number of customers looking for safe alternatives to steroid and petroleum-based products for eczema that are safe for long-term use," says Meghna Patel, managing director of Mahi Naturals. "Customers are now savvy when reading ingredient lists and are wary of products that contain SLS, parabens, petrochemicals and artificial colours and fragrances."
Geoff Graham, co-founder of Grahams Natural Alternatives, confirms this trend. "Consumers are becoming very aware of treating skin conditions naturally," he says. "With the reduction of GP prescribing, this will only increase the OTC category and consumers will be looking for alternatives."
Ms Kaur has noticed two trends. "One of the most exciting developments in medical skin conditions is artificial or bioengineered skin for the treatment of various skin diseases," she says. "However, almost in opposition to these scientific advances, there is a growing trend among many sufferers towards products that contain natural and organic ingredients. Pharmacists need to be aware of both these trends."
Improve your skin conditions category
"Pharmacy staff should have a thorough knowledge of the products available and which skin conditions most customers want advice and products for," says Nav Kaur, pharmacist and founder of Tamaar skincare. "With the increasing trend for natural products, a good category should include some newer natural remedies alongside familiar brands."
• "Customers need to be urged to use emollients regularly, particularly once symptoms are brought under control," says Mr Chauhan. "Your range of products should be extensive as there is no-one-size-fits-all remedy."
• "Consider incorporating regime into your category display," says Cathy Crossthwaite, marketing co-ordinator at Numark. "Many medicated skin brands will offer a range of products. Regime is encouraged to help reduce and relieve symptoms on a long-term basis."
• "Use health promotion displays that focus on a specific skin condition and are linked to a national promotion, such as National Eczema Week," says Natalia Shelton, UK training and congress manager for Bio-Oil. "Displays can be refreshed and driven by seasonality, too."
• "Consider having your most popular recommendation packs available for testing," says Ms Shelton. She also advises asking customers about the skincare treatments they currently use and how they are getting on with these.
Views from the P3pharmacy category panel
Sarina Mughal

Day Lewis, London SW1

Yolanda Kong

Kellaway Pharmacy, Bristol

Yasmeen Afsar

Well Pharmacy, Hartlepool

"In our pharmacy, cosmetic skincare tends to be more popular than medical skin conditions. The main queries we get are about acne and skin rashes. We always give customers lifestyle advice and self-help tips and often suggest a natural product, too, such as aloe vera gel. Popular products include Eurax Cream Doublebase, Cetraben and E45. As a natural alternative, calendula balm is popular. This year the hay fever season started early. It's a good idea to site antihistamine cream next to the antihistamine tablets so you can link sell, especially during the summer."
"We get a lot of queries, most commonly about dermatitis, fungal infection, warts and verrucae, itchy skin and acne. Hydrocortisone cream, Daktacort, Eurax, Bazuka gel, Salactol and Acnecide cream are all popular products. Many of our customers also suffer from dry skin conditions. With the right products and advice, I believe this category has great potential to grow. We are running a campaign in collaboration with E45. We have a display in our healthy living zone and actively engage customers in conversation. We also have samples for clients to take away."
"This is an important category as a huge portion of our customer base is young families. We have queries about eczema, dry skin, chickenpox, nappy rash, skin allergies, cradle cap and slap cheek. We have many young adults with skin concerns related to acne and, during the summer months, lots of questions about sun protection. Many skin complaints can be treated OTC and our best sellers include Aveeno, E45, Metanium, Freederm and Calypso sunscreen. Alongside training, I would advise stocking products to treat a range of skin conditions and ages."
Sponsored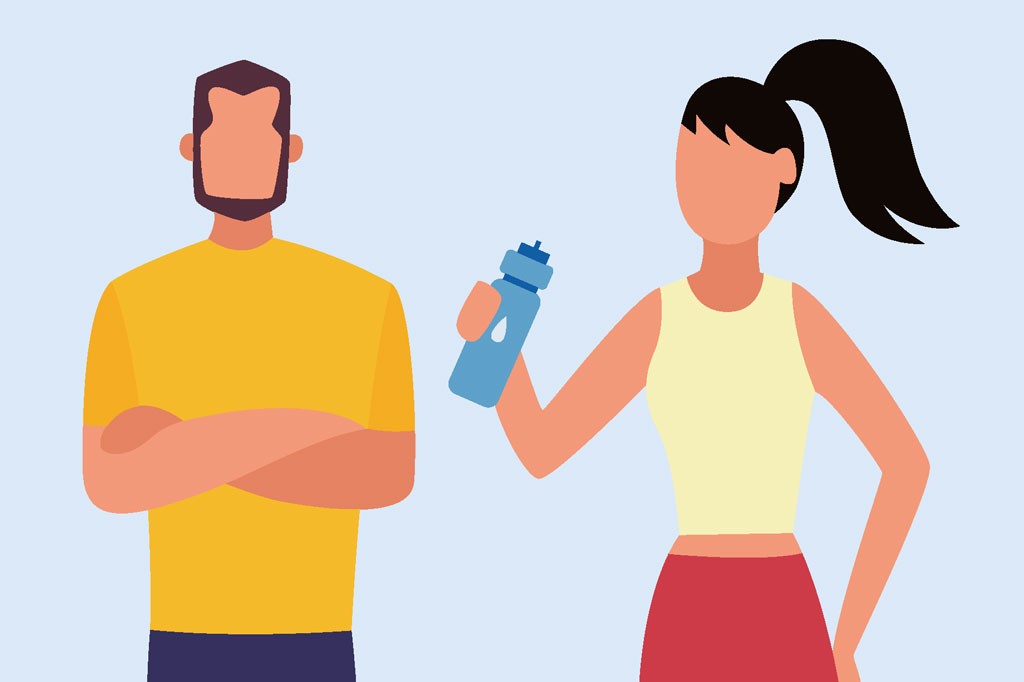 Sponsored Education
Understand the important role oral rehydration products play in helping prevent dehydration after illness
Sponsored Education
Bust the myths around acne causes so you can recommend effective products and self-care advice
Record my learning outcomes