Helping pain sufferers get back on their feet
Common conditions
Helping pain sufferers get back on their feet
One recent survey revealed that the number of people in the UK living with osteoarthritis looks set to double – to more than 17 million sufferers – by 2030. What can pharmacy do more of?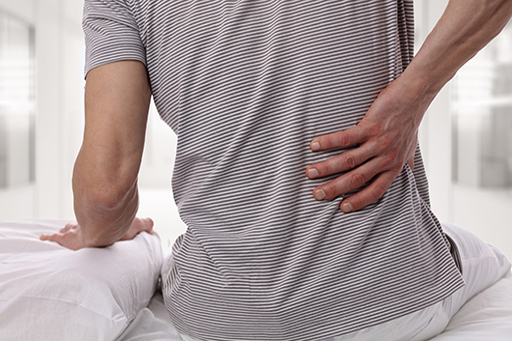 In the UK, back pain accounts for 44 per cent of all chronic pain in women and 37 per cent in men, while osteoarthritis affects 8.75 million people. Nearly 31 million working days are lost each year because of back, neck and muscle problems, which costs the economy £14 billion. And things could get even worse. One recent survey revealed that the number of people in the UK living with osteoarthritis looks set to double – to more than 17 million sufferers – by 2030.
Pain relief is still the largest OTC category (worth £557 million), although it's experiencing a slight overall decline (–1.7 per cent), apart from topical pain relief, which is bucking the trend and driving growth at +2.2 per cent.
Inactivity and a sedentary lifestyle are often blamed for the increase in back pain, which is the focus of a recent campaign. Arthritis Research has been working with Public Health England on the 'Active 10' app that encourages people to walk for just 10 minutes a day, an activity that is beneficial for people living with musculoskeletal conditions such as arthritis and back complaints.
The campaign looks to raise awareness that exercising for just 10 minutes can make a huge difference to health and can even reduce pain. The free app, downloaded from App Store or Google play, shows users the benefits of brisk walking and gives them ideas about how to increase pace and fit more walking into their day.
Sector activity
With back pain being such a major issue, OTC brands have also been looking at ways to raise awareness and help consumers deal with (and prevent) injury and pain. For example, Mentholatum is running a multimedia campaign to help prevent and manage back pain. "NICE guidelines now recommend exercise in all its forms, including stretching, strengthening and yoga as the first step to manage low back pain," says Jillian Watt, director of marketing/NPD at The Mentholatum Company. "This latest advice from NICE, combined with frustration at the lack of clear, concise advice on how to manage back pain, has prompted Mentholatum to launch Mind Your Back," she says.
Mind Your Back has partnered with Smooth Radio and Heart Radio to present videos of actress Tina Hobley demonstrating a range of gentle stretches to help increase mobility and help loosen tight muscles. Consumers can access video content on YouTube and the campaign has support from celebrity personal trainer Faisal Abdallah and physiotherapist and yoga instructor Celest Pereira. 
There are clear opportunities for community pharmacy in the category in promoting the growing range of topical pain products.
"Many people choose to manage their back pain with OTC products, but adverse publicity relating to some oral painkillers may be one of the reasons why topical analgesics have become a key driver for growth in the category," says Ms Watt. "As only 17 per cent of UK households use topical products to relieve their back pain, the potential for continued growth is enormous."
Voltarol has also invested in the category, with the launch of its Heat Patch. The latest addition to the portfolio aims to support the 57 per cent of people globally who feel their body pain decreases their quality of life.
"We know that patches and plasters are the second largest format in topical pain, but have recently seen declines, therefore innovation is needed to stimulate the category back into growth," says Voltarol brand manager Charlotte Perry. "The topical pain category continues to show huge potential, and this addition to our portfolio allows pharmacists to offer a plethora of solutions to suit our consumers' varying lifestyles."
Michael Ratcliffe, a podiatrist from Cuxon Gerrard, comments that topical pain relief is also available in naturally derived formulas for those customers who want to avoid stronger options that they might not be able to tolerate.
"Belladonna self-adhesive medicated plasters offer topical, targeted pain relief," says Mr Ratcliffe. "The natural alkaloids extracted from the belladonna plant harness nature's pain relief properties. These alkaloids desensitise nerve endings that carry pain sensation while simultaneously stimulating blood flow, giving proven pain relief for back ache, sciatica, muscular tension and strains, stiff neck and aching shoulders, lumbago and rheumatism."
Deep Relief, the topical NSAID from The Mentholatum Company, has recently undergone clinical trials indicating that the product provides equivalent pain relief to diclofenac gel and superior relief to ibuprofen-only gel.
The brand is undergoing major changes. Renamed Deep Relief Anti-Inflammatory Gel, the product's pack design is changing to highlight the two painkilling ingredients, ibuprofen and levomenthol. A further line extension is expected soon and the new-look Deep Relief launch will be supported by trade and consumer PR and a TV advertising campaign that is scheduled for February 2018.
Self care factors
When it comes to helping customers with painful conditions such as arthritis or back pain, Jane Devenish, pharmacist at Well, says it's so important to take time to take a history.
"Successful control is more likely to be achieved if a full assessment is made," she says. "I would advise pharmacy staff to ask the patient questions to identify the site of pain, its duration, severity, speed of onset, aggravating and relieving factors, impact on daily life, and social and psychological aspects.
"Pharmacy teams can also encourage self care by signposting patients to resources for persistent pain such as The Pain Toolkit, as well as supporting them with the practicalities of taking the right medication at the right time for their needs, safely and effectively."
If the customer is in significant pain, Ms Devenish suggests that it's important to make sure the patient knows not just what medicines they can take regularly to help their pain, but also what medication they are able to safely take if they experience any breakthrough pain.
"Pharmacy staff should also be aware of red flags," she says. "If back pain is experienced in combination with other symptoms, such as numbness or tingling around the genitals or buttocks, difficulty urinating or incontinence, chest pain, fever, unexplained weight loss or a swelling in the back, patients should be advised to contact their GP immediately."
Comment
Sarina Mughal, professional services pharmacist, Day Lewis Plc
"In this category we need to first identify the cause of the pain. Is it a sports injury, or due to a degenerative condition such as osteoarthritis? We also find out how long the person has had pain – especially in the case of older patients who have arthritis and other joint conditions. Product recommendations can vary depending on the patient's preferences. You must ensure the product is safe for the patient; some anti-inflammatories can interact with medication for asthma or cardiovascular conditions. While the majority of queries are from elderly patients, we do get a lot of younger people with sports injuries. We usually recommend the non-pharmacological method, RICE, and topical gels, or even bandages and supports that they can wear during the day." 
Thorrun Govind, locum pharmacist, North West England
"This a reasonably busy category. Key factors include how long the problem has been going on for and if the person is on any other medication, for example medication for arthritis. Have they had the medication before and is it the right one for them? I try to tailor the products that I recommend to how they are going to use them in their daily lives. For example, a hot water bottle might be a good option, but it's not possible to carry one around all day, so the stick-on heat pads are good, especially if someone is working. Some people with back pain will just pick up some painkillers and use them long-term, but in pharmacy we are able to spot something that they might need to get checked out. It's this kind of advice that pharmacy can uniquely offer." 
Tolu Adams, pharmacist, Day Lewis Pharmacy, Camberwell
"This is something we see every week – the two main categories of patients are older people with joint complaints and younger people with sports injuries. You have to tailor your approach depending on the patient. With elderly patients, we aim to guide them away from painkillers, to avoid them using them longterm, and pain gels are popular for short-term pain. With a person who's had an injury, the first thing you want to do is get them to follow RICE – raise it, ice it, compress it and then elevate it. Then I usually advise the use of heat afterwards, such as Deep Heat. Support bandages are more popular with younger patients - elderly people are not too fond of using them, I find."
 
Sponsored
Sponsored Education
This module highlights a new opportunity to treat heartburn and reflux in the pharmacy with Omeprazole 20mg, which is newly available for customers to purchase OTC.
Sponsored Education
Bust the myths around acne causes so you can recommend effective products and self-care advice
Record my learning outcomes