The value of retail within pharmacy is a hotly contested topic, with some pharmacy owners recognising its potential to boost business growth and others regarding it as a declining sector. This month, P3 caught up with Warman-Freed Pharmacy in London to find out what it takes to drive retail success
Find your retail gap
Warman-Freed's recent identity review showed that the retail space needed a better balance between the beauty and healthcare offerings. A decision was made to expand the selection of healthcare-focused brands within the skincare category, not only to bring in new customers, but also to encourage existing customers to purchase more products.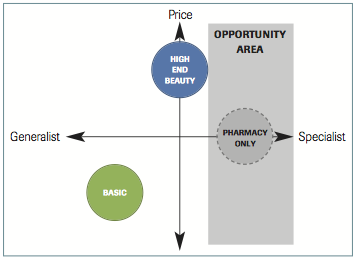 The team saw a natural opening to introduce pharmacy-specific skincare ranges and assessed a number of brands for their suitability. There were two key requirements for a new brand. First, it must appeal to Warman-Freed's core customer base, which has an affluent bias and a lower age group than the national average. Second, it needed to complement existing brands, without too much overlap in terms of price point and/or product type.
We used this analysis, together with recommendations from the pharmacy team, to help us decide which new range to introduce.
Sales reps as partners
'Introducing new ranges is more than a commercial decision for our team. We need to feel confident that our staff will be equipped to discuss the product benefits and to make appropriate recommendations to our customers,' explains Farah Ali, general manager of Warman-Freed Pharmacy.
'Healthcare sales reps often focus on the commercial benefits of stocking a product, leaving pharmacy managers to excite their staff, but in this instance we worked with a really supportive sales rep who delivered truly engaging training that put our staff in the customers' shoes and increased their understanding of and interaction with the product. All parties were motivated to make the range a success.'
Fostering a two-way partnership with the sales representative empowered Warman-Freed staff to become skincare experts, who not only understand the range of products well, but also the conditions that they are each suitable for.
Sustaining commercial success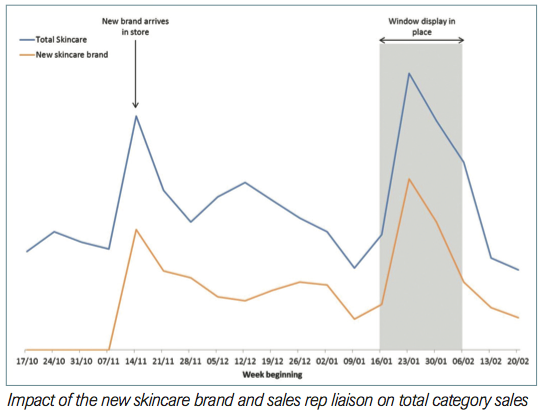 The new skincare range, which was positioned in a prominent position in store and supported by eye-catching POS materials, resulted in a 59 per cent growth in the skincare category in just under five months. A bespoke window display was then introduced, which saw sales double during this period (+129 per cent), highlighting the pertinent role in-store marketing has to play in ensuring commercial success.
'Adding new products doesn't always equal category growth,' explains Joanna Mills, research specialist at Warman-Freed Pharmacy. 'To ensure long-term success you must be conscious of how a new product compares with your existing brands and your rationale for shaking things up.
Will this brand enable you to reach a new demographic?
Are you offering existing customers something different?
Can you support the launch with training and promotional materials that excite your audience and motivate staff?
How can the rep help you ensure ongoing success beyond launch?
'Understanding how current brands compare to each other and identifying areas of overlap and differentiation really influenced our decision making,' concludes Ms Mills. 'Our staff have become skincare experts, and we have absolute confidence that all products in the category complement and strengthen Warman- Freed's retail offering.'
Get more from your sales reps
Develop a relationship that goes beyond commercial interests. Use sales rep visits to instigate refresher training and trend sharing, to help keep all the team motivated and engaged
Make considered decisions about stock. Ensure new brands offer something new. Challenge sales reps to explain how their brand will add value to your business
Regularly share EPOS data. Discuss successes and challenges, so you can all work together to ensure that you are meeting customer needs
Consider in-store promotional materials and window displays. Ask reps what resources they can provide to engage customers and share customer or staff feedback to guide key messages.