Cuts to funding to effect businesses?
P3 Business Group
Cuts to funding to effect businesses?
How will the 6% cut to pharmacy funding in England affect your business?
To get involved and share your suggestions for everyday pharmacy, contact:Â p3@1530.com
 
From out of the blue
The 6 per cent proposal came out of the blue and flies against the logic of so much of what has been said about community pharmacy and its potential to support the current and future needs of the NHS. The primary impact of the cuts is likely to fall on the staff, but I'm sure everyone will be looking at their cost base and starting to work out what they can possibly do to reduce it. Our largest cost is staff, but what other corners can be cut to deliver these demands? Were pharmacy to have been better engaged at the beginning of the now inevitable changes necessary to the NHS, then I would have been more optimistic, but I believe this is a bad first step, whatever it's direction.
Peter Cattee, PCT Healthcare
 
Cuts will more than halve net profit
It's too early to tell how bad this is, but if I have a 6 per cent cut in gross profit, I will almost certainly have to shelve plans for any staff development, reduce the hours I can afford to pay locums (to allow me to offer enhanced services, which lose money) and will further put back refurbishment schedules. For the average pharmacy, a 6 per cent cut will more than halve net profit and make it no better than working as an employee for a multiple. I may even consider selling.
Coll Michaels, Calverton Pharmacy, Luton
 
Look out for pharmacy closures
Coupled with the challenges of the living wage increase and possible interest rate rises following developments in the US, look out for pharmacy closures. This is a very shortsighted move by Her Majesty's government. It does make me wonder about the future for primary care.
David Evans, Manor Pharmacy, Derby
 
Add this to pensions and living wage challenges
It's not just the 6 per cent cut, but the pension contributions, end of statutory sick pay and living wage increase. I have been improving efficiency and cutting services that are less profitable with the aim of reducing staff costs by 20 per cent. Customer service and expectations will be reduced.
Gary Jones, Borth Pharmacy, prodelivery manager
 
An act of stupidity 
This is most expensive act of stupidity in the history of the pharmacy, which should have been assigned to the compost heap of dead ideas the moment someone suggested it. Because this is at a time when we should be consolidating services and improving access, we are being pushed towards instability, insecurity and poorer patient accountability. I was depressed when the Tories got elected and here we are with a government that's a depository for errors, mistakes, blunders and things that go bump in the night. This announcement is not so much "memorable" as "in memorial" to many pharmacies, investment or innovation, and about as welcome as Donald Trump coming over for Eid.
Sultan "Sid" Dajani, Wainwrights Chemist, Bishopstoke
 
Focus on services and costs
We have a family culture of care and I have written to every single pharmacist and every member of staff in Day Lewis saying let's drive private services and focus on saving cost. We don't want the people to suffer at all, so we are going to have to mitigate somehow by drawing extra revenue and keeping controllable costs down. We can hit the ground running now with six months head start. But I'm hopeful that this is a genuine consultation – that it's not being done just for the sake of it – and that common sense prevails and that all can work together for a win-win for the patient, the NHS, the Treasury and for pharmacy.
Kirit Patel, Day Lewis Pharmacy
 
Patients will be the real losers
The funding cut will slip straight into bottom line of the business, creating much greater impact than headline rate of 6%. Secondly, we don't have details on composition of this cut back other than intent to close 2,000 or more pharmacies. My real concern is for the patients; we are already experiencing capacity issues in hospitals and GP surgeries, and pharmacies were considered to help relieve the pressure. Since healthcare is built with the patient as the central point, it would be prudent to ask the public if they would welcome pharmacy closures. The need to manage the NHS budget is understood, perhaps more talks at holistic level are required including whether a small investment in one place could save larger costs elsewhere.
Salim Jetha, Avicenna
Sponsored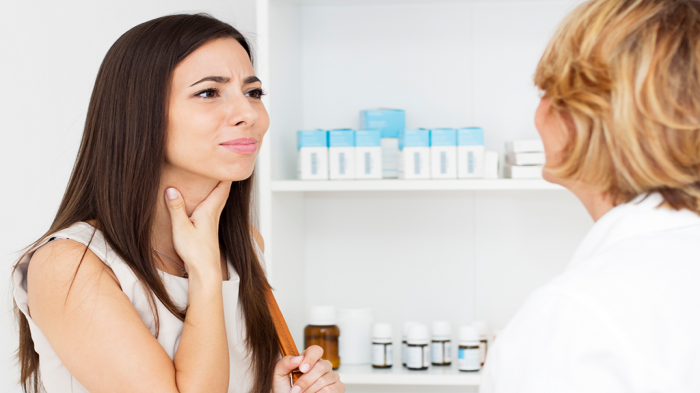 Sponsored Education
This module will help you to understand and educate customers about the risks of antibiotic resistance, and recommend products to help them effectively manage their sore throat symptoms.
Sponsored Education
This short video explores the myths around diarrhoea management so you can better support customers who are affected
Record my learning outcomes