Insight
Automation nation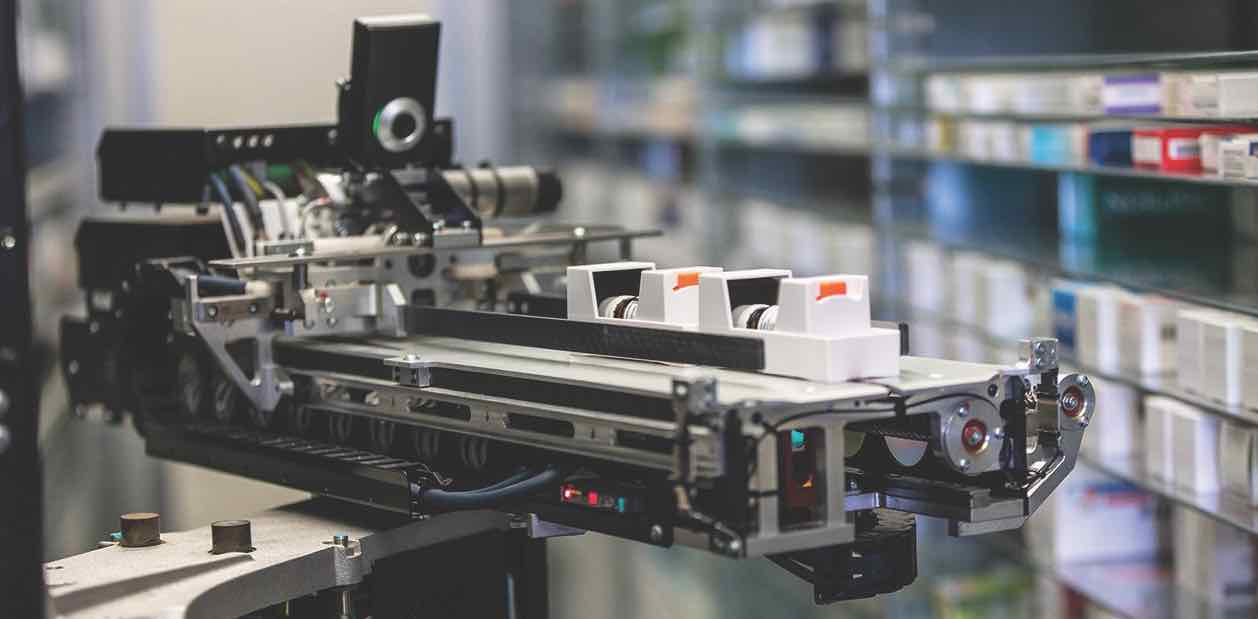 The coronavirus outbreak has created unprecedented demand on pharmacies across the UK, with an overwhelming workload and phones that never seem to stop ringing. As community pharmacies settle into the 'new normal', those with in-house robots are realising their value as social distancing and lockdown increases pressure on the supply of medicines. And robot manufacturers and suppliers have also seen an uptick in enquiries and demand.
Mark Roylance, national account manager at BD Dispensing Retail UKI (BD Rowa), says the current situation has made his customers realise the extra value the robot brings in a number of areas they'd never considered, such as social distancing, automated stock storage, stock level checking and remote ordering.
"Customers are coming back to us to get their ordered robots installed ASAP, or to push forward on orders they'd been debating for a while but not actioned, and we've seen demand from brand new customers too," he says.
BD Rowa's German manufacturing plant is running double shifts to meet demand, and Mr Roylance says: "We're expecting a peak of installations through the summer months to try to catch up and get robots in for the autumn/winter period where we might see a resurgence of the virus in second and third waves. We're also seeing extra demand from DSPs (distance selling pharmacies), whose growths have gone through the roof since Covid-19 started, as patients want to avoid physical pharmacies."
Seeing the bigger picture
Mark Roylance is not alone. Todd Siegel, chief executive officer of Centred Solutions says his organisation has "definitely seen an increase in interest, and delivered a higher number of proposals and contracts" in this period. Over at Omnicell, Cyrus Hodivala, sales director UK & Ireland – medicines adherence, says his firm has been on the receiving end of contacts from "some of the nationals and larger multiple groups who have observed how illness and remote staffing have substantially changed their effectiveness in being able to deal with patients, and have realised that automation of repetitive manual tasks can eliminate a lot of this strain in the long term."
Nonetheless, while it looks as if the current pandemic will accelerate the move to automation, Mr Siegel adds: "It's difficult to predict numbers because the current situation is completely unprecedented."
Perhaps the closest we can get to a figures forecast is, as Mr Hodivala suggests, that we are on the cusp of "a sea-change in the way automation is adopted in UK pharmacies".
We're also seeing extra demand from DSPs, whose growths have gone through the roof since Covid-19 started
A slight spanner in the works could be research from the National Pharmacy Association (NPA) which claims that hub and spoke dispensing is not necessarily safer or more cost effective.
The NPA's examination of hub and spoke dispensing in the UK and abroad found that – with the exception of the Netherlands – the large scale automated dispensing of original pack medicines to third party pharmacies is not operational in any global market. Where third party automated dispensing has had most traction is its focus on multidose dispensing.
The NPA also claims an absence of definitive evidence in respect of patient safety, with no studies to date addressing the patient safety impact of the full end-to-end process.
However, NPA head of corporate affairs Gareth Jones says that although independent data and evidence "does not clearly establish" either an economic case or a health outcomes case for large scale automation, that doesn't mean there is no future for hub and spoke. "It should give policy makers pause for thought [and] raises serious questions about the underlying case for investing in models that allow hub and spoke to operate between different companies," he says.
This suggested pause – and the one imposed by Covid-19 – comes at the same time as the Government announced it is planning to enable hub and spoke dispensing for all contractors through the Medicines and Medical Devices Bill, which has now been published in draft form. The Pharmaceutical Services Negotiating Committee (PSNC) has said in a progress update that it will be looking to strengthen protections for pharmacies wishing to consolidate and explore options such as original pack dispensing and facilitating generic substitution of medicines.
For manufacturers and suppliers though, the NPA findings are not a cause for concern. Mr Siegel says his data suggests that "the automation systems we manage for hub and spoke dispensing are significantly more accurate than manual processing", stressing that because "lower costs are driven by throughput… it takes time for these complex installations to ramp up and work out the kinks".
Gary Paragpuri – chief executive of Hub and Spoke Innovations, supplier of the Pharmaself24 collection robot – points out that while the NPA review highlights the central hubs set up by AAH, Boots, Rowlands and Well Pharmacy, "by its own admission, it cannot put forward a view on the performance of those hubs as the companies have not made details publicly available. In addition, the final line of the 99-page report says that the research was completed during 2018, and in technology terms that's already a long time ago."
lower costs are driven by throughput… it takes time for these complex installations to ramp up and work out the kinks
Mr Hodivala agrees, saying: "This industry has moved on markedly since then, specifically to correct a lot of the manual intervention required around these processes. Several of the MDS solutions reviewed still required manual de-blistering, whereas we know there are incredibly effective automated de-blistering systems available now… and the conclusions of this report should be reviewed in light of this."
Lessons for community pharmacy
The importance of using up-to-date information to draw – and adjust – conclusions and make decisions has become even more crucial in the times in which we currently find ourselves.
"As the general population gets used to video calls, online ordering and click and collect services for everything from groceries to medical services, they'll expect the same from their pharmacy", says Mr Paragpuri. "The sector has already seen a rapid move from paper to electronic prescriptions and so the move to ordering prescriptions via an app is likely to be just as fast. When – not if – that happens, e-scripts will probably be dispensed at central hubs before medicines are posted to the patient or sent to an automated collection point or back to the pharmacy chosen by the patient. This scenario is already happening in community pharmacy and the speed of roll out will only increase."
Mr Paragpuri says a more immediate impact of the pandemic situation is that his customers are using their Pharmaself24s as a way of implementing social distancing in their pharmacy.
"With prescriptions coming in electronically or through the letterbox, our customers have been able to shut their doors and dispense safely without the pressure of long queues of patients waiting for their medicines", he says.
A Covid-19 coming of age
Hub & Spoke's Ryszard Cygan, who is also director and superintendent of West Elloe Pharmacy in Spalding, says his two Pharmaself24s have proved a "real saviour" during the pandemic.
"In the 20 or more years that I have been here, I've never seen anything like this," he says. "In the week that coincided with the Government's official advice for greater social distancing, we loaded 60 per cent more bags into the machines. That's nearly 800 times that patients didn't have to come into the pharmacy, and 800 times we've been able to minimise their coronavirus risk while ensuring they still get whatever medicines they need."
These benefits are being replicated all over the country. "If the past several weeks have shown us anything, it's that automation has had a pivotal role in meeting demand," says Mr Siegel. "All of our systems have been fulfilling record numbers of orders and performing at a very high level, as intended. We believe we will see an increase in solutions such as ours, that have the flexibility to fill either normal daily refills into bags for in-store pick up or into mailing containers for the post."
Mr Hodivala says there has been a "noticeable upswing" in the level of interest around the Omnicell RDS (robotic dispensing system) and the VBM200F MDS solution. "Our installations using the VBM have commented on how, by releasing the complex and time-consuming function of MDS assembly, they have released time from their spoke branches to deal with the unprecedented patient demand that coronavirus has initiated," he says.

One such user – Mike Patel, owner and superintendent pharmacist at Pearl Chemist Group in London – says his automation has allowed his team to maintain their patient focus without sacrificing patient safety: "Using a manufacturing hub to centralise our MDS automation on our two Omnicell VBMs, as well as OPD automation in stores has meant that Pearl Chemist has been able to absorb the additional workload created by the Covid-19 demand and the inevitable shortages from staff self-isolation."
Unforeseen benefits
The reports are the same from BD Rowa's customers. Usmaan Hafiz, pharmacist at Kepple Lane Dispensary and Garstang Medical Practice, says: "We knew the advantages of investing in a BD Rowa VMax, such as increasing accuracy, reducing stock waste, rotation of stock and digital live stock counts, but during these past three weeks through lockdown and the increase in workload in the pharmacy – splitting our team into two groups working on alternate days – the dispensing robot has also provided us with additional benefits that I personally didn't foresee.
"We are able to create some sort of social distancing between staff, with stock coming to them at their work stations and not having
to wander around the dispensary, but also protecting our stock manager by allowing him to work from home, observe stock and
order remotely."
"It may have taken a natural disaster for people to realise the benefits of automation and digitalisation, but it will certainly cause a step-change in terms of automation and digital adoption over the next few years", believes Mr Roylance, "especially as social distancing will be the new 'normal' for the foreseeable future. Automation has a range of business benefits, and the Covid-19 pandemic has just shown more of these and highlighted them further."
during lockdown... the robot has provided us with additional benefits that I personally didn't foresee
Mr Paragpuri agrees, predicting a "re-evaluation" of how all public services – including pharmacy – are delivered in a world where social distancing must be observed. He says: "The ongoing requirement to maintain social distancing, coupled with the continued squeeze on dispensing income and the increasing number of new market entrants utilising technology to offer competing pharmacy services will be key factors shaping the pharmacy network.
"Before the arrival of Covid-19, pharmacy was already being squeezed on several fronts", he adds. "From stagnant funding and inflexible quotas to demanding patients and rising workloads, the sad truth is that the additional pressure of the pandemic could well see many pharmacies closing their doors for good. But those that survive will need to adapt in the short term and become more resilient in the medium to long term as they get to grips with coronavirus and whatever new challenges come over the horizon."
Latest updates
Although, like everyone, robot suppliers are conducting their day-to-day operations under the restrictions of social distancing and lockdown measures, they are still updating and progressing their product offerings.
Omnicell is developing integration between its VBM MDS (monitored dosage system) robot, Omnicell eMAR, in care homes and leading UK care-planning platforms for seamless data integration and to minimise rekeying of data in different environments.
Since The Pharmacy Show last October, Centred Solutions has been busy developing and then deploying its FlowRx bespoke pharmacy workflow software platform to operate its original pack dispensing automation OPD L1, ahead of installing its new semi-automated robotic system on the software platform in the summer.
This month also sees the launch of a new, smaller and cheaper Pharmaself24 Compact model from Hub and Spoke Innovations, designed for pharmacies dispensing 5-6,000 items a month or less.
Read how one NHS Foundation Trust is using automation to reduce delays in discharging patients back home here